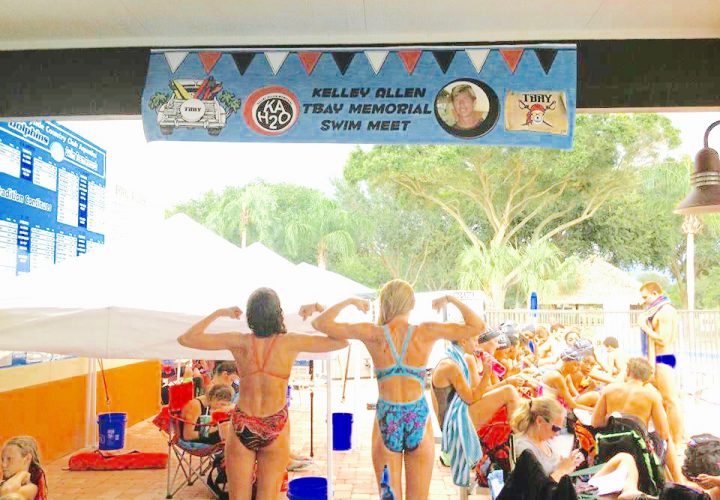 Photo Courtesy: Jean Strasen
By Maddie Strasen, Swimming World College Intern
Kelley Allen never stood still, sprinting up and down the pool deck to urge on his swimmers in each race. In fact, the popular club coach in Florida's Tampa-St. Petersburg area proved he could not even sit still. Once, after a leg condition forced him to remain seated during a stretch of meets, Allen found a way around it – hauling a rolling office chair onto the deck so he could sit and wheel himself up and down the outside lane.
Four years after Coach Kelley and his girlfriend, Imari Shibata (both 49), were murdered by Shibata's 18-year-old son, Benjamin Bishop, many of Allen's former pupils still swim in his honor at the Kah20 Memorial Meet in Clearwater, Florida.
"His spirit will never die," said Tampa Bay Aquatics coach Alex Richardson, who took over the program just weeks after Bishop, who had a history of psychological issues, burst into his mother's room holding a sawed-off shotgun and senselessly took two lives. "Everyone involved in the program will always hold up the values, lessons and great inspiration Coach Kelley gave this team for many years."
"Kelley never spoke a bad word to a swimmer, ever," said Susan Curnette, another TBAY coach who was Allen's colleague for several years. "Even if you didn't have a good swim, he made each child feel like he or she was the best swimmer in the pool."
I swam for Coach Kelley all through middle school, and had just started my freshman year of high school when he was killed in October of 2012. It was a devastating blow, to say the least, for me and all of my club teammates. How do you handle the loss of a coach, a mentor and a great role model?
I wondered, for a while, whether I wanted to continue club swimming. There was already the adjustment to an International Baccalaureate high school and a high school swim team. It was a lot for everyone on the team to overcome.
One thing that helped me see things more clearly was focusing on some of the things Coach Kelley always taught us – and certainly would have been emphasizing in a tough time. One of his big ones was perseverance. No matter how horribly a swim meet or a practice or a day might have been going, Coach Kelley would always be there clapping, smiling and telling us to think positive thoughts and get through it.
Every dark cloud had a silver lining in Coach Kelley's book. Every "bad" finish was an opportunity to learn and do better. Every obstacle was a reason to work hard and focus on doing the right things. It was not only what he taught, but how he lived.
So in the darkest time for all of us, it became very clear to me that Coach Kelley would not have listed "giving up" as an option. Quite the opposite! He would have urged us to remember all the lessons he taught us and all the examples he showed us about battling through the hard times and coming out stronger for it.
There was truly no replacing Coach Kelley in our swim program, but when a permanent replacement did come aboard as coach the following spring, he told us about his plan for an intense summer program that would require long hours, double sessions in the pool and lots of dry-land work out of the pool. In other words, it was going to require great dedication at a time when a lot of students were enjoying leisurely summer vacations.
With the spirit of Coach Kelley's lessons about perseverance at the top of my thoughts, I overcame my initial reservations about this new coach and these new workouts and decided to throw myself into the program. It's what Coach Kelley would want – not because it would do anything for him, but because it would make me a better swimmer and more importantly, a better person.
I can now point to that summer as a turning point in my swimming career. It was a time when I saw tremendous progress toward many of my goals in the pool, and finding the strength to get through it taught me a lot about myself outside the pool, too. I can almost see Coach Kelley sprinting down the pool deck, cheering.