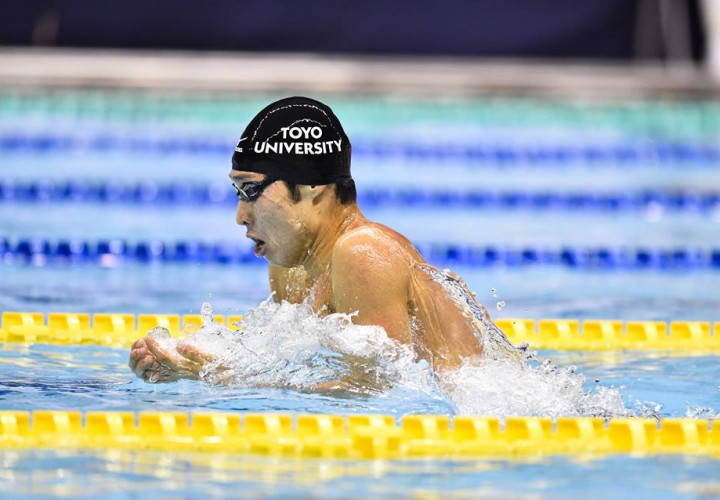 Photo Courtesy: Tobiuo Japan
Kosuke Hagino picked up a pair of titles to close out the 2016 Bergen Swim Festival in Norway.
Hagino raced his way to a win in the men's 100-meter fly with a time of 52.85.  Jan Sefl took second in 53.99 with Tomas Havranek earning third in 53.99.
Hagino doubled up in the men's 200-meter breast with a time of 2:13.81. January Kutil took second in 2:16.09 with Christoph Meier winding up third in 2:16.74.
Katinka Hosszu captured the women's 400-meter free in a time of 4:15.26.  That's well off her eighth-ranked 4:04.96 from prelims of this meet, but was more than enough to knock off butterfly specialist Natsumi Hoshi (4:17.50).  Majken Smith placed third in 4:22.66.
Hosszu then won the women's 200-meter IM in 2:12.58, off her top-ranked season best of 2:07.30 from the European Championships. Barbora Zavadova touched second in 2:14.07 with Kristyna Horska earning third in 2:14.13.
After winning the 50 back knockouts (see below for results), Hosszu wound up third in the women's 100-meter fly with a 1:00.92.  Lucie Svecena won the event in 58.62 with Hoshi taking second in 59.32.
Hilda Luthersdottir followed up her 50-meter breast knockoff win with a 2:26.37 to win the women's 200-meter breast.  That's off her seventh-ranked 2:22.96 from Euros.  Stina Colleou took second in 2:30.30 with Ariel Braathen placing third in 2:32.30.  Hosszu faded back to seventh in 2:39.18.
Hosszu bounced back in the women's 100-meter free with a 55.11 to win.  Susann Bjornsen placed second in 55.76 with Annika Winsnes finishing third in 56.10.
Henrik Christiansen topped the men's 400-meter free in 3:49.11.  Truls Wigdel took second in 3:57.26 with Kristian Kron taking third in 3:57.41.
Pavel Janecek won the men's 200-meter IM in 2:02.74 with Sindri Jakobsson taking second in 2:03.84.  Tomoe Hvas finished third in 2:06.11.
Isaac Eliasson grabbed the men's 100-meter free in 49.40, while Michele Santucci touched second in 49.43.  Mark Small rounded out the top three in 49.84.
50 Breast Knockouts:
Women Round 1:
Hilda Luthersdottir, 31.20
Katinka Hosszu, 32.01
Ariel Braathen, 32.10
Susann Bjornsen, 33.29
Women Round 2:
Hilda Luthersdottir, 31.29
Katinka Hosszu, 31.78
Ariel Braathen, 32.67
Silje Mikkelsborg, 33.06
Women Final:
Hilda Luthersdottir, 31.05
Katinka Hosszu, 31.70
Ariel Braathen, 33.53
Men Round 1: 
Jorgen Brathen, 28.52
Zoltan Horvath, 28.76
Christian Rasmussen, 29.06
Christoph Meier, 29.07
Men Round 2:
Christoph Meier, 29.27
Christian Rasmussen, 29.30
Jorgen Brathen, 29.31
Zoltan Horvath, 29.42
Men Final:
Jorgen Brathen, 28.54
Christoph Meier, 29.03
Christian Rasmussen, 29.66
50 Back Knockouts:
Women Round 1:
Katinka Hosszu, 30.02
Eyglo Gustafsdottir, 30.18
Sofie Reisaenen, 30.39
Veronica Bjorlykke, 30.84
Women Round 2:
Katinka Hosszu, 29.75
Eyglo Gustafsdottir, 29.94
Sofie Reisaenen, 30.67
Veronica Bjorlykke, 30.85
Women Final:
Katinka Hosszu, 28.27
Eyglo Gustasdottir, 28.75
Sofie Reisaenen, 31.50
Men Round 1:
Jesper Bjork, 29.01
Oskar Ericsson, 29.29
Kristian Kron, 29.54
Eirik Nielsen, 29.94
Men Round 2: 
Kristian Kron, 28.53
Jesper Bjork, 28.87
Oskar Ericsson, 29.05
Eirik Nielsen, 29.75
Men Final:
Jesper Bjork, 26.01
Kristian Kron, 26.82
Oskar Ericsson, 27.04