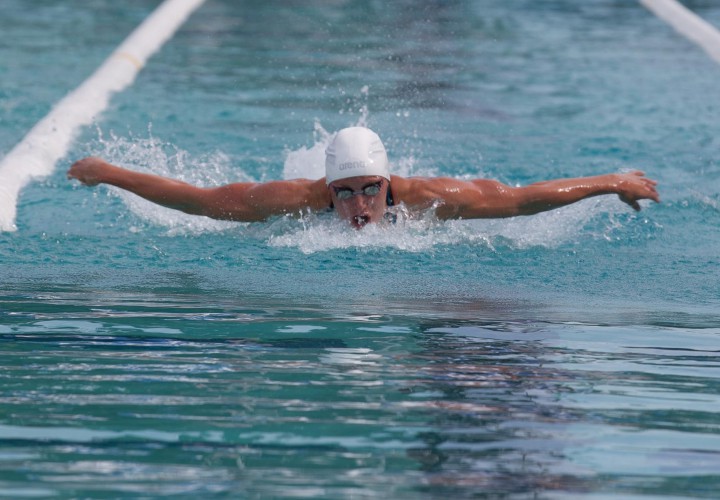 Photo Courtesy: JD Lasica
Katinka Hosszu took down a meet record in the women's 100-meter IM to highlight the second day of prelims at the 2015 European Short Course Championships.
In her second event of the morning, Hosszu touched first in the 100 IM in 57.52. She was less than one second off her world record time.  Behind Hosszu was GBR's Siobhan-Marie O'Connor who went 58.32. Another third place spot secured by an Israeli this morning, Amit Ivri went a 59.49.
To start off the preliminary session of day two in Israel was the men's 200 freestyle. Glenn Surgeloose of Belgium secured the top spot in a time of 1:42.94. In second place was another Belgian, Pieter Timmers, who went 1:43.33. Paul Biedermann touched third going 1:43.46.
Next, in the women's 50 butterfly, Jeanette Ottesen (Denmark) finished first with a 25.23 to touch out Sarah Sjoestroem from Sweden who went 25.40. And not too far behind was Silvia Di Pietro from Italy in a 25.64.
In the men's 200 breaststroke, Germany's Marco Koch crushed the rest of the field with a time of 2:03.74. Erik Persson of Sweden touched second at 2:05.47. And from Great Britain, Andrew Willis took the third spot going only one one hundredth of a second slower than Persson. 
Ramona Kromowidjojo from the Netherlands went a speedy 51.80 to earn the top spot in the morning of the women's 100 freestyle. Sjoestroem touched second with a 52.23 and Katinka Hosszu finished third with a 52.41.
Another solid swim for Radoslaw Kawecki this week with a 50.52, and top seed in the men's 100 backstroke. Stanislav Donets from Russia was not far behind with a 50.97 and in third was Guy Barnea from Israel who swam a time of 51.13.
In the men's 400 IM, GBR's Roberto Pavoni posted a top time of 4:05.94. Richard Nagy finished second in 4:06.03 and David Verraszto touched third in 4:06.13.
The Russians touched first in the 4×50 mixed medley relay in 1:39.62. However, the Italians were not far behind. The top 8 finishers from the morning session were: Russia, Italy, Netherlands, Belarus, Finland, Israel, Germany and Czech Republic in eighth place.
To finish off the morning, the men swam the 1500 freestyle. Gregorio Paltrinieri swam the top time of 14:21.50. He was 6.5 seconds ahead of second place finisher, Henrik Christiansen from Norway. Poland's Wojciech Wojdak finished third in 14:32.66.
Finals tonight will begin at 5:30 p.m. Israeli time or 10:30 a.m. EST. Stay tuned for more results.