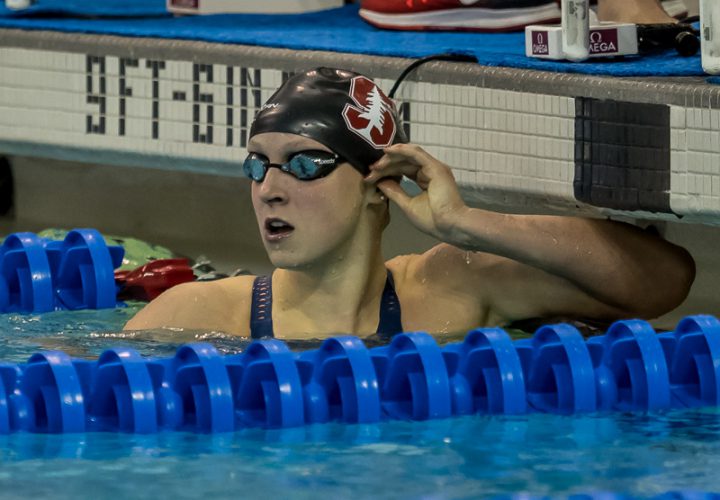 Photo Courtesy: Peter H. Bick
Editorial content for the 2018 NCAA DI Championship coverage is sponsored by TritonWear. Visit TritonWear.com for more information on our sponsor. For full Swimming World coverage, check event coverage page.
Katie Ledecky went out fast. At what point she was four seconds under American Record pace. Could she hold on? The fans at the McCorkle Aquatic Pavilion held their collective breath as she went lap by lap.
The magical 15 minute barrier has seemed untouchable by a woman, but with Katie, anything is possible.
As the race went on, she fell off pace, but ended up winning the final in a 15:07.57, a little off her American Record of 15:03.31 that she set earlier this season.
Ledecky was well ahead of second place Ally McHugh of Penn State who swam a 15:36.27, good for eighth all-time.
NC State senior Hannah Moore finished third at 15:40.68 as she is just outside the top 15 all-time performers in the event. Flavia Rigamonti sits 15th all-time with a 15:40.41 from 2003.
Stanford's Megan Byrnes (15:43.68), Stanford's Leah Stevens (15:49.07), Michigan's G Ryan (15:50.95), Ohio State's Molly Kowal (15:52.80) and NC State's Tamila Holub (15:54.44) also placed in the top eight.
Ledecky successfully defends her title she won last year in this event. This is Stanford's seventh NCAA title in the 1650 as they now have the most titles of any school. Ledecky joins Marybeth Linzemeier (1982-1984) and Janet Evans (1990, 1991) as winners for the Cardinal
 Event 15  Women 1650 Yard Freestyle
=========================================================================
         NCAA: N 15:03.31  11/18/2017Katie Ledecky, Stanford
     American: A 15:03.31  11/18/2017Katie Ledecky, Stanford
    U.S. Open: O 15:03.31  11/18/2017Katie Ledecky, Stanford
         Meet: C 15:07.70  3/17/2017 Katie Ledecky, Stanford
         Pool: P 15:03.92  11/20/2016Katie Ledecky, Stanford
                 15:53.50  AUTO NCAA A Standard
                 16:30.59  CONS NCAA B Standard
    Name           Year School               Seed     Finals       Points 
=========================================================================
  1 Katie Ledecky    SO Stanford         15:03.31   15:07.57C        20  
    r:+0.67  25.27        52.19 (26.92)
        1:19.62 (27.43)     1:47.02 (27.40)
        2:14.49 (27.47)     2:41.95 (27.46)
        3:09.44 (27.49)     3:36.98 (27.54)
        4:04.50 (27.52)     4:31.87 (27.37)
        4:59.12 (27.25)     5:26.44 (27.32)
        5:53.80 (27.36)     6:21.10 (27.30)
        6:48.52 (27.42)     7:15.89 (27.37)
        7:43.38 (27.49)     8:10.90 (27.52)
        8:38.27 (27.37)     9:05.89 (27.62)
        9:33.33 (27.44)    10:00.82 (27.49)
       10:28.31 (27.49)    10:56.10 (27.79)
       11:23.74 (27.64)    11:51.60 (27.86)
       12:19.68 (28.08)    12:47.93 (28.25)
       13:16.15 (28.22)    13:44.25 (28.10)
       14:12.48 (28.23)    14:40.60 (28.12)    15:07.57 (26.97)
  2 Ally McHugh      JR Penn St          15:43.34   15:36.27         17  
    r:+0.75  26.75        55.30 (28.55)
        1:24.14 (28.84)     1:53.11 (28.97)
        2:22.05 (28.94)     2:51.02 (28.97)
        3:19.93 (28.91)     3:48.92 (28.99)
        4:17.76 (28.84)     4:46.49 (28.73)
        5:14.66 (28.17)     5:42.97 (28.31)
        6:11.28 (28.31)     6:39.59 (28.31)
        7:07.79 (28.20)     7:36.08 (28.29)
        8:04.51 (28.43)     8:33.16 (28.65)
        9:01.69 (28.53)     9:30.09 (28.40)
        9:58.13 (28.04)    10:26.41 (28.28)
       10:54.90 (28.49)    11:23.46 (28.56)
       11:51.90 (28.44)    12:20.24 (28.34)
       12:48.59 (28.35)    13:16.71 (28.12)
       13:44.76 (28.05)    14:12.84 (28.08)
       14:41.16 (28.32)    15:09.25 (28.09)    15:36.27 (27.02)
  3 Hannah Moore     SR NC State         15:48.37   15:40.68         16  
    r:+0.69  26.22        54.63 (28.41)
        1:23.15 (28.52)     1:51.99 (28.84)
        2:20.78 (28.79)     2:49.64 (28.86)
        3:18.47 (28.83)     3:47.20 (28.73)
        4:15.98 (28.78)     4:44.81 (28.83)
        5:13.53 (28.72)     5:42.24 (28.71)
        6:10.89 (28.65)     6:39.65 (28.76)
        7:08.21 (28.56)     7:36.74 (28.53)
        8:05.33 (28.59)     8:33.86 (28.53)
        9:02.32 (28.46)     9:30.98 (28.66)
        9:59.51 (28.53)    10:28.07 (28.56)
       10:56.53 (28.46)    11:25.02 (28.49)
       11:53.31 (28.29)    12:21.78 (28.47)
       12:50.10 (28.32)    13:18.54 (28.44)
       13:47.07 (28.53)    14:15.78 (28.71)
       14:44.61 (28.83)    15:13.26 (28.65)    15:40.68 (27.42)
  4 Megan Byrnes     SO Stanford         15:49.38   15:43.68         15  
    r:+0.76  27.14        55.92 (28.78)
        1:24.75 (28.83)     1:53.78 (29.03)
        2:22.74 (28.96)     2:51.65 (28.91)
        3:20.57 (28.92)     3:49.45 (28.88)
        4:18.27 (28.82)     4:47.11 (28.84)
        5:15.69 (28.58)     5:44.35 (28.66)
        6:12.95 (28.60)     6:41.63 (28.68)
        7:10.23 (28.60)     7:38.78 (28.55)
        8:07.51 (28.73)     8:36.13 (28.62)
        9:04.63 (28.50)     9:33.26 (28.63)
       10:01.83 (28.57)    10:30.52 (28.69)
       10:59.31 (28.79)    11:27.86 (28.55)
       11:56.42 (28.56)    12:24.99 (28.57)
       12:53.66 (28.67)    13:22.23 (28.57)
       13:50.89 (28.66)    14:19.42 (28.53)
       14:47.95 (28.53)    15:16.34 (28.39)    15:43.68 (27.34)
  5 Leah Stevens     JR Stanford         15:52.54   15:49.07         14  
    r:+0.66  26.80        55.94 (29.14)
        1:25.20 (29.26)     1:54.25 (29.05)
        2:23.46 (29.21)     2:52.40 (28.94)
        3:21.39 (28.99)     3:50.33 (28.94)
        4:19.25 (28.92)     4:48.36 (29.11)
        5:17.22 (28.86)     5:46.07 (28.85)
        6:14.97 (28.90)     6:43.68 (28.71)
        7:12.45 (28.77)     7:41.28 (28.83)
        8:10.30 (29.02)     8:39.23 (28.93)
        9:08.35 (29.12)     9:37.52 (29.17)
       10:06.22 (28.70)    10:34.86 (28.64)
       11:03.42 (28.56)    11:32.04 (28.62)
       12:00.63 (28.59)    12:29.37 (28.74)
       12:58.00 (28.63)    13:26.85 (28.85)
       13:55.49 (28.64)    14:24.09 (28.60)
       14:52.57 (28.48)    15:21.02 (28.45)    15:49.07 (28.05)
  6 G Ryan           SR Michigan         15:59.72   15:50.95         13  
    r:+0.71  27.34        56.69 (29.35)
        1:26.31 (29.62)     1:55.72 (29.41)
        2:25.11 (29.39)     2:54.33 (29.22)
        3:23.84 (29.51)     3:53.15 (29.31)
        4:22.47 (29.32)     4:51.60 (29.13)
        5:20.50 (28.90)     5:49.57 (29.07)
        6:18.57 (29.00)     6:47.43 (28.86)
        7:16.32 (28.89)     7:45.04 (28.72)
        8:13.93 (28.89)     8:42.79 (28.86)
        9:11.65 (28.86)     9:40.56 (28.91)
       10:08.97 (28.41)    10:37.39 (28.42)
       11:05.97 (28.58)    11:34.70 (28.73)
       12:03.32 (28.62)    12:31.76 (28.44)
       13:00.38 (28.62)    13:29.13 (28.75)
       13:57.86 (28.73)    14:26.55 (28.69)
       14:55.09 (28.54)    15:23.56 (28.47)    15:50.95 (27.39)
  7 Molly Kowal      SO Ohio State       15:53.11   15:52.80         12  
    r:+0.87  26.93        55.34 (28.41)
        1:24.39 (29.05)     1:53.44 (29.05)
        2:22.74 (29.30)     2:51.93 (29.19)
        3:21.06 (29.13)     3:50.06 (29.00)
        4:19.22 (29.16)     4:48.28 (29.06)
        5:17.27 (28.99)     5:46.29 (29.02)
        6:15.24 (28.95)     6:44.40 (29.16)
        7:13.37 (28.97)     7:42.34 (28.97)
        8:11.50 (29.16)     8:40.43 (28.93)
        9:09.41 (28.98)     9:38.31 (28.90)
       10:07.21 (28.90)    10:36.00 (28.79)
       11:04.80 (28.80)    11:33.58 (28.78)
       12:02.42 (28.84)    12:31.26 (28.84)
       13:00.02 (28.76)    13:28.78 (28.76)
       13:57.83 (29.05)    14:26.96 (29.13)
       14:56.00 (29.04)    15:25.20 (29.20)    15:52.80 (27.60)
  8 Tamila Holub     FR NC State         16:00.14   15:54.44         11  
    r:+0.81  26.79        55.94 (29.15)
        1:25.22 (29.28)     1:54.41 (29.19)
        2:23.69 (29.28)     2:52.87 (29.18)
        3:21.74 (28.87)     3:50.90 (29.16)
        4:20.14 (29.24)     4:49.32 (29.18)
        5:17.97 (28.65)     5:46.99 (29.02)
        6:15.85 (28.86)     6:44.73 (28.88)
        7:13.46 (28.73)     7:42.17 (28.71)
        8:10.86 (28.69)     8:39.57 (28.71)
        9:08.38 (28.81)     9:37.27 (28.89)
       10:06.20 (28.93)    10:35.00 (28.80)
       11:04.04 (29.04)    11:33.28 (29.24)
       12:02.34 (29.06)    12:31.69 (29.35)
       13:00.73 (29.04)    13:29.96 (29.23)
       13:58.96 (29.00)    14:28.27 (29.31)
       14:57.44 (29.17)    15:26.72 (29.28)    15:54.44 (27.72)
       Women - Team Rankings - Through Event 15                 
 
  1. Stanford                          463   2. California                        268
  3. Texas A&M                         186   4. Texas                           175.5
  5. Michigan                          171   6. Louisville                        168
  7. Tennessee                       137.5   8. Minnesota                         134
  9. Indiana                           133  10. Virginia                          106
 11. Ohio St                            93  12. Southern Cal                       83
 13. Georgia                            82  14. Missouri                           72
 15. NC State                           67  16. Wisconsin                          62
 17. Auburn                           51.5  18. Arizona                            46
 19. South Carolina                     44  20. Kentucky                           41
 21. Purdue                             36  22. University of Nevada               33
 23. Arkansas                           30  24. Arizona St                         27
 25. Penn St                            26  26. UNC                                25
 27. Denver                             20  27. Northwestern                       20
 29. Hawaii                           16.5  30. Eastern Mich                       15
 30. Alabama                            15  30. UCLA                               15
 33. Miami University                   14  34. Virginia Tech                      11
 34. Florida                            11  36. Louisiana State University          8
 37. Rutgers                             6  38. Florida St                          3
 39. Duke                                2  39. University of Miami                 2