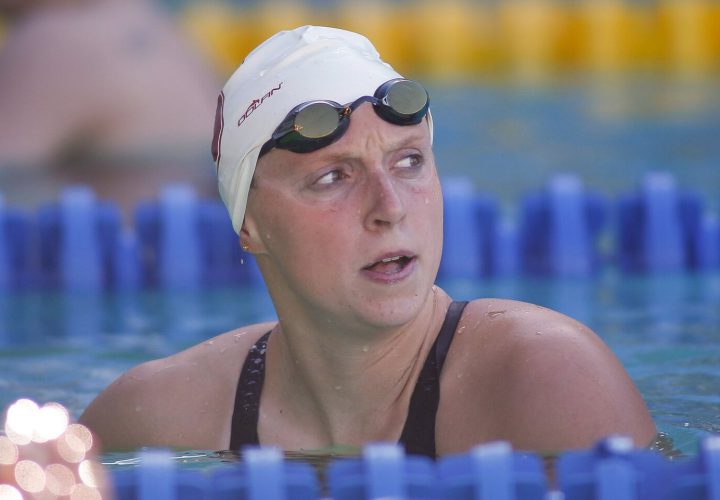 Photo Courtesy: Stan Szeto-USA TODAY Sports
Editorial content for the 2017 USA Swimming Nationals is sponsored by TritonWear. Visit TritonWear.com for more information on our sponsor. For full Swimming World coverage, check event coverage page.
By David Rieder.
Much to the chagrin of those who bought tickets, Katie Ledecky swam only two races at the Arena Pro Swim Series stop in Santa Clara, Calif. Unsurprisingly, she won both, finishing the 1500 free in 15:35.65 and the 200 free in 1:55.34, posting the fastest time in the world this year in each event.
She had no need to swim anything else—she already owns the No. 1-ranked times this year in the 400 free (4:00.98) and 800 free (8:15.44) and is even the top-ranked American in the 400 IM at 4:38.16, even though she has no intention of competing in that event at U.S. Nationals or the World Championships.
Her trips to Santa Clara, each less than a half-hour's drive southeast from Stanford, were for one purpose alone: getting in a final tune-ups for the year's signature competitions.
"I think it was just good to race those two events this weekend, get some focused racing in, just focus on what I want to do in those races and make some tweaks along the way, try out some things, and I'm really happy how it went," Ledecky said.
She dominated the 1650-yard free during her first collegiate season at Stanford, flirting with a historic sub-15-minute swim, but Ledecky actually hadn't competed in a long course mile since the 2015 World Championships, when she set the current world record at 15:25.48.
Even though she swam 10 seconds slower in Santa Clara, the time ranks as the fifth-fastest performance in history, behind four of Ledecky's other performances, and it was three seconds faster than any other woman has ever swum.
"It was good to swim the mile," Ledecky said. "I just wanted to get one under my belt, and I was happy with it. I didn't feel as fast as 15:35, which is a good sign with where I am. Excited moving forward."
Seven others in history have swum quicker than Ledecky's Santa Clara effort in the 200 free, but the time was less than two tenths slower than the 1:55.16 she posted two years ago in Kazan to win her first World title in the event. But after the race, Ledecky was in no mood to compare herself to others.
"We took how I swam it in Mesa and how I swam it in Atlanta (at the last two Arena Pro Series meets) and looked for things there that needed some improvement," she said. "Just good that I was able to push that third 50 and work through that and work through my tempos and hit all the technique things I need to focus on in that race. Just put it all together, and I knew if I could do that, a pretty good time would come."
Sounds like standard routine for a swimmer who is three weeks out from the summer's big meet.
But pause right there for a moment. Remember that Katie Ledecky said that. Not a fringe National team member hoping to get back on the Worlds team but a swimmer coming off as good of a 12-month stretch—even a four-year stretch, for that matter—anyone in the sport could imagine.
She won four Olympic gold medals and one silver, crushing two of her own world records in the process. Winning multiple Olympic gold medals was a novelty for her, but the world records and dominance had become something of a broken record.
And then she went to college and led her star-studded team to a national championship. When Stanford clinched the title and the swimmers jumped into the pool to celebrate, Ledecky showed some rare emotion, in awe of an award she was receiving for the first time.
Now, less than three months after the team triumph and in the midst of the so-called "off-year" post-Olympics, Ledecky appears as focused as ever.
"I think in October when I sat down with [Stanford head coach] Greg [Meehan] and talking about goals, we talked about short course goals, and we talked about some longer-term long course goals," she said. "They're exciting goals, but we also know that we have to take those goals step by step, and they're ambitious."
Four years ago, after winning three gold medals at her first World Championships in Budapest, Ledecky and Bruce Gemmell, her coach at the time, determined that she wanted to be 3:56 in the 400 free and 8:05 in the 800 free come Rio. At the time, the world records in those two events were 3:59.15 and 8:13.86.
Well sure enough, come Rio, Ledecky swam times of 3:56.46 in the 400 and 8:04.79. She won't reveal what new goals she has set with Meehan, but it's hard not to speculate.
In three years, Ledecky dropped the world record in the 800 free by nine seconds. Could she have her sights set on a sub-eight-minute 800 free? It's fair to wonder if something that astonishing might be within the realm of possibility.
With that in mind, perhaps it's easier to see why her focus has not wavered, even three years out from an Olympic Games.
"I think Rio showed me what was possible," she said. "I just focused on what I wanted to achieve and really focused on those goals I'd set in 2013 with Bruce. Just seeing how I could step-by-step chip away at those and then ultimately achieve those goals, achieve what I wanted to achieve in Rio, it was such a great process, such a great four years. So I want to do everything I can this year and over the next three years to set myself up in a similar way."
Ledecky then paused and cracked a huge smile as she thought back on her two Olympic experiences.
"The Olympics are just so much fun," she said. "I got to Rio, and walking around the village, I was like, 'Wow, I really forgot how special the Olympics were.' Having been to two now, you want to go back again, and you want to do as well as you can when you get there. It's the best feeling you can experience as a swimmer."
Ledecky has plenty of smaller milestones she hopes to achieve over the next three years—including at World Championships Trials in Indianapolis later this month—but all of her ambitious long-term goals are geared at making a third trip to the Olympics just as special as the first two.