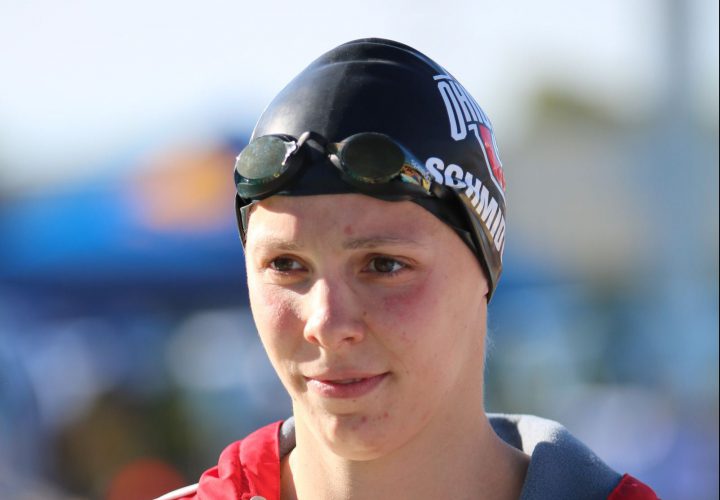 Photo Courtesy: David Farr
The 2017 German National Championships kicked off Thursday in Berlin with eight national finals as athletes went after spots at this summer's World Championships in Budapest. Highlighting the action were Jessica Steiger and Aliena Schmidtke, who each took down German national records.
Sarah Kohler won the first event of the meet, taking the women's 400 free by over a second and touching in 4:08.30. Johanna Friedrich touched second in 4:09.36, and Isabel Marie Gose was third in 4:10.00.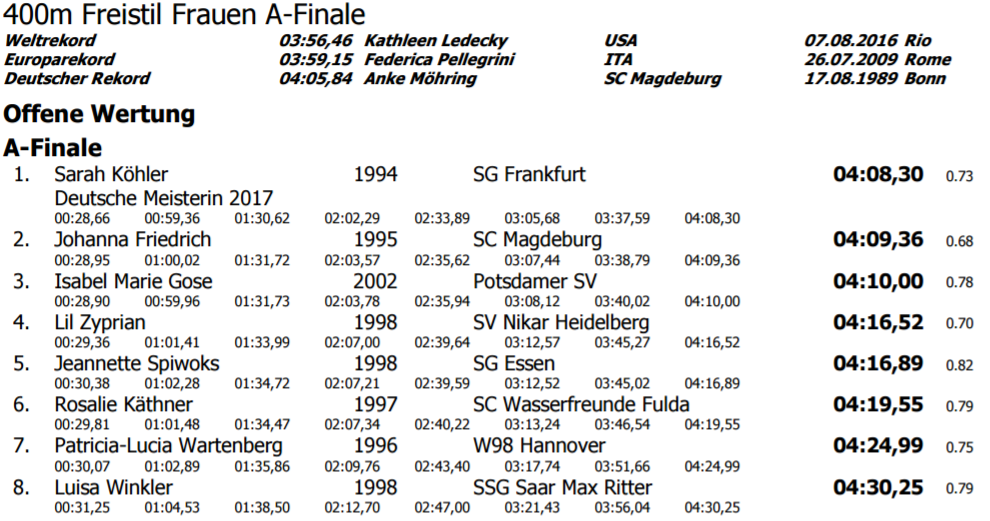 Poul Zellman won the men's 400 free in 3:47.49, almost a second ahead of runner-up Clemens Rapp. Rapp came in at 3:38.31, and third went to Henning Muhlleitner in 3:50.93.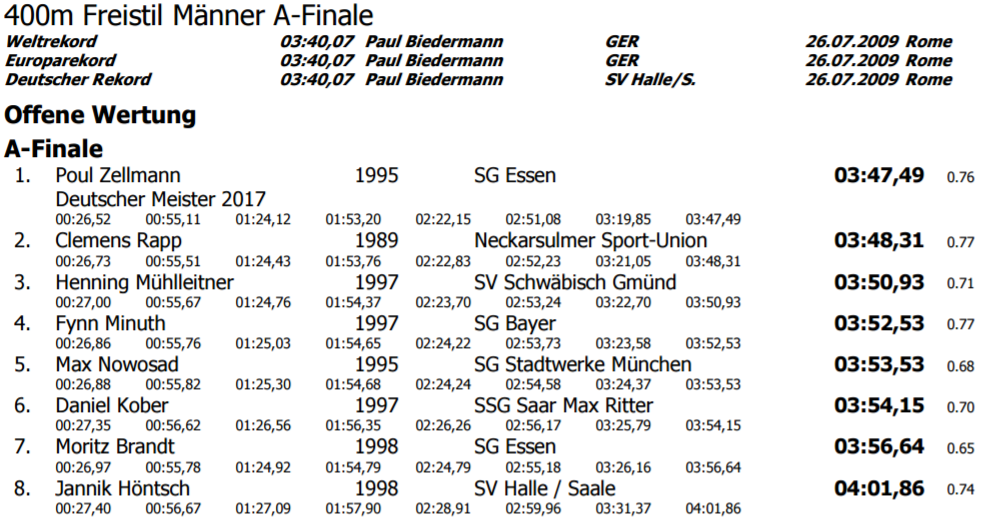 Steiger broke the first national record of the day when she won the women's 200 breast in 2:25.00. That edged out the 2:25.33 set by Birte Steven more than a decade ago in Berlin. Vanessa Grimberg finished second in 2:27.18, and Michelle Lambert posted a third-place time of 2:29.84.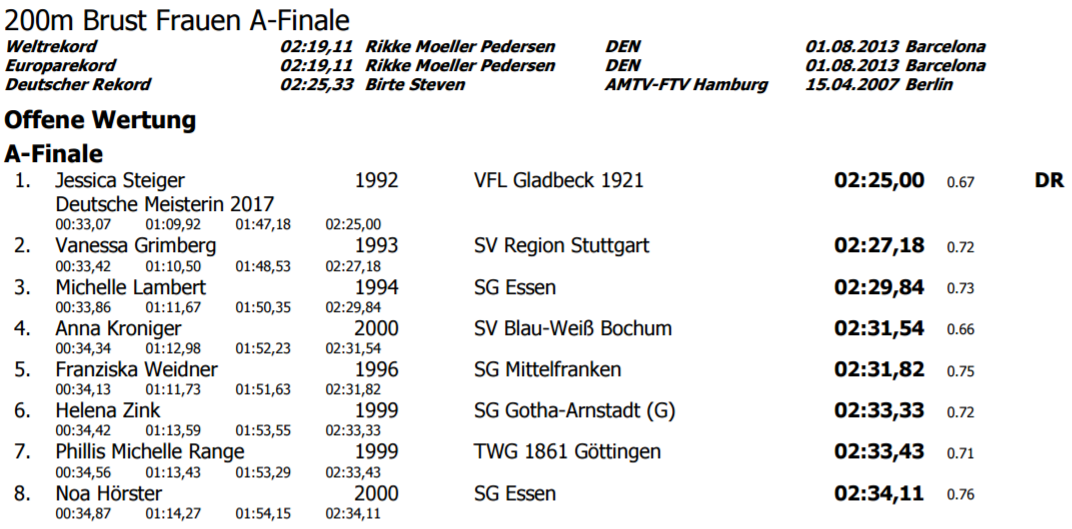 Christian Von Lehm took first in the men's 100 breast in 59.47, improving to eighth in the world and finishing not far off Hendrik Feldwehr's 2009 German record of 59.15. Fabien Schwingenschlogl finished in second in 1:00.47, and 200 breast World Champ Marco Koch touched third at 1:00.56.
Julia Mrozinski won the national title in the women's 400 IM as she came out on top of a tight dual with Julian Reinhold. Mrozinski touched in 4:43.82, followed closely by Reinhold in 4:43.96. Kathrin Demler took third in 4:46.36.
Marek Ulrich held off Jan-Philip Glania to win the men's 100 back, 54.27 to 54.36. Christian Diener finished third in 54.96.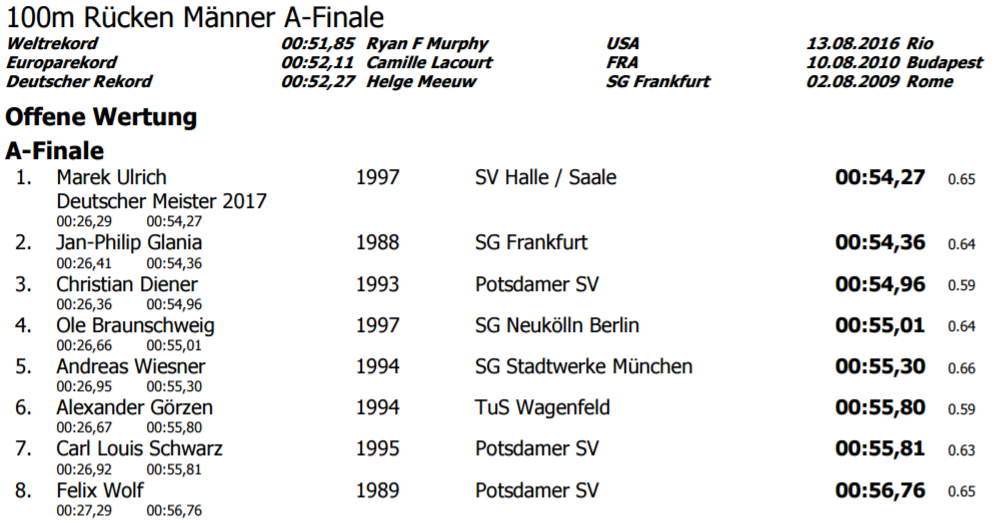 Aliena Schmidtke lowered the second national record of the day when she won the 50 fly in 26.00, two hundredths faster than Dorothea Brandt's time of 26.02 set last year. Anna Dietterle finished just behind in second, posting a 26.17, and Maya Tobehn took third in 26.74.

In the final event of the day, David Thomasberger won the men's 50 fly in 23.81. He touched out Damian Wierling, who came in second at 23.84, while Luca Nik Armbruster was third in 24.06.