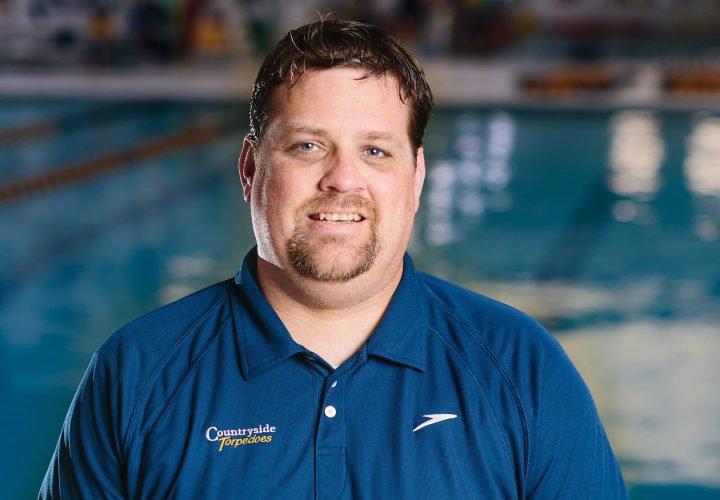 Photo Courtesy: Countryside YMCA
After an extensive search, Countryside YMCA (Lebanon, Ohio) is proud to announce Jason Roberts as its new director of competitive swimming/head coach for its nationally ranked Torpedo Swim Team.
"Jason was selected from a very impressive list of qualified coaching candidates," said Countryside YMCA Aquatics Executive Director Holly Colon. "We selected him because Jason has demonstrated a very keep attention to detail; and clearly understands that a successful program produces not only great swimmers, but outstanding young people with strong character values as well."
Roberts has been coaching swimming for more than 20 years. His career began as the head coach of the Kenton County YMCA Summer Team League. Since then, he spent seven years as the Head Age Group coach and 10 years as head coach at the Northern Kentucky Clippers Swim Team. His success with the Clippers included taking a locally competitive program in the Ohio LSC (a division of USA Swimming) to a nationally competitive program. Over the last two years, Roberts spent his time rebuilding the Foxjets Swim Team in Minnesota; growing that team over 320 swimmers this past winter.
"I'm excited for this opportunity to help continue and grow this longtime tradition at Countryside YMCA," Roberts said of his new position. "I have always said that coaches are fortunate to work with and be a role model to other parents' kids. Our sport teaches so many important life lessons. Through our Torpedo Swim Team, I want to instill in our athletes the character values they will need to be successful in their lives."
The Countryside YMCA Torpedo Swim Team includes over 200 families and about 230 swimmers, ages 6 to 18. Historically, the Team has ranked among the top 5 YMCA teams across the country. In July, the Team won the YMCA Southwest Ohio Swim League Championships at Miami University. In 2014, the Team won the YMCA Long Course Combined National Championships. In 2017, 12 of 15 graduating teammates will be going to college on swimming scholarships.
Press release courtesy of Countryside YMCA.