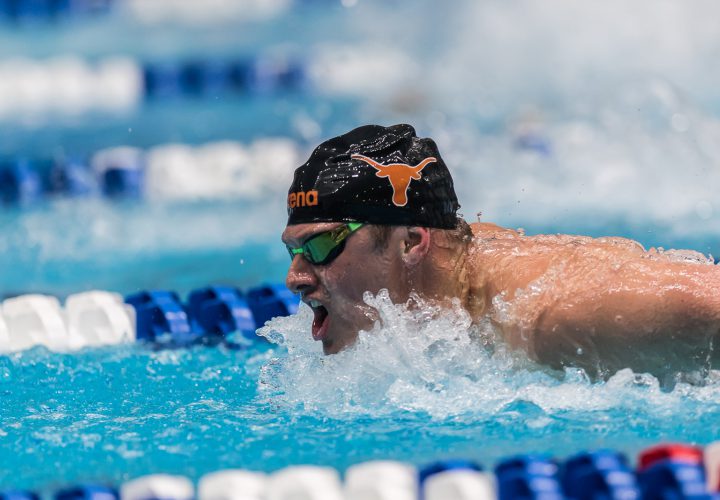 Photo Courtesy: Peter Bick
NCAA DI editorial coverage is proudly sponsored by Adidas. Visit adidasswimming.com for more information on our sponsor. For all the latest coverage, check out our event coverage page.

CLICK HERE FOR LIVE RESULTS
Texas senior Jack Conger has been the runner up perhaps more times than anybody at the NCAA Championships. Going into today, it was expected to be a match race between Conger and Texas junior and two-time defending champion Joseph Schooling. Schooling did not make the A-final after a poor performance this morning, so it was expected to be all Conger. The senior took the lead early with a 45.78 100 split and never looked back. Conger finished way ahead of the records and swam the fastest time in history at 1:37.35 for his first individual NCAA title.
California's Zheng Quah finished in second at 1:38.83. Quah is now third all-time in the event. Georgia's Gunnar Bentz finished third at 1:40.07 for eighth all-time. Georgia's Pace Clark, NC State's Andreas Vazaios, California's Andrew Seliskar and Arizona's Justin Wright all swam in the A-final. Georgia's Chase Kalisz was disqualified for a false start.
Texas now has four NCAA titles in the 200 fly. Conger joins Schooling (2015, 2016) and Rainer Kendrick (2004) as winners for the Longhorns in the event.
 Event 19  Men 200 Yard Butterfly
=========================================================================
         NCAA: N 1:37.97  3/26/2016 Joseph Schooling, Texas
 Championship: C 1:37.97  3/26/2016 Joseph Schooling, Texas
     American: A 1:38.06  3/26/2016 Jack Conger, Texas
   U. S. Open: O 1:37.97  3/26/2016 Joseph Schooling, Texas
         Pool: P 1:39.65            Tom Shields, California
    Name                 Year School            Prelims     Finals Points 
=========================================================================
                       === Championship Final ===                        
 
  1 Conger, Jack           SR Texas             1:39.88    1:37.35N  20  
    r:+0.66  21.65        45.78 (24.13)
        1:10.87 (25.09)     1:37.35 (26.48)
  2 Quah, Zheng            FR California        1:40.44    1:38.83P  17  
    r:+0.60  22.11        47.00 (24.89)
        1:12.45 (25.45)     1:38.83 (26.38)
  3 Bentz, Gunnar          JR Georgia           1:40.61    1:40.07   16  
    r:+0.71  22.98        48.88 (25.90)
        1:14.82 (25.94)     1:40.07 (25.25)
  4 Clark, Pace            SR Georgia           1:40.98    1:40.41   15  
    r:+0.57  22.29        47.91 (25.62)
        1:13.94 (26.03)     1:40.41 (26.47)
  5 Vazaios, Andreas       JR NC State          1:40.77    1:40.80   14  
    r:+0.68  22.69        48.28 (25.59)
        1:14.14 (25.86)     1:40.80 (26.66)
  6 Seliskar, Andrew       SO California        1:41.16    1:40.91   13  
    r:+0.64  22.21        47.78 (25.57)
        1:13.94 (26.16)     1:40.91 (26.97)
  7 Wright, Justin         JR Arizona           1:41.38    1:40.94   12  
    r:+0.59  23.36        49.16 (25.80)
        1:14.92 (25.76)     1:40.94 (26.02)
 -- Kalisz, Chase          SR Georgia           1:40.62         DQ  
      False start
    r:+0.67  22.81        48.73 (25.92)
        1:15.11 (26.38)          DQ (25.95)
                 Men - Team Rankings - Through Event 19                  
 
  1. Texas                             502   2. California                        319
  3. Florida                         260.5   4. NC State                        248.5
  5. Indiana                         205.5   6. Stanford                          203
  7. Southern Cali                     192   8. Univ of Georgia                   183
  9. Missouri                        165.5  10. Louisville                      143.5
 11. Alabama                         135.5  12. Auburn                          114.5
 13. South Carolina                     99  14. Michigan                           82
 15. Arizona State                      74  16. Texas A&M                          73
 17. Purdue                             69  18. Tennessee                          55
 19. Wisconsin                          53  20. Virginia Tech                      48
 21. Arizona                          34.5  22. Ohio St                            33
 23. University of Miami                31  24. Lsu                                28
 25. Harvard                            24  26. Penn St                            23
 26. Minnesota                          23  26. Notre Dame                         23
 29. Northwestern                       19  29. Denver                             19
 31. Duke                               12  32. George Washington                   9
 33. Cornell                             7  33. Florida State                       7
 35. UNC                                 6  36. Kentucky                            4
 37. Hawaii                              2  37. Penn                                2
 37. Missouri State                      2  40. Yale                                1
 40. Pittsburgh                          1  40. Towson                              1