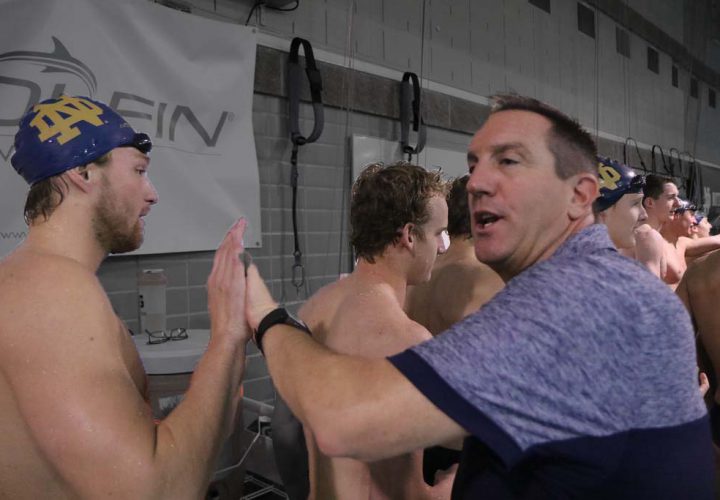 Photo Courtesy: Marcus Snowden/Notre Dame
Morning Splash by David Rieder.
Mike Litzinger remembers the first time the Notre Dame women's and men's teams swam a combined practice under his leadership: December 18, 2015.
"It was probably the best practice I've seen our group do," he said. "The kids were excited. We were mixed in. It was a team practice."
That day, Notre Dame had announced that then-men's head coach Matt Tallman was taking an indefinite leave of absence and that Litzinger, in his first year as head coach of the women's team after previously spending eight years as an assistant at North Carolina, would take over the men's program on an interim basis.
During the first half of the 2015-16 season, the separation of the women's and men's teams had been foreign for Litzinger, who had always coached in combined programs. But at Notre Dame, the women and men had been split up for two decades. When all that suddenly changed in December, Litzinger and two assistants had 60 swimmers to manage.
Despite the midseason change and limited staff, the Fighting Irish finished with a "modicum of success" that year. Both teams finished seventh at both ACC championships, but neither scored a single point at either NCAA championships.
But Litzinger, inspired by the positive energy he saw when the women and men first swam together, wanted to make the combined team a permanent fixture. In April, Irish athletic director Jack Swarbrick agreed, and he named Litzinger the full-time head coach of a combined program.
Sure, it was a risk—any sort of massive change is, especially after 20 years of doing things one way—but Litzinger saw massive rewards down the line if the team would buy in. They did.
"There was a culture shift that we had to implement with (Swarbrick's) support, and then the athletes had to buy into that," Litzinger said. "The men and women had been separated for so long that being together was exciting, new, but there was no real direction on which way we were going to go with this.
"To all their credit, the kids completely bought into what my staff and I had seen, our vision of what we were going to do."
Right away, Litzinger stressed that his swimmers had to embrace the academic rigor of Notre Dame and had to buy into full-scale training over the summer. "That has to be part of the culture," he said, "and you can never dumb it down or downplay it. It's required of you to be here."
Litzinger spoke of shifting "from a Big East mentality to an ACC mentality." The Irish women and men had won conference titles in the old Big East, but when realignment put them into one of the country's deepest leagues, contending would take a lot more than in the past.
But as an institution, the Irish were no stranger to athletic success—Litzinger recalled standing next to men's basketball coach Mike Brey and Hall of Fame women's basketball coach Muffat McGraw at one of his first athletics staff meetings.
"I'm kind of the bum at the table," he said. "I've got to up my game.
The expectation was set: Being an also-ran in the ACC would not be good enough.
===
Very quickly, the Notre Dame men's team surged. At the end of Litzinger's first year coaching a combined program, the Irish finished 40 points ahead of Virginia Tech to finish third at the ACC championships.
Sprinters Justin Plaschka (50 free) and Tabahn Afrik (100 free) each finished second individually, backstroker Rob Whitacre and breaststroker Trent Jackson each scored big, and Joe Coumos topped the 1-meter event for the Irish.
One month later at NCAAs, the team finished 25th with 29 points total, 11 of them coming from Jackson's eighth-place finish in the 200 breast.
"He was a miler when I got here," Litzinger said of Jackson. "I turned him over and put him in the breaststroke group, and he went 52.2 and 1:53.5."
Jackson graduated after that season, but the rest of Notre Dame's core returns. Whitacre and Coumos both narrowly missed scoring performances at the NCAA championships, and sprint relays led by Plaschka, Afrik and Daniel Speers should again score points at the national level.
For conference championship purposes, expect the Irish and Florida State to have the best sprint relays in the ACC this side of NC State. Still, it's tough to see Notre Dame beating out either NC State or Louisville at the ACC championships, meaning a third or fourth-place finish is probably the ceiling for this year's team.
That said, the Irish have added a potential difference-maker this year, a freshman who has quickly elevated himself into the nation's elite in the distance races.
Heading into conference championship season, Zach Yeadon is ranked No. 7 in the country in both the 500 and 1650 free. All season, Yeadon has been the most consistent dual meet performer for his team, and his season-bests of 4:14.93 in the 500 and 14:47.18 in the mile would already have been good enough for fourth at last year's conference meet.
Litzinger and distance group coach Aaron Bell have not been afraid to push their star freshman out of his comfort zone, and Yeadon has responded just has they had hoped.
"You have to have those tough conversations with a guy like Zach about, 'Hey, what's the next step?' or 'Hey, you ready to double the 1000 and 200 free?'" Litzinger said. "You use it as a learning experience, as a tool to get better. He's very open to do whatever it takes. He's always like, 'Coach, if it's good for the team, I'm doing it.' That's how he is."
Winning an individual ACC title as a freshman? Well, he could end up doing that, too.
===
As for the Notre Dame women, they have yet to finish higher than seventh at the ACC championships under Litzinger, but the team lost little of its key points from last year. All four of its individual conference finalists return: Junior backstroker Alice Treuth, junior breaststroker Meaghan O'Donnell, sophomore flyer Erin Sheehan and sophomore freestyler Abbie Dolan.
Where Yeadon has been the ever-present double winner for the men at every Notre Dame dual meet for the men, Dolan has been that for the women. In fact, she took on her team's ace role very quickly as a freshman in the fall of 2016.
"I saw her swim a long time ago, right when I got the job at (Notre Dame during) a Sectional meet in Minnesota, and I really liked the way that she sat in the water," Litzinger recalled. "I was thinking, 'This kid could be pretty good.'"
As a freshman, Dolan finished fourth in the 200 free at the ACC championships, swimming as fast as 1:44.65 in that event and 48.01 on the Irish's 400 free relay. But she was sick throughout that entire meet—with mononucleosis, it turned out.
"The day after the ACCs, that Friday on the way home, she was a disaster, and then she sat out for 10 days leading up to NCAAs. She literally got in probably five or six days before NCAAs, and she still was able to crank out a 1:45 at the meet and split 48 on the relays," Litzinger said. "That tells you what type of talent the kid has."
Dolan has no fear, according to her coach, and she won't back down from racing a swimmer with the pedigree of, say, Mallory Comerford. In the 200 free final at ACCs last year, Dolan tried to go out with Comerford and was only three tenths behind at the halfway point, but she fell apart over the final 75.
But the next time the two raced head-to-head in a 200 free, at a much less consequential October dual meet, Dolan again took the race out hard and had enough to score a win over Comerford, 1:46.12 to 1:46.13.
"For Abbie, every day is new, and it's still new," Litzinger said. "This year, she's actually healthy, so it's still new. She's excited about what she can do, and she's excited about the process. I think the key is keeping her fresh, keeping her excited, keeping always a little carrot to chase out there for her."
With Dolan at full strength and a supporting cast that includes freshman distance swimmer Lindsay Stone, the Irish women figure to jump up several spots in the conference rankings this season—even if taking down NC State, Virginia or Louisville would be an extremely tall order.
"I think our women are poised to make the same kind of jump that our men did last year," Litzinger said. "It will be a little more difficult because I think (the women's meet) is deeper. You've got Duke swimming well, and (Virginia) Tech's got older kids, and (North) Carolina's still got some really great athletes. It'll be a battle, but it's one that we're ready to take on."
Sure, a top-four or top-five finish at the ACC championships is not Litzinger's end goal, the limit of "what I see as all the potential possibilities for Notre Dame," but it's a step towards the national relevance he's seeking for both his women and his men.
After all, building a program to that sort of elite level takes time, but since the first time the women and men swam together back in the winter of 2015, Litzinger knew he had all he needed—a group of athletes willing to buy in.
"No one batted an eyelash," he said. "It was game on from the very beginning."