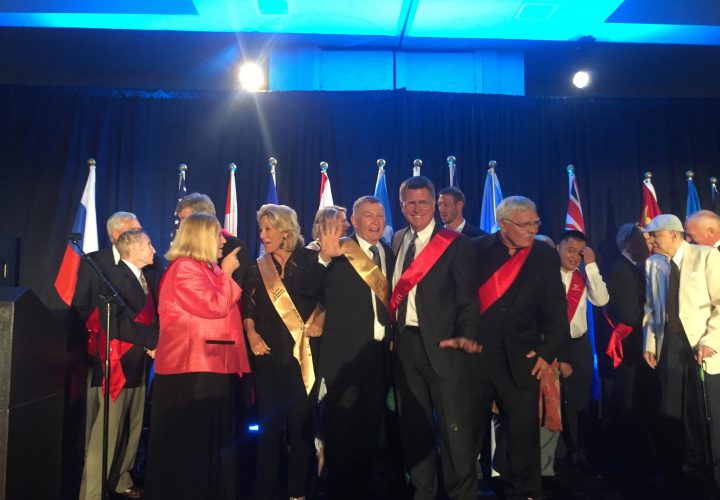 The International Swimming Hall of Fame inducted 18 new members last week. The list of inducted members included seven swimmers, three water polo players, two divers, two coaches, two open water swimmers, one synchro swimmer and one photographer.
The athletes and contributors were inducted into the hall on August 25 in Fort Lauderdale. The inductees are listed below.
Swimmers:
Alain Bernard, France
Born in Aubagne, Bouches-du-Rhône, France, Alain Bernard trained at a local club until the age of 16, when he switched to Club Marseille to train under coach Denis Auguin. He made slow but steady progress until 2007, a break-out year in which he set the French record in the 100m freestyle and later claimed his first European Championship title in the same event. Then, at the European Championships in March 2008, he set his first world records, winning the 50m and 100m freestyle. A month later he qualified for the Beijing Olympic Games in both events.
Alain's experience in Beijing began with bitter disappointment, when the USA took the gold medal from the favored French team in the 4x100m freestyle relay. In addition, he also lost his world record to Eamon Sullivan who led off Australia's relay with a phenomenal swim.
Alain reclaimed his record two days later in his 100m freestyle semi-final swim, before losing it again to Sullivan in his semi. In the final, however, it was Alain Bernard who won the gold medal, and with his victory, he became France's first male Olympic gold medalist since Jean Boiteaux, who won the 400m freestyle at the 1952 Helsinki Olympic Games.
The next day he won a bronze medal in the 50m freestyle event and left Beijing with three medals, each of a different metal.
The next year, Alain ushered in the shiny suit era by becoming the first swimmer to break the 47 second barrier in the 100m freestyle, breaking Sullivan's record with a time of 46.94 seconds. Unfortunately, the suit he wore was not approved by FINA and his record was unrecognized.
Leading up to the 2012 Olympic Games in London, Alain continued to be among the world's top sprinters and although he missed qualifying in individual events, he was a member of the French 4x100m freestyle relay that finally won the gold, after knocking on the door of greatness for most of his career. Upon returning to France at the age of 29, he announced his retirement as his country's most decorated Olympic swimmer, owning a total of four medals (two gold, one silver and one bronze) from two Olympic Games, Beijing and London.
Today he continues to share his love of swimming in his role as ambassador and technical advisor for the French AquaSphere brand of swim equipment.
Ian Crocker, USA
When 17-year old Ian Crocker entered the 2000 US Olympic Trials, it was with a view to gain experience for 2004, but he left the meet winning the 100m butterfly. Then, at the Olympic Games in Sydney, he won a gold medal as a member of the USA's world record breaking 4x100m medley relay team.
After graduating from high school, he left Maine to swim for Eddie Reese at the University of Texas and won the NCAA title in the 100yd butterfly as a freshman. He was America's top flyer and won a silver medal at the 2001 FINA World Championships. At the 2002 Phillips Nationals in Fort Lauderdale, 17-year old Michael Phelps rallied in the final yards to beat him and claim his American record of the 100m butterfly. Thus began an incredible rivalry that would last through the Beijing Olympic Games.
At the 2003 FINA World Championships, Crocker won the 100m butterfly, beating Phelps and becoming the first in history to break 51 seconds. He beat Phelps and bettered his world record again at the 2004 Olympic Trials while also finishing second behind Jason Lezak in the 100m freestyle.
Before their race in Athens, it was clear that Ian had not been feeling well or swimming well. In fact, he arrived at the Olympic village with a sore throat. He performed poorly in the 100m freestyle and freestyle relay and as he was starting to feel better, Phelps took the gold with a brilliant touch at the wall to beat him in the 100m butterfly, which knocked him off the relay, one that he had been a part of since 2000. In a magnanimous gesture of grace and sportsmanship, Michael Phelps gave his medley spot to Crocker. "He wasn't feeling too well," said Phelps. "He deserved another shot." The gesture brought Crocker to near tears and he didn't disappoint, splitting a world best time of 50.28 seconds, to help his team win gold and set a new world record.
In 2005, Phelps had backed off a bit on training, while Crocker was wholly focused on the FINA World Championships. In the much anticipated rematch, Crocker took the lead and never looked back, finishing a full body length ahead of the field and breaking his world record by more than three tenths of a second.
At the 2008 Beijing Olmpic Games, despite not earning a medal in his signature event, Crocker swam in the prelims of the USA's 4×100m medley relay and received his third Olympic relay gold medal.
Ian Crocker retired after the Beijing Games with 21 medals in major international competition, spanning three Olympics and four FINA World Championships. He is one of the only swimmers in history to win the same event – the 100yd butterfly – all four years of college. History will remember him as one of the greatest butterflyers, a man who held onto the 100m butterfly world record for six years.
Leisel Jones, Australia
She first learned to swim in her backyard pool in Katherine, Northern Territories. As a ten-year old Brisbane school girl, she watched Samantha Riley win the bronze medal in the 100m breaststroke at the 1996 Olympic Games in Atlanta. Less than four years later, she ousted her idol from the Australian Team by winning the 100m breaststroke at the 2000 Australian Olympic trials at the age of 14. Shortly after her fifteenth birthday, she swam the race of her life to claim the silver medal in the 100m breaststroke and added another silver in the 4x100m medley relay at the Sydney Olympic Games.
At the Athens Games in 2004, she won a bronze medal in the 100m breaststroke, a silver medal in the 200m breaststroke and gold in the 4x100m medley relay. After that she was the most dominating female breaststroker in the world, setting six world records, three in the 100m and three in the 200m. She was named World Swimmer of the Year in 2005 & 2006, and in 2007 she dominated her specialty at the FINA World Championships again. The pinnacle of her career came with her first individual Olympic gold medal in the 100m breaststroke at the 2008 Beijing Olympic Games, where she also won a silver medal in the 200m breaststroke and a second gold medal in the 4x100m medley relay.
After a brief break in 2009, she returned to the pool and four years later, when she qualified for the London Olympic Games in 2012, she became the first Australian swimmer to compete in four Olympic Games. Along with Ian Thorpe, she holds the record for the most Olympic medals (nine) won by any Australian, in addition to winning seven FINA World Championships.
Nicknamed "Diesel"and "Lethal Leisel," she became one of the most popular and visible sports figures in Australia. As she candidly recounts in her 2015 autobiography, Body Lengths, that her achievements and celebrity were not without their challenges. In her book she tells what it was like to be thrust into the limelight so young and under constant pressure from an early age to be perfect — from coaches, from the media and from herself. Despite the highs of her swimming stardom, she suffered depression, and at one time planned to take her own life. In Athens she was criticized for failing to win the gold in the 100m breaststroke. In London, in 2012, she was criticized in the media for her weight, but she handled herself with great composure. She has emerged with maturity and good humor, having finally learned how to be herself and live with confidence. She also hopes that by telling her story, other female athletes will understand they are not alone.
Laure Manaudou, France
Laure Manaudou was born on October 9, 1986 in Villeurbanne, France. She swam for the club of Ambérieu-en-Bugey, in Ain, from the age of 6 to 14 years old. In 2000, coach Philippe Lucas spotted her and convinced her parents that he would make her a champion. She then left the family nest to join her new coach in Melun, and a year later she won two silver medals at the European Junior Championships in Malta. Everyone started talking about her enormous potential.
In 2003, at the age of 16, Manaudou won her first French national title in the 50m backstroke. The following year she took gold in the five individual events (400m, 800m, 1500m freestyle, 50m and 100m backstroke) at the French Nationals and qualified for her first Olympic team. In Athens, a few months later, she won the gold medal in the 400m freestyle. It was France's first gold medal ever in women's swimming and the first swimming gold medal won by a French athlete since Jean Boiteux's victory in the 400m men's freestyle event at Helsinki in 1952. Manaudou also won the silver medal in the women's 800m freestyle and the bronze medal in the women's 100m backstroke, thus becoming only the second French woman to win three medals in a single Olympic Games, Summer or Winter.
In 2005, she defended her world title in the 400m freestyle at the FINA World Championships. At the French Championships in 2006, she did what many thought was impossible. For eighteen years, women swimmers had been chasing the seemingly untouchable record set by America's Janet Evans in the 400m freestyle at the 1988 Seoul Olympic Games. There was reason to believe it would last for eternity, but Laure Manaudou finally broke it and she lowered Evans' standard again at the European Championship three months later.
She confirmed her status as a favorite to repeat as Olympic champion in Beijing, by winning five medals including two gold, two silver and one bronze at the 2007 World Swimming Championships in Melbourne, Australia. Shortly thereafter, she signed a sponsorship contract for five years for a sum of money that would be close to one million euros a year. The same year, on May 6, 2007, she decided to part with coach Philippe Lucas to train in Italy.
Manaudou was the star of French swimming and a real hope of multiple medals at Beijing 2008, but by her own admission 2007 was a crazy year as personal issues interfered with her training. After a season where she had four coaches and a loss of motivation, Laure finished a disappointing eighth in the 400m freestyle final and seventh in the 100m backstroke.
She announced her retirement in early 2009, but living in the United States two years later, started training again. Although she qualified for the London Olympic Games in the 100m and 200m backstroke, she failed to advance beyond the preliminaries. She once again announced her retirement and left the international aquatic stage as she started it, after winning the 50m backstroke at the European (SC) Championships in November of 2013.
In 2014, Laure released her autobiography, Entre Les Lignes (Between The Lines). It is a candid, honest account of her life in competitive swimming, with its sacrifices, its ups and downs, her relationships with her brothers, coaches, love life and the challenges she faced dealing with fame at an early age.
Triple Olympic medalist, three-time world champion, 18-time European champion and 58 time champion of France, Laure Manaudou enters the ISHOF as the best female swimmer in French history.
Takashi "Halo" Hirose, USA, pioneer
He learned to swim in the irrigation ditches of Maui's Pu'unene's sugar plantation, where his parents worked as laborers. Watching over him and the other kids was Soichi Sakamoto, one of their elementary school teachers.
Sakamoto knew nothing about swimming, but in time, he would come to be regarded as a coaching genius. In 1937, he dared to dream that some of his "ditch kids" could represent the USA, in the home of their ancestors, at the 1940 Olympic Games in Tokyo.
Just one year after "coach" started his "Three Year Swim Club", 15 year-old Takeshi "Halo" Hirose placed second in the 200m freestyle at the US Nationals, finishing just inches behind the great Adolph Kiefer. This earned him a spot on the US team that toured Europe and the distinction of being the first AJA (American Japanese Asian) to represent the USA in international competition.
During the tour, Halo became the first AJA to set a world record, as a member of the USA's 4x100m freestyle relay team, at a meet in Germany.
At the 1939 Nationals, Halo was selected along with Maui teammate Keo Nakama for the US team that participated in the Torneo Panamericano de Nation in Guayaquil, Equador – a forerunner of the Pan American Games. Shortly before that meet, in the face of an international boycott, the Japanese Olympic Committee announced it was giving up the Games for financial reasons, owing to its costly war with China. While Finland was an eager replacement, the outbreak of WWII dashed Halo's Olympic dreams. It was little consolation that he, along with his Maui teammates, Keo Nakama and Fujiko Katsutani were selected for the USA's "mythical" 1940 Olympic Team.
After he won the US National 100m title in 1941, came Pearl Harbor, and once Japanese Americans were permitted, he volunteered to fight in Europe as a member of the 442nd "Nisei" Regimental Combat Team. On the battlefield he gained almost as many honors as he had in swimming events in Hawaii, the USA, South America, Germany, Austria and Hungary. A member of a machine gun platoon through some of the heaviest fighting in France and Italy, Hirose received five battle stars, the combat infantry badge and a Presidential Unit Citation. In November of 1944, he contracted "trench foot" during deployment in France and was paralyzed from the hips down. It was feared that he might lose his feet. Although he recovered the use of his legs after six months in rehabilitation, he would feel the effects of "trench foot" for the remainder of his life.
After the war, Hirose followed his Maui teammate, Keo Nakama to the Ohio State University where he became a three-time All-American for the Buckeyes. Although he was an NCAA champion in the 100m freestyle and helped Ohio State win the Big Ten, NCAA and AAU team titles, Hirose had been denied his opportunity to swim in the Olympic Games in 1940 and 1944, and his war injuries no doubt affected his chances to make the US team in 1948. The story of Halo resurfaced when author Julie Checkoway published the remarkable story of The Three-Year Swim Club and the men and women who brought national and international acclaim to the island of Hawaii and the USA.
Georges Vallerey, France, pioneer
In the early morning hours of the 8th of November, 1942, an armada of American destroyers, aircraft carriers and troop ships carrying 35,000 American soldiers approached the Moroccan coast under cover of darkness. Their mission was to destroy the French fleet guarding the port of Casablanca and occupy the city. The defending French warships were outgunned by the American fleet and as the battle ensued, several French vessels retreated into the harbor while under attack, hoping to avoid being sunk at sea.
Watching the battle from the beach, which was taking place a few miles out to sea, was Georges Vallerey, Jr. Although he was only 15 years old and not even 5'8" tall, he was a very strong boy, with a Herculean build and could swim like an otter. Nicknamed "Yo-Yo", he was born in France and moved with his family to Casablanca, in the French colony of Morocco. It was in Casablanca's Piscine Municipal, the largest swimming pool in the world, where his father taught him and his four brothers and sister to swim. Georges was always ready to help others and when he was only eleven he made news, saving a young girl from drowning.
Standing on the beach, Georges saw a ship being hit by high-explosive shells some 300 meters off the shore. By tradition, many of the sailors did not know how to swim and he quickly realized that many were drowning as they abandoned the ship. Without any hesitation, he undressed, jumped into the water and began to swim to the ship, which was still being hit by bullets and shells, through water covered with burning oil. He would rescue a sailor, return to the beach with him, and immediately swim back out to the burning wreck. While the bombing continued he didn't stop until he found a little boat on the beach, tied a rope around his waist and swam it out to the ship. By this method he saved scores more seamen.
For his heroics, he was decorated with the Croix de Guerre avec Etoile de Bronze (War Cross with Bronze Star).
Three years later, in 1946, Georges, by now a robust young adult, began his remarkable swimming career that saw him establish with Alfred Nakache and Alexandre Jany the world record for the 300m medley relay. By 1947, he was the best French swimmer in the 200m breaststroke, 100m and 200m backstroke and 400m freestyle.
The next year, at the London Olympic Games, he won the bronze medal in the 100m backstroke. Unfortunately, the medley relay was not part of the 1948 Olympic program. The next year America's Allen Stack, the 100m backstroke Olympic champion at London, thinking that the Casablanca swimming pool was fast, wanted to try for the world record and asked Vallerey to accompany him. Vallerey won the race in a time faster than Stack's winning Olympic time had been.
Then in December, he swam in a Christmas Cup, where the water was at 1° Celsius (34° Fahrenheit). He developed a throat infection, that would incapacitate him for four years and finally claim his life on October 4, 1954, in Casablanca, seventeen days before his twenty-seventh birthday. In his memory, the Les Tourelles Piscine, where the swimming events of the 1924 Olympic Games were held, was renamed Piscine Georges-Vallerey. Today the pool has been renovated and is one of the great pools of the world – a lasting tribute to a great swimmer and hero who died too young.
Wu Chuanyu, China, pioneer
The son of second-generation Chinese immigrants, from Fujian Province in southern China, Wu Chuanyu was born in Central Java, the Dutch East Indies, in 1928. Swimming came naturally to him and his friends, as the weather was hot, and there were wide rivers and a large pool near his home. Like many young boys his age around the world, he was inspired to become a champion swimmer by watching Tarzan movies, starring the American swimming sensation, Johnny Weissmuller.
Competitive swimming was a popular sport among "Overseas Chinese" in Java and being ethnically Chinese, Wu was invited to participate in the Chinese National Games of 1948. In Shanghai, he broke all Chinese records and represented the Nationalist Chinese government at the 1948 London Olympics.
In 1951, after Indonesia had won its independence, Wu led a team of ethnically Chinese Indonesian swimmers to compete at the Third World Festival of Youth and Students for Peace in Berlin, Germany.
After an arduous 40 day journey, the Indonesians were hailed as heroes when they arrived and Wu, charismatic and talented, became such a favorite after winning bronze and silver medals in backstroke and breaststroke events, that a note thanking the public for their support was published in the Berlin papers. To shorten their travel time back to Indonesia, the team traveled through Beijing, where they were so warmly welcomed and excited by what they saw in the new China, that coach Guo Deguang, Wu Chuanyu, and teammates Chen Gongcheng and Huang Hongjiu all decided to stay and help develop swimming in China, although none spoke a word of Chinese.
Cold war politics kept the International Olympic Committee from recognizing the new China until the day before the opening ceremonies of the 1952 Olympic Games. In Helsinki, Wu became the first athlete to represent the People's Republic of China in Olympic competition when he competed in the 100m freestyle.
Training with the Chinese national team in Budapest, under Russian and Hungarian Coaches, Wu's times improved greatly, and in August of 1953, at the Fourth Festival of Youth and Students in Bucharest, Romania, Wu won the 100 meter backstroke. Ignored by the western press, this festival, for socialist and communist youth, was no insignificant event. In fact, with 30,000 participants from 102 nations competing in sport and cultural events, it dwarfed the 1952 Olympic Games that had only 5,000 participants from 70 nations. Wu's victory over Soviet and Hungarian swimmers, in a near world-record time, was so unexpected that the organizers did not have the flag or anthem of the People's Republic on hand, delaying the award ceremony for over an hour until they found them.
In October of 1954, Wu left the national team training in Budapest to represent Fujian Province at the First National People's Congress, in Beijing. Tragically, a few days after the Congress ended, the plane returning him to training in Hungary crashed, killing all on board. News of his death not only stunned his teammates, who loved him, but sent the entire nation into mourning. For many years, Chairman Mao, whose favorite sport was swimming, extolled Wu's virtues and exhorted youth to work hard and become champions like Wu Chuanyu. Today Wu is still revered as a hero. He is remembered as the father of modern Chinese swimming, the first athlete to have the 5-star red flag raised and the anthem of the People's Republic of China played at a major international sporting event.
Water Polo Players:
Andras Bodnar, Hungary
Hungary is a land of thermal springs and although landlocked, swimming and water sports are ingrained in their culture. This love of water led to an early domination of international swimming and diving competitions in the late 19th and early 20th century. In the 1920s, it was water polo that came to symbolize Hungary's unique strengths and individuality.
Andras Bodnar was born on April 9, 1942 in Ungvar, Hungary, a town that today is known as Uzhgorod, in the Ukraine. In 1952, he began swimming and playing water polo for various clubs in Eger until 1962, when he joined the team of the Budapest University Medical Association. In addition to being an outstanding water polo player, he was also one of Hungary's top middle distance swimmers and qualified for the 1960 and 1964 Olympic Games in both sports.
Although he did not make the finals in swimming, he did win the bronze medal in Rome and the gold medal in Tokyo as a member of Hungary's water polo team. After 1964, the academic demands of medical school limited him to one sport. He was a member of Hungary's water polo team that won the Olympic silver medal at the 1968 Mexico City Olympic Games, and again at the Munich Olympic Games in 1972. In 1973, his team won the gold at the first FINA World Aquatic Championships in Belgrade. Between 1960 and 1976, he played for the Hungarian National Team in 186 international games. At the same time he was pursuing his medical career.
In 1968, Bodnar earned his medical degree from the Budapest Semmelweis Medical University, where he was an Assistant Professor of Surgery until 1985, when he became Head of Surgery at Frigyes Koranyi Hospital and later National Public Health and Medical Office Supervisor. A man of incredible energy and dedication to his sport, he served as Vice President of the Hungarian Swimming Federation, water polo division from 1981 to 1989, and as president of the newly formed Hungarian Water Polo Federation from 1989 to 1992. Since 1990, he has been a member of LEN (European Swimming Federation Medical Committee) and since 2004 a member of the Francis Field Foundation Board of Trustees.
In a swimming and water polo career spanning almost two decades, in which he won four Olympic medals (one gold, two silver, one bronze), the inaugural World Championship gold, two European Championships and seven Hungarian Championships, Dr. Andras Bodnar goes down in history as one of the greatest players of all time and the twentieth player from Hungary to be so honored.
Bridgette Gusterson, Australia
Growing up in Perth, Western Australia this young lady had a clear and precise goal: She wanted to be an Olympian. The only problem was, she didn't have a sport. Her first choice was gymnastics but she knew she was going to be too tall. The Bicton pool was just two minutes from her home and her older sister, Danielle, played water polo, so the choice became clear. Even though women's water polo was not yet on the Olympic program, there were hopes it would be added to the 1984 Olympics in Los Angeles. So she began a career that set the standard for female water polo players around the world.
As she grew to 5 feet 11 inches tall, Bridgette Gusterson's size lent itself to the demanding center forward position. Her physical attributes were matched by her fierce determination to master all technical aspects of the game. As a feared center forward, accurate passer and outside shooter, Bridgette was regarded as the best all-rounder in the world in the latter parts of the 1990s. She made her first Australian National Team appearance in 1992 and subsequently represented her country in 212 international matches, scoring more than 400 goals. In 1995, she scored a hat-trick in leading Australia to the World Cup gold medal over the Netherlands and she was the first Australian woman to receive a professional contract to play in Europe, representing the Italian club, Orrizonte from 1995 to 1997.
It had always been her dream, from when she first started playing, that one day women's water polo would be an Olympic sport. As she grew older the dream became more defined. She would be captain of the team that won the gold medal in the first women's Olympic tournament.
Amazingly, her dream came true. It started when she assumed captaincy of the Australian team in 1998. A short time later the Sydney Olympic Organizing Committee announced women's water polo would be added for the first time to the Olympic program in 2000. In the semifinal game against Russia, she scored the winning goal with a clever flick shot over the goal keeper's shoulder. The final against the United States was even more dramatic as she made the assist that led to the winning goal to break a tie and clinch the gold medal with just 1.3 seconds on the clock. When the final tallies were made, she had led her team in scoring and to add icing to the top of dream cake, she shared the Olympic triumph with her sister and teammate, Danielle.
Bridgette retired after the 2000 Olympic Games, but continues to be involved in the sport as a coach. She resides in Perth with her husband Gary Ireland (former World Champion swimmer/ surf lifesaver) and their son Kalani.
Osvaldo Codaro, Argentina, Pioneer
In the late 1920s, the European continent was in a depression and while communist and fascist factions were fighting for power in Spain, Argentina became an oasis of prosperity and peace, and the preeminent center of Spanish culture and sport. Swimming was particularly popular after Alberto Zorilla won Olympic gold in 1928. This was the condition in Argentina when Osvaldo Horacio Codaro was born on December 9, 1930, in the Avellaneda district of Buenos Aires.
"Pacha" as he was affectionately known, learned to swim at the age of ten and began his glorious athletic career two years later, swimming under coach Santiago Gentile at "Club Atlético Independiente," renowned today as one of the world's most famous football clubs.
At 14, Gentile introduced Pacha to water polo and it quickly became his passion. He found it to be the perfect complement to his swimming. The more he practiced one, the better he became at the other. Always big for his age, by the time he was 17 he had grown to be 6'3" tall and weighed 210 pounds. While he was the Junior National Champion in the 100, 200 and 400m freestyle, it was clear that his incredible physique was better suited for the sport of water polo.
He joined the national team of Argentina in 1947 and at the 1948 Olympic Games in London, he was the youngest of the 156 water polo players from 18 different countries to play at the London Olympics, at 17 years and 242 days of age. He was also one of the biggest.
In 1950, 20 year-old Pacha graced the cover of El Grafico, the Argentinian and South American Sports Illustrated. The next year, with President Juan Peron and wife Eva cheering him on, he became a national hero for almost single-handedly leading Argentina to victory over the favored teams from Brazil and America, to win the first edition of the Pan American Games. Argentina would win again in 1955 and a silver in Chicago in 1959.
Codaro was one of the first great "Big Men" in the sport of water polo and the prototype for the modern player. He was appreciated not only for his exceptional size and physical strength, but also for his swimming, ball handling skills and understanding of the game.
In the 1950s his team won four of four South American titles and two golds and a silver medal at three Pan American Games. He competed in three Olympic Games and in 1960, was selected by a panel of experts as one of the three best players in the world, although his team finished ninth in Rome. Over his 27 years playing water polo, his teams won the Argentine National Championships an astounding 22 times.
With his induction, ISHOF recognizes Osvaldo Codaro for his many contributions to the sport during the golden age of Argentinian and South American water polo.
Divers:
Zhang Xiuwei, China, Pioneer
In 1958, when she was 14 years old, she knew nothing about diving and didn't even know how to swim, but coaches saw something in Zhang Xiuwei that led them to select her for a beginning diving program in the city of Tianjin, China. Xiuwei progressed rapidly and a year later, training under coach Wu Chengxi, she was selected for the national training program in Beijing, with athletes from all over China. The program was overseen by Soviet diving experts and in 1960, Xiuwei won the national youth springboard championship at the age of 16.
In 1963, Xiuwei was chosen to represent China in the Games of the New Emerging Forces (GANEFO) in Indonesia. It was the first time that Chinese divers competed internationally, outside of China and Xiuwei won a bronze medal in the 10m platform event and a gold medal in the 3m springboard. It was the first international diving gold medal in China's history.
In 1964, China's Changchun Film Studio released "The Diving Girls" one of the first Hollywood-style movies made in the People's Republic of China. It was based on the story of Zhang Xiuwei. For over fifty years this film has inspired young girls in China to dive into the pool, to train hard, to aim high and to compete in international competitions.
Xiuwei and China's nascent diving program were on the rise until 1966, when Mao Zedong unleashed the Cultural Revolution, which threw China into a period of social and political chaos. Elite sports programs ended and athletes like Zhang Xiuwei were sent to work on farms or in factories. When the revolution abated in 1972, Xiuwei was assigned to return to diving as a coach, but she knew nothing about coaching and there were no divers. Then in 1973, she was sent to Guangzhou to watch demonstrations by two American Olympic Champions: Bernie Wrightson and Micki King. It was a life-changing experience and motivated her take coaching seriously. She became a professor at Tianjin Athletic Institute and taught many top national and regional divers and coaches. Among her students is Li Yihua, a 1984 Olympian who won several world cup titles. Another was Li Fang the coach who provided Guo Jingjing with the solid foundation that made her one of the greatest divers in history
Laura Wilkinson, USA
Inspired by the publicity surrounding Romanian gymnastic guru Béla Károlyi's arrival to her home town of Houston, Texas, in 1981, Laura Wilkinson fell in love with gymnastics and dreamed of being in the 1996 Olympic Games. After years of training her gymnastic career ended when a growth spurt made her too tall for the sport. Then she discovered diving. In spite of being told by one of her teachers that she was too old to start a new sport at the age of 15, Laura plunged in and "fell in love with the sport on the first day."
Wilkinson didn't go very far her first year, but the next year, in 1995, she won her first US National Title, and earned a bronze medal at the FINA World Cup in the 10m synchronized diving event, with partner Patty Armstrong. Earning a scholarship to the University of Texas, she won the NCAA 10m platform title as a freshman and then won both the 3m and 10m titles at the USA Diving Nationals. In 1998, she gave up her scholarship after winning the Goodwill Games gold medal, to turn pro and train for the 2000 Olympic Games at the Woodlands with coach Kenny Armstrong.
Three months before the Olympic trials, she was doing a typical warm-up somersault, when she landed on a block of wood and broke her right foot in three places. To fix it, doctors had to re-break everything. They also found she had a stress fracture on her left foot as well. It appeared that another Olympic dream was at an end. Together, with her coach, Wilkinson embarked on a brutal training regime. She also watched an "insane amount of video tape" and "visualized every dive" to keep her "head in the game."
Although her foot was still not fully recovered when she started to train again three weeks before the trials, her perseverance paid off as she won the trials and qualified for her first Olympic team.
Three months later, while wearing a protective shoe that enabled her walk up the ladder to the platform, Wilkinson battled back from eighth place and a 60-point deficit after the semifinals to record one of the biggest upsets in Olympic diving history. The turning point came in the third dive of the final round, a reverse two-and-a-half somersault, which Wilkinson performed perfectly, entering the water knife straight with barely a ripple. She went on to win over the favored Chinese diver, Li Na by a minuscule 1.7 points. Her win was the first in the 10m platform event by an American since Leslie Bush in 1964 and the accomplishment earned her an appearance on a Wheaties' cereal box and a finalist for the prestigious Sullivan Award as one of the nation's outstanding athletes.
In 2004, although Laura won the World Cup she finished a disappointing fifth at the Olympic Games in Athens. But she came back the next year to win the gold medal at the FINA World Championships in Montreal. She retired after competing in her third Olympic Games in Beijing as a14-time US National team member (1995-2008), a 19- time US National Champion and one of the greatest divers of all time.
Beginning with her gold medal in the 10m platform event at the 1998 Goodwill Games, Laura Wilkinson is one of the few divers in the world to claim individual gold medals at every major international diving competition during her career. In addition to winning the Goodwill Games, she won gold medals at the 2000 Olympic Games, the 2004 FINA World Cup and the 2005 FINA World Championships.
Coaches:
Dick Jochums, USA
Dick's journey to the Swimming Hall of Fame began when his mother insisted he learn to swim. His first swim teacher and coach was Laurabelle Bookstaver, of the Berkeley Women's City Club. Under the tutelage of this tough talking woman, Dick fell in love with the sport. He earned a scholarship to the University of Washington where John Tallman turned him into an All-American sprinter and took him on as his assistant. Leaving Washington to continue his studies at Cal, he joined Pete Cutino's staff as his assistant. Over the years he had studied the methods of George Haines, Sherm Chavoor, Peter Daland and Jim Counsilman and after receiving his Ph. D., accepted the coaching and teaching position at UC Hayward. It was at Hayward where Dr. Robert Morford led him to discover the ancient Greek concept of Agon and Areté – the struggle and the victory.
Jochums believed his athletes had to understand and enthusiastically accept that sport, like life, is a process – a struggle to deal with and overcome the pain, the mental and physical hardships and boredom of preparation before they could achieve victory, or Areté. The process, or Agon, might not always lead to a gold medal, but the self-discipline and mastery of self would bring its own reward. This philosophy of life would become the foundation of his success as a coach.
After Hayward, Jochums took a teaching job at Long Beach State, where Don Gambril had selected him to be his successor at the school and with the Long Beach Swim Club. It was here, in the era of American male swimming dominance, that Dr. Dick Jochums, the former sprinter, would become the USA's middle distance guru at Long Beach, at the University of Arizona and finally at the Santa Clara Swim Club, before retiring in 2007.
Among his swimmers are two Hall of Famers: Tim Shaw and Bruce Furniss. At one time, Shaw simultaneously held the world record in the 200m, 400m, 800m and 1500m freestyle and in 1975 won the coveted James E. Sullivan Award as the nation's outstanding amateur athlete. That same year his Long Beach Swim Club team of Rex Favero, Bruce Furniss, Tim Shaw and Steve Furniss set the world record in the 4x 200m freestyle relay. It was the last club team to ever hold a world relay record. In 1976, seven Jochums-coached swimmers represented the USA at the Olympic Games in Montreal, including five, who won medals: Bruce Furniss, Tim Shaw, Dan Harrigan, Steve Gregg and Jack Babashoff. In 1980, Bob Jackson had the fastest backstroke times in the world and Greg Jagenburg was the world champion in the 100m butterfly, but neither got to swim in the Olympics because of the US boycott. In 1984, George Di Carlo won gold in the 400m freestyle and silver in the 1500m freestyle, while breaststroker Peter Evans won double bronze medals swimming for Australia. In 2000, he coached Tom Wilkens to a bronze medal in 200m IM. His teams won eight USA National Long Course Championships and one combined (men's and women's) National Title.
Laurie Lawrence, Australia, Gold Medal Medallion
From being around the Townsville Pool his father ran, and being sparked into swimming by the legendary Hall of Famer Jon Henricks, Laurie Lawrence became a swimming legend and a maker of champions, capable of lifting the spirits of those around him to soaring heights.
His swimmers set over seventeen world records, and he coached Australian teams to three Commonwealth Games and three Olympic Games. For these efforts, Laurie was inducted into the International Swimming Hall of Fame as an Honor Coach in 1996.
Beyond his career in coaching he is many other things: an extroverted entrepreneur, a patriot, poet, singer, humorist, best-selling author, dedicated family man and the most sought after motivational speaker in Australia.
By all accounts his greatest accomplishment has been in the promotion of swimming and preventing the tragedy of drowning through his internationally acclaimed water safety programs.
As in the US, the Labor, Liberal and National parties in Australia are often at odds with each other, and it is rare indeed when someone can unite the parties to support a single cause as a non-partisan issue. With the help of Australian Prime Minister John Howard, Laurie was able to do that for his "Kids Alive" and "Living with Water" drowning prevention programs. These programs provide the parents of every newborn child in their country with an educational packet of information about the importance of being water safe and learning to swim.
The programs include a "Kids Alive" website, bolstered by community service advertising and the "Kids Alive Water Safety Show", the biggest touring free show in Australia. Not only has the show visited metropolitan areas, but rural towns and even remote communities — to the entertainment and education of hundreds of thousands of Australian children.
In addition to operating a chain of successful swim schools, Laurie also partnered with Data Solutions to pioneer the design and build out of the world's first cloudbased LMS (Learning Management System) that delivers unparalleled online training for swim instructors through his "World-Wide Swim School."
Laurie attributes his early exposure to swimming and sports for providing him with the lessons and tools that have rewarded him with success as a coach, a multifaceted entrepreneur and his happiness in life. "Things of value," he says, "don't come by luck, they're won by pain, persistence and sacrifices, and success is the celebration of your preparation."
Open Water Swimmers:
Walter Poenisch, USA, Pioneer
He was a baker, rodeo competitor and strongman who entered his first competitive swimming race in 1963, to show that a 50 year old man could be as active as young fellows. It was a 60-mile professional marathon swim in frigid Lake Michigan. While Walter Poenisch failed to finish, he was hooked on the sport and left the water determined to swim an even greater distance for an even greater cause.
Like many Americans in the 1960s, Walter was troubled by the cold war and the Cuban missile crisis that had brought the world to the brink of nuclear catastrophe. So in August of 1963, he conceived the idea of his "Swim for Peace." He started writing letters and sending cablegrams to Fidel Castro, senators, congressmen and the White House in a quest to pursue his newfound dream of bringing two obstinate foes together by swimming across the Florida Straits – from Cuba to Florida.
With optimism and confidence in his cause, Walter immediately began serious training. Over the next decade, he built up an impressive resume of feats and stunts that attracted the attention of the national media. Billing himself as the world's strongest swimmer, he towed rowboats and boats full of people and set endurance records in midwestern lakes. In winter, Walter and his wife Faye set up training camps in Fort Lauderdale, where they were frequent guests at the Hall of Fame. In 1972, without the required permissions, Walter announced the "Swim of the Century", a swim from just outside Cuban territory to Fort Lauderdale in a homemade shark cage. The swim ended after 90 miles when the shark tank fell apart amidst menacing sharks. He kept on training, writing letters, making calls and working with the Cuban Interest Section in Washington, D.C.
In 1976, Walter swam into the Guinness Book of World Records with a swim of 122 1/2 miles from Key West to the tip of the Florida peninsula. At the time, it was the world's longest ocean swim and shortly thereafter he finally received permission from the Cuban government to apply for a visa, which was finally granted in March of 1978.
The swim was planned to begin on July 11th, 1978, a date coinciding with Walter's 65th birthday. Walter and Faye arrived in Havana three days early to much fanfare and were welcomed as heroes. On the day of the swim, Cuban leader Fidel Castro was there to celebrate Walter's birthday and to wish him success on his "Swim for Peace." They conversed for several hours and before Walter entered the water, Castro proposed a toast honoring his efforts and his dream of peace between their two nations.
Thirty-four hours after leaving Cuba, Walter completed his dream, culminating on the shores of Little Duck Key, Florida. According to legendary sports reporter and author David Heeren, who covered Walter's swim for the Fort Lauderdale News, Walter's accomplishment was even greater than that of Sir Edmund Hillary, the first man to climb Mount Everest. For while there have been many thousands who have climbed Everest since, that hasn't been the case with the Florida Straits. Walter Poenisch passed away on June 6, 2000, never having received the recognition for inspiring generations of swimmers and others to pursue their dreams with persistence, perseverance and courage.
Maarten van der Weijden, Netherlands
Born in Haastrecht, Netherlands on March 31, 1981, Maarten van der Weijden, followed in his older sister Etta's wake in the pool and open water. As a young boy, he liked challenges and at the age of 11 he swam 100x100m in training. From 1998 to 2000 he became a 12-time Dutch national champion at the 1500m freestyle, 400m freestyle, and 5km open water. Then, in 2001, he was diagnosed with acute leukemia and his chances for survival were very small. For the next two years, Maarten had little control over his life and he depended on the medical specialists to guide him through successful chemotherapy treatment and a stem cell transplantation. In 2003 he started to train again and amazingly qualified for the FINA Open Water World Championships in Barcelona. In 2004, he swam across the Ijsselmeer in 4:20.58 hours, breaking the former record by almost 15 minutes to collect 50,000 Euros, which he donated for cancer research. Van der Weijden had his own website named "Maarten van der Weijden zwemt tegen kanker" (Maarten van der Weijden swims against cancer) where he informed his fans about his life and his career. He also collected more money to invest for cancer research. His dream was to become World Champion and over the next few years he trained hard and worked on his tactics. In 2008, he fulfilled this aim when he won the 25km at the World Championships in Seville. He also won a bronze medal in the 5km there and finished fourth at the 10km. This result qualified him for the first 10km open water marathon race at the 2008 Summer Olympics in Beijing. There he ended up winning the gold medal on August 21, narrowly edging out David Davies of Great Britain. He thus became the first mens' Olympic Champion in the 10km open water competition. He announced the end of his professional swimming career during his acceptance speech as Dutch Sportsman of the year in 2008. But that's not the end of his story.
After writing his own biography, "Better," in 2009 and a successful career as a finance manager for Unilever, he struck out on his own as an entrepreneur and motivational speaker focusing on healthcare, sports and business. In 2015 he initiated his first "Swim to Fight Cancer" in the cold channel of Den Bosch. It attracted over 500 participants and raised over 500,000 Euros for cancer research. He continues to use swimming to fight cancer, recently swimming the running marathon distance (42km 195m) in the 50m pool of the Pieter van den Hoogenband Swimming Stadium Eindhoven. He has also created a one-man stage show based on his book, "Better." All one hundred of his shows have been sold out. He has also performed on the TEDx stage in Rotterdam.
Synchro Swimmers:
Anastasia Davydova, Russia
Her first sport was figure skating. Then she saw rhythmic gymnastics on TV and she left the ice for the ribbon and mat, but not for long. At the age of six, her mother took her for swim lessons where she was exposed to synchronized swimming. She immediately loved the sport. Early on in her career, she was tested by her coach to see if she was really serious about synchronized swimming. She was asked to give up her favorite foods of chocolate, cakes and chips. She loved the sport more, gave the foods up and the rest, as they say, is history.
In a sport that usually forces athletes to be patient as they build international reputations, Anastasia Davydova did not have to wait very long to move to the top. At age 15, she was paired with Anastasia Ermakova (2015 ISHOF Honoree), because they were very successful at the junior level and judges were familiar with them by the time they became seniors. At their first major senior international event, they placed second in duet at the 2001 FINA World Championships in Fukuoka, Japan. The next year they performed a nearly flawless routine, including five perfect 10's in the final free program, to win the European Championships. At the 2003 World Championships in Barcelona, Davydova and Ermakova won their first senior world duet title; the Russian team was also victorious. Davydova won team and duet at the Olympic qualifying tournament in Athens in April 2004 and the European Championships in Madrid in May 2004. At the Olympic Games in Athens, Davydova and Ermakova won gold in the duet with an impeccable routine, scoring a perfect 50 for artistic impression (receiving a score of ten from all five judges). In the team event, they also won gold, even after a music malfunction required them to repeat their performance.
Leading up to the Beijing Games, Davydova, Ermakova and the Russians were unbeatable, winning every event they entered. In Beijing, the pair again won duet gold, earning a combined score of 99.251 and perfect 10's for technical merit. The Russian team also won, leaving Ermakova and Davydova with a record four gold synchro medals.
After Ermakova retired, Davydova began training with Svetlana Romashina, but after the pair won at the 2011 FINA World Championships, Davydova stepped aside in favor of Natalia Ishchenko to focus on the team event, her studies at the Moscow Institute of Economics, Politics, and Law and on coaching youth at her local club. When she announced her retirement after winning gold in the team event at the 2012 Olympic Games, she also announced that she would turn her energy to coaching. She wanted to be part of keeping the Russians on top of the podium. She did just that at the 2016 Rio Olympics where Russia won both synchronized swimming gold medals.
In 2010, FINA declared her the best synchronized swimmer of the XXI century and in 2012 she was the standard bearer of the Russian Olympic team at the closing ceremony of the Games in London.
Contributors:
Heinz Kluetmeier, USA, photographer
Heinz Kluetmeier was born and raised in Germany until he was nine, when his family moved to Milwaukee, Wisconsin. He was introduced to the idea of a career in photo journalism when several photos taken of him by his mother, with his multi-talented pet parakeet "Chirpy," were picked up and published nationally by the Associated Press. By age 15, he was shooting pictures for the local AP office.
Instead of accepting a full time job with the AP upon graduating from high school, he decided to pursue a degree in engineering at Dartmouth College because, as his father said, "photography "wasn't a serious career."
After working as an engineer for two years, he returned to photography in 1969, working full-time for the Milwaukee Journal, Time, Life and Sports Illustrated magazines. While he has shot every major collegiate and professional sport, every Olympic Games, winter and summer except two since 1972, and has over 100 Sports Illustrated covers to his name – as a high school swimmer – he has always had a special affinity for the aquatic sports.
His first swimming assignments took him to Indiana University, then to the 1972 US Olympic Trials and then to the 1972 Olympic Games, where he captured the greatest moment in Mark Spitz' illustrious career, being lifted onto the shoulders of his teammates after winning his seventh gold medal. He was there at the first FINA World Championships in Belgrade – and at the wedding of Mark Spitz. He was there in Montreal to photograph Gary Hall carrying the flag and holding his namesake on the deck, to capture the ever-present smile of John Naber and the American women winning "The Last Gold".
In 1988, he donated his time and talents to raise money for USA Swimming through a tabletop book, Swimming: A Collection of Photographs by Heinz Kluetmeier, Commemorating One Hundred Years of Amateur Swimming in America.
Always looking to outdo his competition and for a new angle with a unique point of view, Heinz was a pioneer in the development of splitshot lenses and strobes that captured swimmers above and below the water without distortion. In 1992, at the Olympic Games in Barcelona, he became the first photographer to place a remote controlled camera underwater to capture an Olympic swimming event.
Sixteen years later, Heinz and his assistant Jeff Kavanaugh operated a remote underwater camera that landed the signature image of the Beijing Olympic Games: Michael Phelps' "Miracle Finish" in the men's 100m butterfly race – frame by frame.
It has been Kluetmeier's passion for his art and his ability to capture the passion and emotion of our sports that have singled him out from his colleagues. Simply put, Heinz Kluetmeier has the power to make us feel – and remember the great moments -forever.
The above biographies courtesy of the International Swimming Hall of Fame.