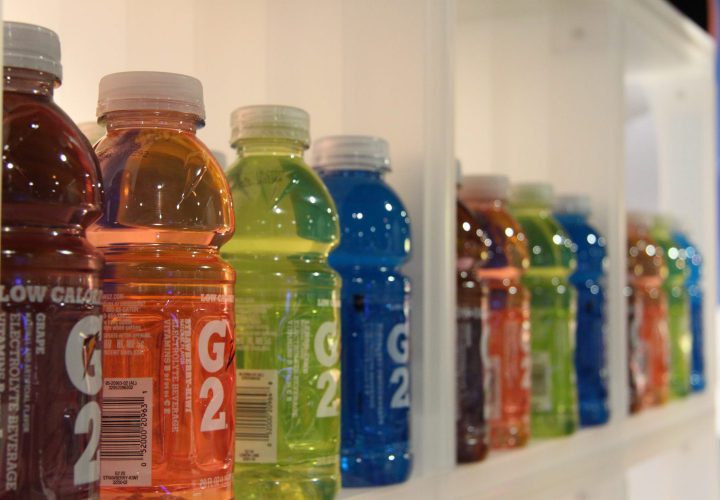 By Ashley Illenye, Swimming World College Intern.
Keeping good care of your body is an essential part of swimming. Because of the nature of the sport, a swimmer needs every ounce of strength they can get between grueling practices and taxing meets. Because swimmers are trying to go their person bests, every minor detail becomes major as you continue to drop time after you have been swimming for 15 years.
One of the overlooked ways to best maintain your health is before, during, and after practice hydration. Experts say that an average person should drink 64 ounces of fluids every day. This isn't taking into account athletes, who have to perform at a high level for long periods of time—sometimes twice a day.
There's no doubt that it's in an athlete's best interest to hydrate more than those who aren't as active, but how much is enough? How much do you need before, during, and after practice to maintain hydration? What are the benefits of using sports drinks over water, if there are any? These are all questions that athletes, swimmers in particular, should seriously consider if they're trying to fuel their body to their maximum potential.
Hydration During the Day
As previously mentioned, the average person should be drinking about 64 fluid ounces. That's about eight glasses worth. An athlete, specifically one that works out daily, as swimmers do, should be drinking between half to one whole of their body weight in ounces of water. For a 150 pound athlete, that would be between 75 and 150 ounces of water.
This is for a few reasons. As well as for your general physical health, water regulates your regular body temperature. This keeps you healthy and ready for your two-a-day workouts, long meets and every crucial moment of preparing your body in between.
Water is also known to lubricate your joints. As an athlete, your body is your temple and as a swimmer, you're more likely to be prone to injuries sustained over time from repetitive motion. Water keeping your joints loose is one way to prevent injury, so in this case water is preventing injury as well as keeping your body temperature stable to keep you healthy.
With all the benefits of hydration, there are more things that will happen if you don't hydrate your body properly. If you're too dehydrated, you could experience dizziness or feeling like you will pass out. Heat cramps, extending to heat exhaustion and heatstroke are instances that can happen in areas that aren't even that hot. The inside of a pool deck can make you susceptible to this kind of illness.
Sweating, although not always the most fun part about working out, is a healthy sign that your body is sustaining its body temperature normally. This is a result of being hydrated, and a lack of hydration can be shown by your body not sweating at all.
With swimming being a sport that pushes you to your maximum capacity, your heart rate is going to be very high at times. Another sign that you're dehydrated is if you have an irregularly fast and hard heartbeat, which may be hard to detect if you don't know your average heartbeat for different levels of intensity. This is why knowing your heart rate comes in handy if you're beginning to feel dehydrated.
Hydration During Practice
Gatorade was invented specifically for football players to sustain their electrolytes during intense training. Football players, however, don't have to run up and down their field consecutively for hours upon end. Gatorade is a great tool to use to replenish during practice.
Gatorade is also high in sodium and carbohydrates, which provides quick fuel during practice. This is why, however, athletes should stick to water during the day. It increases your calorie intake unnecessarily when you could be fueling your body with more nutritious snacks or meals.
There are other ways to regain electrolytes in your body during practice. Watered down sports drinks could be an alternative to those who think it's too sweet to constantly consume during practice, and fruit juice contains electrolytes as well. Adding lemon, lime, a slice of watermelon or honey to your water is another way to replenishing your electrolytes.
Experts say that for every 15 minutes of vigorous exercise, an athlete should consume one cup of water, or any other type of hydrating fluid. Looking at a practice, it seems like there isn't enough time to drink 8 cups of water in a two-hour period.
Why does your body need to replace electrolytes during practice? When you sweat, your body isn't just letting out water, it's letting out potassium and sodium. An improper diet may not be able to replace the amount of both of those elements that are let out during an intense workout. A sports drink could immediately replace those elements, and give you a boost of energy through carbohydrates that give you energy.
Hydration should be a mix of a part of a daily routine and a ritual during times of peak exercise, like during practice and lifting.
All commentaries are the opinion of the author and do not necessarily reflect the views of Swimming World Magazine nor its staff. All nutritional research was conducted by the author and does not necessarily reflect the views of Swimming World Magazine nor its staff.