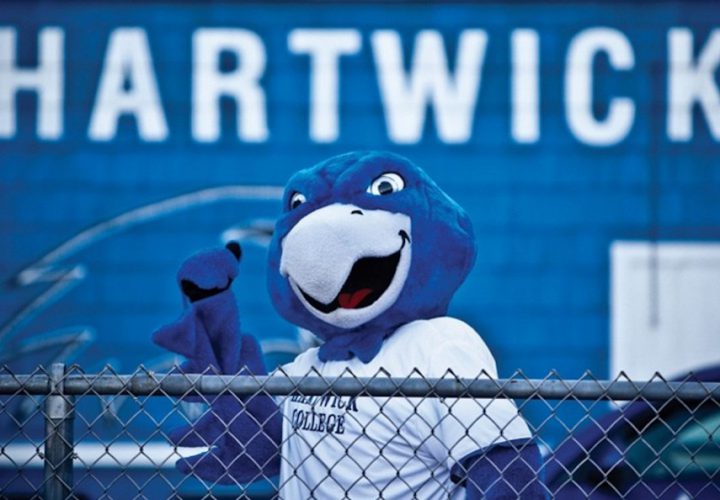 Hartwick Hawk: Photo Credit: Hartwick College
Editor's Note: It was announced last Wednesday that Hartwick President Margaret Drugovich and the school's Board of Trustees voted to downgrade the school's Division I men's soccer program to Division III and to eliminate the Division I women's water polo program at the end of the 2018 season.
The decision has predictably caused a reaction in the tightly knit water polo community, with a Change.org petition (click here to sign) and an outpouring of support to preserve a program that at 14-3 is currently ranked #13 in the country. Following are select comments.
John Abdou (Chief High Performance Officer, USA Water Polo): Anytime a program gets cut on the Varsity level it's a loss for the sport. Between USAWP and the ACWPC [Association of Collegiate Water Polo Coaches], we urge the administration at Hartwick to keep the program at the Division 3 level to be consistent with their decision to align the entire athletic department at the Division 3 level.
The athletes deserve to see their commitment to the university reciprocated.
Joan Bertocci (Publisher, Water Polo Planet): The passage of Title IX 45 years ago changed the trajectory of American women, helping transform the culture of women as athletes, students, and professionals. Hartwick College is a prime example of an institution that has benefited from Title IX.
It is only through Division 1 athletic competition that a small, private school in upstate New York can compete on the world stage with powerhouse programs from UCLA, Stanford, and Michigan. Over the past 15 years, Hartwick's water polo program has been instrumental in catapulting the institution into national prominence, across not only water polo, but the broader community of aquatic sports in general.
As the head coach, Alan Huckins has been an outstanding institutional ambassador, establishing Hartwick as a leader in both academics and athletics. Alan created a culture in his teams that embodied the experience of not just winning, but the more critical experience of losing. It is that process of persevering and overcoming hurdles that helps a young woman build the confidence she needs to break into professions, many of which are still dominated by men. Hartwick's program allowed their student athletes to become visible affirmations of what is possible, creating strong, confident role models for those following them.
In fewer than 20 years, the Hartwick water polo program has made millions of positive impressions of the institution across the entire world. Marketing professionals are well aware of how expensive these impressions are to generate. I believe that Hartwick will find that ending this extremely successful program will result in reduced enrollment, fewer international students, and a decrease in post graduate placement of qualified, confident female professionals. All too often, academic institutions look at athletic costs in isolation—rather than as part of an overarching recruiting tool that is a critical component of enrollment growth.
Randall Burgess (successful age group and high school coach in Coronado, CA): I believe in the value of women's athletics and the wonder of water polo.
Todd Clapper (Head Women's Water Polo Coach, Arizona State): I understand the reasoning behind these decisions. It's easy when you look at a budget and say, "If we got rid of these sports, look at how much we would save." Then, they work backwards to justify the budget cut (shallow end of the pool, not as competitive in soccer). It's obvious that these decisions don't take into account the current student-athletes and coaches, in addition to, all of the ones that have come before who have built these programs. What's lost in this decision is the harm that it will do to the college. Right now, Hartwick lists its enrollment at about 1,200 students and boasts that 3% are international from 20 different countries.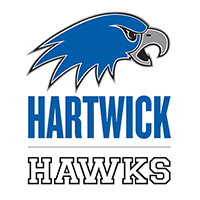 That is about 36 international students, 23 of whom are on the soccer and water polo teams. While 3% is not a huge figure, it would be 1% without these teams, which is not even worth a mention. They have a student body that is 59% female, but chose to keep the men's sport and cut the women's sport. Interesting, since this president was the first to hire someone to monitor Title IX on campus.
Outside of these specifics, there are some intangibles. The president got her Master's Degree from Brown, which is a university that I spent 5 1/2 years at. Brown was unlike Princeton and Harvard because it valued a diverse student body. Not just checking boxes of where they are from and their ethnicity, but actually finding unique individuals. Brown understands how this makes their university stronger and raises the academic experience. BTW, ASU's Barrett Honors College has the same philosophy is enormously successful.
I hope that the trustees look at this decision from more angles and have the leadership to alter their decision and continue to sponsor these teams, as they have been.  If they don't, in a couple of short years, they will be finding ways (and spending money to do so) to get more applicants from out of state and out of the country.  They are only creating a problem that they will have to solve later.  Soccer and water polo should be pride points for Hartwick. They are very successful based on the size and location of the college. These programs are why high school students outside of NY even know about Hartwick College.
Cutting these programs will have a long-lasting isolation effect on the college.
Jessica (Ernst) Kaer (Head Women's Water Polo Coach, Yorba Linda High School): I'm signing because I'm a former division 1 collegiate water polo player at a university that dropped my program as well. [Kaer played for the University of Maryland program that was shuttered in 2012].
Dr. Marcelo Leonardi (Head Women's Water Polo Coach, Michigan): My media guy, Ben Blevins, sent me the article from AllOtego.com, explaining how Hartwick College was going to turn their entire university back to Division III. Men's soccer program was going to drop to Division III, and they were going to completely cut the women's water polo program.
When I read that, I was in shock. Alan's obviously done a great job in his 15 years there—you go back to his early days, he's taken Hartwick to the NCAA championships three times.
The Wolverine family has reached out to him and his family because we're water polo coaches, and I know he has a family and kids. I feel bad[ly] for him as a coach. I also feel badly for women's water polo because, not only is Hartwick super competitive in the [CWPA], but it made our conference that much better.
What concerns me is if you're going to drop down the men's soccer program, why didn't they drop the women's water polo program to DIII instead of completely cutting the program?
I don't know what the Hartwick board or the president thinks, but that would be a natural fit since there's a DIII championship, the CWPA already offers a conference at the Division III level—it would have been a logical choice. I'm curious as to why they are completely removing a women's sport?
I would like to know as a coach in our own conference what could have been done and why this timing. The timing is terrible. Why is this being done right in the middle of their season when they're having so much success?
With Division I you obviously lose the athletic scholarships and you lose the funding  that comes with a travel budget. BUT, if the program were to drop down to Division III, Hartwick does have the academic component. Whether it's drawing domestic or international [students], it's still an attractive place to get an education and play water polo.
We understand they want to go Division III. But to go from something to absolutely nothing… you go through [Huckins'] roster and he has about 25 players. That means 20 – 25 athletes will no longer be going to Hartwick College.
Is Hartwick is going to honor their scholarships for their rest of their career?
Our water polo community is small to begin with. But when something effects the world of water polo, we all come together because we all started at somewhere smaller in our lives—when we were 9, 10 and 11—for the love of the sport.
I hope the water polo community—all the way from the top CEOs at USA Water Polo to the people who are signing the petition—that they step up and put support in the right direction.
Stephanie Moreau (Hartwick alumna): I was an athlete at Hartwick College and it was one of the most important experiences of my college career.
Joseph Peila (USA referee; was on the deck for the 2016 Olympics): Women's water polo is growing throughout the US and the world. Don't cut the program!
Hailey Pooler (current Hartwick student): I am a lacrosse player at Hartwick and these sports along with their players are important to our school!
Isabel Turk: Hartwick Women's Water Polo is a group of butt-kicking women who deserve and have earned the right to represent their sport through their school.