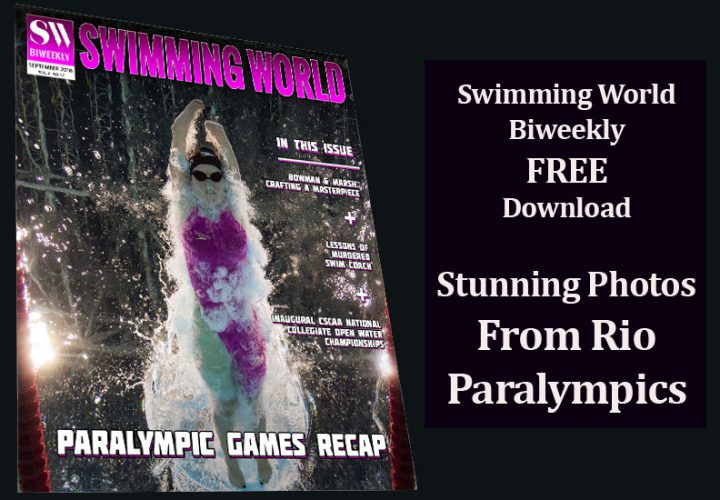 The second Swimming World Biweekly issue for the month of September is now available, featuring our full coverage of the 2016 Rio Paralympic Games! USA Today Sports was present on deck capturing beautiful images of the action and excitement, including the Biweekly cover featuring Nikita Howarth of New Zealand.
With the fifth class of the CSCAA Swimming World Internship Program officially started many of our interns have already begun producing memorable commentaries including a feature on the late coach Kelley Allan and an analysis of the United States' 200 butterfly history.
Current subscribers can visit the Swimming World Vault to download the issue now! Non-Subscribers can download for FREE by Clicking Here
Save 25% on a 1 year subscription and download more issues from the Swimming World Vault and get the following:
Use Coupon Code: realnews and save 25%
A monthly print copy of Swimming World Magazine in the mail for 1 year!
Free download of the next 12 issues and the past 12 issues of Swimming World Magazine!
Free download of next 24 issues and the past 24 issues of Swimming World Biweekly!
Free download of next 4 issues and the past 4 issues of Swimming Technique Magazine!
Current Cover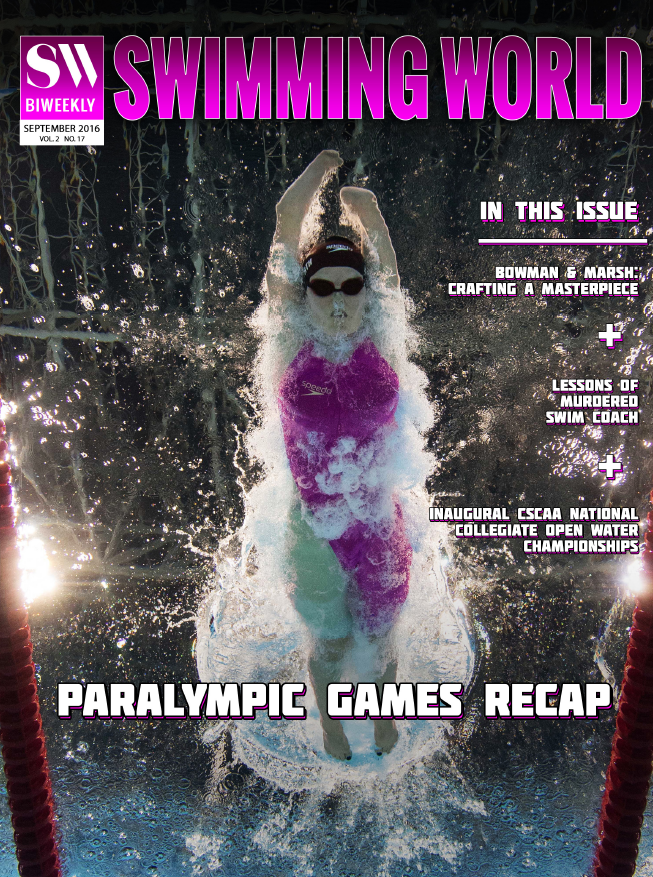 006 2016 PARALYMPIC GAMES RECAP
by Taylor Brien
All 10 nights of finals from Rio as athletes in all divisions from all over the world compete for gold.
030 THE UNITED STATES IS NOT ALL THAT GREAT AT THE 200 BUTTERFLY
by Jason Tillotson
Let's pretend, for the briefest of moments, that Michael Phelps and Misty Hyman never existed. Without Phelps or Hyman, the United States' role in recent Olympic history of the 200m butterfly is, dare I say, mediocre?
031 SACRIFICE AND REWARD: A SWIMMER'S MENTAL BATTLE
by Ailish Dougherty
It's hard to describe that moment right before a race. I've heard of that mystical phenomenon of getting "in the zone," where the noise, the movement, the thoughts in your head fade into the "background."
032 KANSAS, CINCINNATI TAKE INAUGURAL CSCAA NATIONAL COLLEGIATE OPEN WATER TEAM TITLES
by Cathleen Pruden
When swimmers dove in for the first CSCAA National Collegiate Open Water Championships, there were 35 women in the women's field and 33 on the men's side.
034 LE CLOS AND LARKIN BOTH BEGIN SEARCH FOR COACHES
by Taylor Brien & Cathleen Pruden
South Africa's King of Butterfly Chad le Clos announced via Twitter his separation from long-time coach Graham Hill, while Australian backstroke sensation Mitch Larkin is also starting a search for a new coach with a different program to lead him through the next Olympic quad.
035 RUSSIAN HACKERS RELEASE MORE CONFIDENTIAL ATHLETE DATA; WADA CONFIRMS
by Taylor Brien
The World Anti-Doping Agency (WADA) confirmed that another batch of confidential athlete information has been released by the cyber hackers known as "Fancy Bear."
036 A CHANGING OF THE GUARD IN MEN'S OPEN WATER SWIMMING
by Robbie Dickson
While the majority of swimmers are having their goal meetings about what times they want to go, or the next level cuts they want to achieve, a very select group of young athletes have their eyes set on making the United States Open Water National Team.
037 LESSONS OF MURDERED SWIM COACH, KELLEY ALLEN, LIVE ON
by Maddie Strasen
"Kelly never spoke a bad word to a swimmer, ever, even if you didn't have a good swim, he made each child feel like he or she was the best swimmer in the pool."
038 BOB BOWMAN AND DAVID MARSH HELPED CRAFT A MASTERPIECE
by David Rieder
Bob Bowman and David Marsh stood in front of a crowd of the country's top swim coaches, who all stood and applauded. Marsh and Bowman were returning to give the keynote address at the American Swim coaches Association World Clinic in Ft. Lauderdale…
040 IS IT TIME THAT PRELIMINARY RELAY SWIMMERS GET THEIR OLYMPIC MEDALS ON THE PODIUM?
Commentary by Dr. Buky Chass
Why do water polo, team handball and other team sports award all of their medals, including the reserve players on the podium while the reserve swimmers do not get to be recognized on the podium?