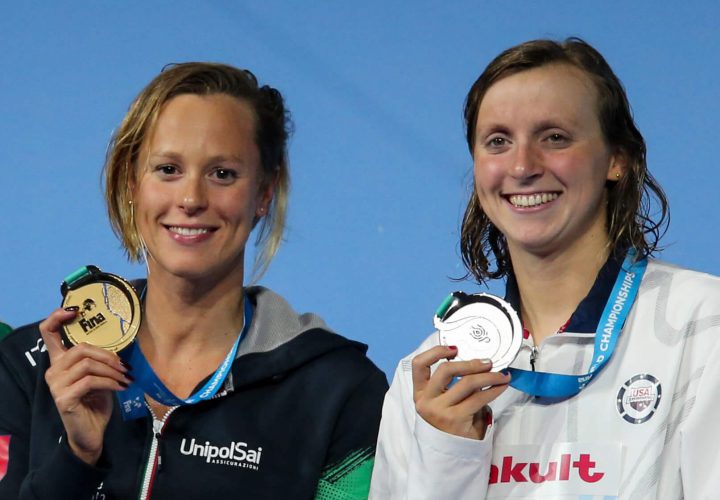 Editorial Coverage provided by

By David Rieder.
The prospects of Katie Ledecky not finishing first in the women's 200 free final were real, very real. During the first three days of the World Championships, Ledecky has insisted that she believed she was clicking, but her times had just not been up to her usual standard.
She had missed her world record in the 400 free by almost two seconds and was off her global standard in the 1500 free by six seconds—although she appeared to ease up in the mile when she realized how massive a lead she had built.
The biggest warning sign, though, was her split on the U.S. women's 400 free relay. Yes, she pulled the Americans into the lead, but that was despite a split of 53.83, more than a second slower than the 52.7 splits she had put up at the 2016 Olympics in Rio.
Oh, and while Ledecky had been a bit shy of her best, Emma McKeon had been flying. The 23-year-old Australian had already won silver in the 100 fly in a lifetime-best time of 56.18 and anchored the Aussie 400 free relay to silver with a career-best split of 52.29.
McKeon had won bronze in the 200 free at the Olympic Games and had put down a swift 1:54.99 in the semi-finals, good enough for the No. 2 seed going into finals behind Ledecky's 1:54.73. Going into the final, both felt supremely confident
"It's feeling really good," Ledecky said. "I think 1:54 coming off the mile (less than an hour before) is really good for me. Puts me in a good spot for tomorrow."
"I'm relaxed," McKeon said. "I found the right amount of nerves. I feel the most confident I have in a while, with my swimming and with myself."
The battle for gold, in all probability, would be McKeon's early speed vs. Ledecky's ability to motor down the stretch and run everyone down. McKeon, surely, was the only threat to the dynamo Ledecky, who had previously swum in 13 individual finals at an Olympic or World Championship, and she had won gold in all of them.
For the first 150 meters of the race, that's exactly what happened. McKeon built a big lead and was a half-second up at the halfway mark, but Ledecky closed the gap to one hundredth off the final turn. It was game on.
But little did either Ledecky or McKeon know: Federica Pellegrini was about to come up and steal the gold medal.
Pellegrini, who had amazingly won a medal in the 200 free at each of the previous six World Championships, was in third place with one lap to go. But closing speed has long been Pellegrini's calling card, and at that moment, she downshifted.
Pellegrini's split on the final 50 was 28.82, seven tenths faster than anyone else in the field. Ledecky tried to go to her extra gear, but the tank was empty. She ended up with the sixth-fastest closing 50 in the field.
"I could just feel it at the end that I didn't have that extra gear that I normally have," Ledecky said. "I was just trying to get my hand to the wall. I couldn't really see much the last 50.
Ledecky had no explanation as to what went wrong. All she knew was that Pellegrini, who never considered Ledecky unbeatable, was coming hard. Pellegrini touched the wall in 1:54.73, four hundredths slower than Ledecky's semi-final time, but it was enough to reclaim her gold medal.
"Everything seemed to be in slow-motion to me in the water. At 150 meters on the turn we were all there, so I closed my eyes and went for it," Pellegrini said. "It's incredible. I didn't believe I would make it—I still can't believe it."
She had become the first swimmer, male or female, to win a medal in one event in seven straight World Championships. Pellegrini won silver in 2005, bronze in 2007 and then golds in 2009 and 2011—her 2009 win coming in a world record-time that still stands. But in both 2013 and 2015, she finished second— to Missy Franklin in 2013 and Ledecky in 2015.
Six years after she last stood atop the podium, Pellegrini had her retribution in Budapest.
Ledecky finished in 1:55.18, tied with McKeon for the silver medal. She had swum a half-second slower than she had the night before in the semi-finals and a second and a half slower than she swam on her way to gold in Rio last summer.
Afterwards, there were only questions about what went wrong. That's what happens when you lose your first major international final in 14 tries, after going undefeated for her first five years competing for Team USA.
"I don't know if I went out too hard or just was feeling yesterday, the rest of the meet," she said. "Maybe I haven't been quite on point as much as I would have hoped to have been this week, but I've still been feeling good. That was mostly a matter of how I executed my race. It wasn't anything really too wrong or additional to that."
Of course, no need to hit the panic button, as it would take an upset much bigger than Pellegrini's for Ledecky not to return to the top of the podium as part of the U.S. women's 800 free relay Thursday or in the 800 free individual race Saturday.
But after so many years of invulnerability, of always stepping up to the biggest challenge, it was a bit disconcerting watching Ledecky actually not have all the answers when she needed them.
Ledecky was calm and collected after the race, not pouting about one final gone wrong, and she smiled for photos on the medal podium with Pellegrini and McKeon. Setbacks happen to every swimmer, but for Ledecky, it had been a long time waiting for something to go wrong.
"It happens. Happens to every athlete at some point," Ledecky said. "I know this race will really motivate me moving forward and the rest of the week."
Just how motivated will she be? Just how much does Katie Ledecky hate to lose? She—and the rest of the world—are going to find out.