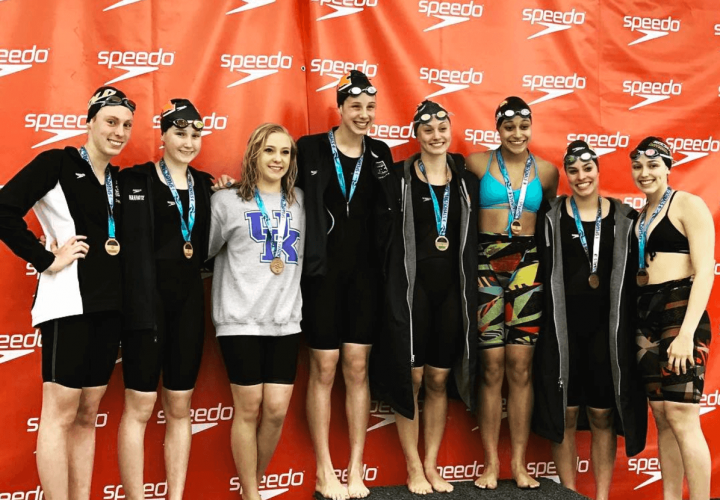 Photo Courtesy: Elysse Pardus
Speedo Sectional Series is proudly sponsored by Speedo. Visit SpeedoUsa.com for more information on our sponsor.
Competition concluded this evening in Greensboro with night four finals of Speedo Sectionals.
The session started off with the women's 100-yard freestyle, which was headlined by a few familiar faces. SwimMAC Carolina's Caroline Hauder, 100-yard backstroke champion, grabbed another first-place title with a 49.77. 50 freestyle winner, from Athens Bulldog Swim Club, Danielle Dellatorre, took second in 49.97. SwimMAC's Sophie Lindner, second-place in both the 200 freestyle and 100 butterfly, finished third with a time of 50.42.
Men's 50 free champion William Chan of SwimMAC Carolina and Konstantinos Siokos of Team Greenville battled it out in the men's event, with Siokos coming out on top in 45.19. Chan was second with 45.27. Noah Henderson of Star Aquatics finished in third place with a time of 45.40.
SwimMAC repeated their dominant performance in the backstroke events, sweeping the top 10 spots in the 200 distance. Sinclair Larson, third in the 100, took the title in 1:55.33, with Stephanie Nelson coming in second in 1:57.59. Heidi Lowe finished third with a time of 1:58.49. The top four finishers were all under 2:00.00, with fifth-place Amy Dragelin just off the mark in 2:00.06.
NC State's Noah Hensley took first for the men, stopping the clock in 1:45.55. Runner-up in the 200 butterfly and 200 freestyle events, Team Greenville's Talmadge Davis garnered second-place honors once again with a time of 1:47.27. Cardinal Aquatic Club's Jacob DeMercurio finished in 1:48.44, good for third place.
SwimMAC went 1-2-3 in both men's and women's 200-yard IM. Hauder notched yet another first-place finish as the only woman under 2:00.00, with a time of 1:58.91. Julia Menkhaus, 200 butterfly champion, swam to a second-place finish with a time of 2:00.97. Jane Donahue was third in 2:01.38.
Chan finished off his stellar meet with a top time in the men's 200 IM of 1:50.28. Teammate Colson Zucker grabbed the second-place spot in 1:51.07, and Lucas Johnson was not far behind in 1:51.85.
The men's and women's 1650 freestyle saw familiar faces as well, as Bayler Frierson from Chattahoochee Gold Swim Club garnered another distance title with a time of 17:07.25. Eleanor Marquardt from Aquatic Team of Mecklenburg finished just behind in 17:08.88. Third place was Asheville's Abigail Kriegler in 17:15.24.
16-year-old Thomas Bretzmann put up another dominating performance in the men's event, finishing almost seven seconds ahead of the field and dropping over 20 seconds from his seed time to finish in 15:25.88. John Frith of New South Swimming notched a second-place time of 15:32.26. It was a close race between second and third-place Curtis Wiltsey of SwimMAC, as Wiltsey came in only 0.09 after Frith in 15:32.35.
SwimMAC's A and B relay teams finished first and second in the men's 400 medley relay. The A-squad of Alexander McMurry, Chan, Robbie Epler, and Hernan Gonzalez combined for a time of 3:23.58. Joshua Fletcher, Johnson, Boyd Poelke, and Jeffrey Murray made up the B-team, who finished in 3:26.03. Team Greenville's team of Davis, Bruce Bannister, Liam Walker, and Siokos finished third in a time of 3:29.02, anchor Siokos bringing it home in 44.46.
Results are not yet available for the women's 400-yard medley relay.
Meet results can be found on Meet Mobile.