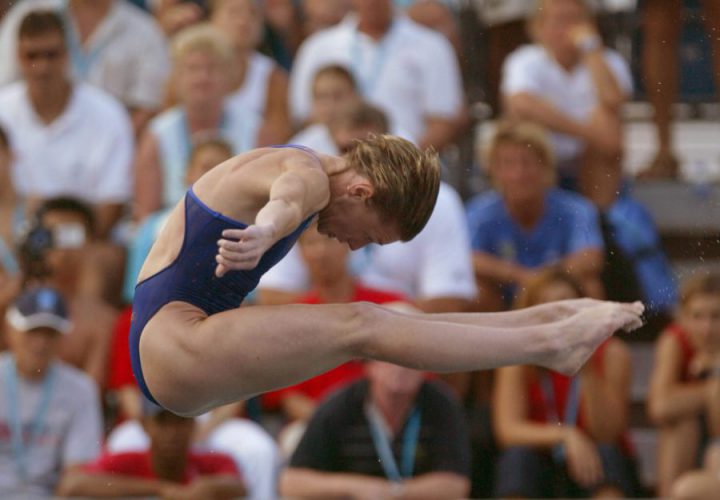 Irina Lashko is the only athlete to represent four different flags in four Olympic Games: Soviet Union (1988), Unified Team (1992), Russia (1996) and Australia (2004).
The International Swimming Hall of Fame (ISHOF) officially announced that Irina Lashko is the first of ten (10) Honorees who constitute the ISHOF Class of 2018. Lashko, a three-time Olympic medalist, is no stranger to Fort Lauderdale, as she dove there at the USA International Meet many times during her storied career. As in past years, the ISHOF will make a series of announcements until all members of the Class are named. The 54th Annual ISHOF Induction Weekend will be held in Fort Lauderdale, May 18-20, 2018.
"It is always a difficult process because there are so many worthy candidates," said Bill Kent, ISHOF's Board Chair.  "But once again, our committee members from all over the world have done an outstanding job. Among this year's honorees are athletes, coaches and contributors representing different nations (Australia, Bulgaria, Great Britain, Japan, and the USA) selected from the Olympic sports of swimming, diving, synchronized swimming and water polo. On behalf of the Board of Directors, I want to thank Camillo Cametti, of Verona, Italy, Chairman, and all the members of the International Selection Committee for a job well done."
Irina Evgenievna Lashko was born on January 25, 1973 in Samara, Russia. Known as Kuybyshev during the Soviet era, Samara is situated in the southeastern part of European Russia at the confluence of the Volga and Samara Rivers. Irina discovered the sport of diving at the age of five and entered the Sverdlovsk Sports School at the age of ten. Four years later, she represented the Soviet Union at the 1987 FINA Diving World Cup and surprised everyone by winning the silver medal in the 3-meter springboard event behind Hall of Famer Gao Min of China.
The next year, 15 year old Lashko narrowly missed the podium in the same event at the 1988 Seoul Olympic Games. In 1989, Irina won her first international gold medal when she upset Gao Min at the USA International Meet in Orlando, Florida.
Leading up to 1992 Olympic Games, Gao and Lashko were the two best women's 1m and 3-meter divers in the world but Gao was unbeatable in Barcelona while Lashko took the silver medal in the 3-meter event. In 1993, Lashko won two silver medals at the FINA Cup in Beijing. but was out of competition in 1994 to have a baby girl named Alina. She returned in 1995 to win the World Cup 1-meter title. At the Olympic Games of Atlanta the next year, it was silver again. This time behind
Fu Minxia
, another future Hall of Famer.
In 1998, shortly after winning gold medals in the 1-meter and 3-meter springboard events at the FINA World Cup, she married Australian businessman Carol Fulner in Melbourne. They had met years earlier at a diving event in Australia, but their relationship created problems for her with the Russian Federation. Not receiving the financial support she felt she deserved, she petitioned the Federation to allow her to compete for her new adopted country at the 2000 Sydney Games.
Unfortunately, her request was denied and the Games went on without one of the best divers in the world. But in Athens, in 2004, she teamed up with Chantelle Newbury to win a bronze medal in the 3-meter springboard synchronized event for Australia. This accomplishment made her the first woman in diving history to win medals in three Olympic Games and the only to represent four different flags in four Olympic Games: Soviet Union (1988), Unified Team (1992), Russia (1996) and Australia (2004).
Irina Lashko had the misfortune of diving during an era dominated by the People's Republic of China. Yet during her career, she managed to record victories over three Hall of Famers, Gao Min, Fu Minxia and Guo Jingjing and no doubt helped push them to greatness and now joins them as one of the greatest divers of all time.
About The International Swimming Hall of Fame Induction Weekend
The International Swimming Hall of Fame (ISHOF) Induction Ceremony is shaping up to be a star-studded weekend with multiple events spread out over three days in beautiful Fort Lauderdale, Florida.  Make your plans now to attend the weekend of May 18-20, 2018!  ISHOF Members can purchase the Weekend Package and Save!
This year's International Swimming Hall of Fame honorees include Swimmers: Rebecca Adlington (GBR), Amanda Beard (USA), and Libby Trickett (AUS); Water Polo Player: Brenda Villa(USA); Contributor: Andy Burke (USA); Diver: Irina Lashko  (USSR, RUS, AUS) ; Coach: Bill Sweetenham (AUS); Synchronized Swimmer: Miho Takeda (JPN);  Open Water Swimmer: Petar Stoychev (BUL); and Pioneer Synchronized Swimming Contributor: Joy Cushman (USA). Ian Crocker (USA) was a part of the Class of 2017, but was unable to attend the induction due to Hurricane Harvey.  We will be officially celebrating his induction as part of the class of 2018.
The Paragon Awards and ISHOF Awards will be presented of Friday of the same weekend
2018 Paragon Award and ISHOF Award Recipients:
Frank Busch for Competitive Swimming
Dr. Ben Rubin for Diving
Bob Corb for Water Polo
Jennifer Gray for Synchronized Swimming
David Bell for Recreational Swimming
Jill White for Water Safety
Anthony Ervin and Constantine Markides – Buck Dawson Author Award: "Chasing Water: Elegy of an Olympian"
Gay DeMario – ISHOF Service Award
Lana Whitehead – Judge G. Harold Martin Award
Johnny Johnson – Virginia Hunt Newman Award
Kathy Bateman – John K. Williams, Jr. International Adapted Aquatics Award
Bob Ingram – Al Schoenfield Media Award