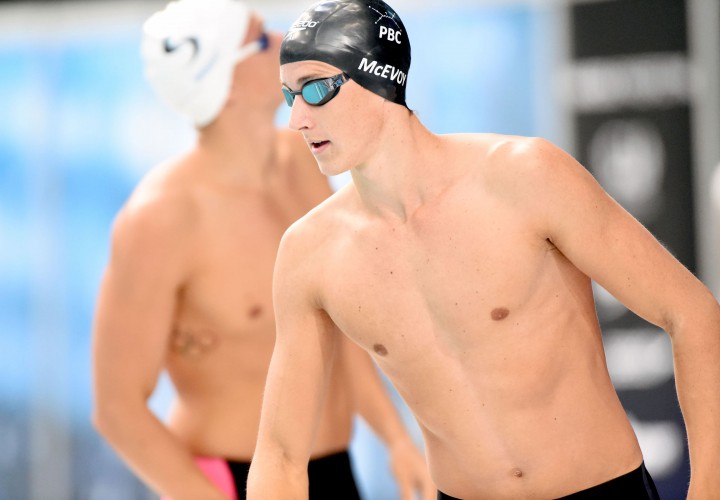 Photo Courtesy: Swimming Australia
The Australian Swimming Championships featured another sizzling set of heats from the Campbell sisters, as well as a barn-burner in the men's 100-meter free with Cameron McEvoy downing James Magnussen.
Bronte and Cate Campbell each bettered third season bests in the women's 100-meter free semis to move closer to the top of the world rankings in the event.
Bronte lit up semis with a 53.05, clearing the 53.14 she had set at the BHP Super Series, while Cate posted a 53.08 to eclipse the 53.13 from the BHP meet as well.  Bronte actually leapfrogged Cate into second in the world as both trail Femke Heemskerk, who posted a 52.69 at the Eindhoven Swim Cup.
Emma McKeon (53.61) moved to fifth in the world, while Brittany Elmslie posted a fourth-seeded 53.72 for seventh in the world rankings.  Melanie Wright's fifth-seeded 53.73 also put her into the top 10 in the world this year.
Daniel Tranter touched out Justin James, 1:58.73 to 1:58.86, in the men's 200-meter IM finale.  Tranter moved to fourth in the world rankings with James taking fifth.  Thomas Fraser-Holmes placed third tonight in 1:59.55 to snare seventh in the world rankings as well.
Taylor McKeown topped the women's 200-meter breast semis with a 2:24.51.  That swim pushed her up to sixth in the world rankings.  Tessa Wallace qualified second in 2:25.30 with Sally Hunter earning the third seed in 2:27.30.
In the highest profile swim of the night, Cameron McEvoy trumped James Magnussen in the men's 100-meter free finale, 48.06 to 48.18.  Those are the top two times in the world, beating the 48.25 set by Sebastiaan Verschuren at the Eindhoven Swim Cup.  Tommaso D'Orsogna took third in 48.54 with 16-year-old Kyle Chalmers clocking a 48.69.
Chalmers became the fastest 16 year old ever with a 48.89 yesterday and improved his time even more tonight.  He has a bit of time to drop to break the FINA World Junior Record though as Brazil's Matheus Paulo de Santana holds that mark with a 48.25 from last year.
Madeline Groves followed with a world-best time of 2:05.41 in the women's 200-meter fly.  That swim cleared the 2:05.86 set by Mireia Belmonte at the Spanish Nationals.  Brianna Throssell touched second in 2:07.29, just off her now third-ranked season best of 2:06.60 from the SA State Championships.  Keryn McMaster wound up third in 2:12.07.
Groves time lowered Susie O'Neill's 2000 All Comers record of 2:05.81.
Nicholas Schafer (2:13.21) and Matt Wilson (2:13.33) went 1-2 in the men's 200-meter breaststroke, while Buster Sykes claimed the third seed in 2:14.04.
Emily Seebohm then blasted a 27.47 to clear her world best in the women's 50-meter back.  That swim lowered her previous season best of 27.64 from the NSW State Championships.  Madison Wilson took second in 27.90, just off her fourth-ranked 27.88 from yesterday.  Minna Atherton, 14, earned third overall in 28.32.
Seebohm's time also bested the Commonwealth and Australian record of 27.51 set by Sophie Edington back in 2009, and beat the All Comers record of 27.67 set by Edington in 2008.
Mitchell Larkin cruised in the men's 200-meter back semis with a time of 1:56.81.  That swim is just off his second-ranked season best of 1:56.05 from the BHP Super Series.  He could take a run at Ryosuke Irie's world best of 1:54.62 during the finale.  Josh Beaver qualified second in 1:59.29.
Melbourne Vicentre's Kotuku Ngawati (2:01.88), Emily Moreton (2:06.32), Molly Batchelor (2:05.42) and Elyse Woods (2:04.90) won the women's 800-meter free relay in 8:18.52.
2015 Australian Swimming Championships, Live Results – Results