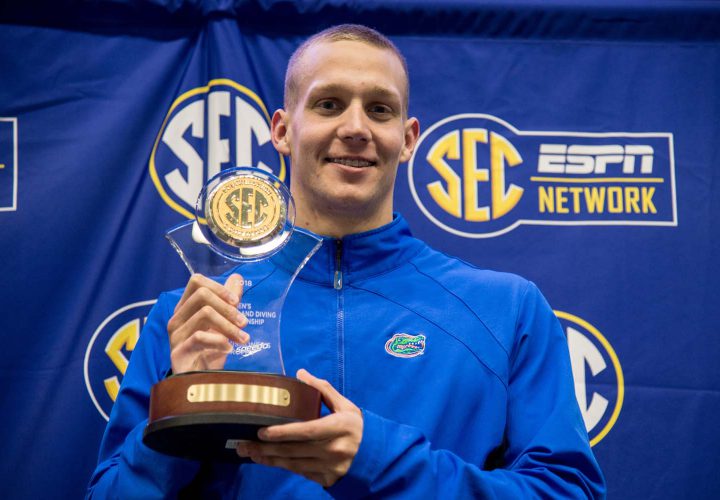 Photo Courtesy: Thomas Campbell/Texas A&M Athletics
Caeleb Dressel has been named a nominee for the 88th Sullivan Award, given to the top amateur athlete in the United States. The nomination is in recognition of Dressel's phenomenal 2017, when won a record-tying seven gold medals at the FINA World Championships in Budapest.
Also recognized in his official nomination are Dressel's three individual wins at both the 2017 NCAA and U.S. National championships, as well as Dressel winning three gold medals in one day at the World Champs. He's even given credit for his humble and giving nature outside the pool.
"In the midst of a demanding academic and training schedule, Caeleb is active in the Gainesville community with his fellow University of Florida student-athletes. An incredibly humble individual, Caeleb always looks to help out his teammates. After winning SEC Male Swimmer of the Meet honors and the Commissioner's Trophy, Caeleb was one of only three swimmers to stick around to make sure the entire UF team area was clean. He picked up teammates' and coaches' items that they left behind, as well as throwing away garbage they left."
Dressel will compete next week at the men's NCAA championships in Minneapolis after he set American records in the 200 IM and 100 breast at the SEC championships last month.
To vote for Dressel for the Sullivan Award, click here.