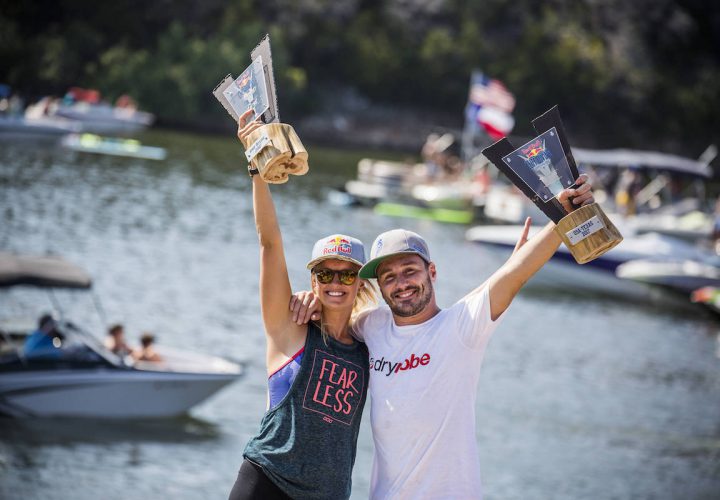 Photo Courtesy: Romina Amato/Red Bull Content Pool
With an exceptional display of diving, Blake Aldridge (GBR) leaped to his first World Series victory since 2014 going into the second half of the 2017 season, while Australian Rhiannan Iffland continued her dominance with another commanding performance to stretch her lead at the top of the overall standings.
Aldridge, second here last year behind Jonathan Paredes, turned the tables on his rival from Mexico with the final dive of the day, edging past the 'styelmaster' into first place to become the fourth different winner in four events this season. In what was one of the closest finals from the 27m platform ever, only eleven points separated the top seven divers, and an enthusiastic crowd of 9000 fans on boats, kayaks and paddleboards cheered American David Colturi into third place and his second podium finish in a row.
In a day full of surprises, it was once again Iffland who found herself atop the women's podium from the 21m platform for the third time this season. The 25-year-old came out of nowhere in 2016 to win the season opener in Texas as a wildcard and then went on to secure the women's title. In 2017 the Aussie has shown last year was no fluke as she continues to dominate the women's division.
Mexico's Adriana Jimenez in second place and fellow Australian Helena Merten in third joined her on the podium. The final positions also reflect the women's overall standings, although the reigning champion is now beginning to streak clear with a lead of 170 points over Jimenez.
While the women's division looks the same with Iffland on top, the men's division underwent a major shakeup with Aldridge catapulting himself into the overall lead in the fight for the men's title. Paredes leaped up into third behind six-time champion Gary Hunt (GBR) and Colombia's Orlando Duque dropped down from first to sixth place.
With four different male winners, three different overall leaders in the men's and two new faces on top of the podium in each division it is still anyone's game as the World Series goes on to Mostar, Bosnia and Herzegovina and the season final in Lago Ranco, Chile.
Photos from Hell's Gate, Texas:
This slideshow requires JavaScript.
Quotes from the winners
Blake Aldridge, GBR
I didn't miss a dive all weekend and I feel like I deserve to win. After the last dive I didn't know the scores. It's great to be in an event as good as this. Everybody hitting their last dives. The standard was absolutely phenomenal. It's been a long time since my last victory in 2014 in Cuba. So I waited a long time for this and I'm just super happy with the way I performed.
My dream has always been to win the Red Bull Cliff Diving World Series, so to have an opportunity to do this this year is a great one. Hopefully I can go to the next two stops and I can finish on the podium and secure a top-three spot and maybe even win the Series. I enjoyed my time in Texas, but back to training as soon as I get home from here. Bosnia is next.
Rhiannan Iffland, AUS
Last year was definitely a whirlwind for me. I walked in as the rookie and I didn't expect to perform the way I did. I had a lot more pressure coming into this competition. This year I came in with higher expectations but once I got here and saw the crowd having a great time, the pressure was lifted off my shoulders and I was able to hit my dives.
This result definitely puts me in a good position for the following two competitions. So I'm going to train hard from here on now and I hope I can get two more victories, but I just want to go out there and enjoy it.
Results – Stop #4, Texas | USA
MEN
1 – Blake Aldridge (GBR) – 399.95pts
2 – Jonathan Paredes (MEX) – 398.75
3 – David Colturi (USA) – 391.30
4 – Andy Jones (USA) – 390.85
5 – Gary Hunt (GBR) – 390.45
6 – Michal Navratil (CZE) – 389.20
7 – Alessandro De Rose (W) (ITA) – 388.30
8 – Kris Kolanus (POL) – 369.65
9 – Sergio Guzman (MEX) – 251.10
10 – Steven LoBue (USA) – 249.90
11 – Alain Kohl (W) (LUX) – 244.60
12 – Miguel Garcia (W) (COL) – 240.30
13 – Orlando Duque (COL) – 233.80
14 – Owen Weymouth (W) (GBR) – 213.00
WOMEN
1 – Rhiannan Iffland (AUS) – 315.60pts
2 – Adriana Jimenez (MEX) – 304.15
3 – Helena Merten (AUS) – 293.85
4 – Tara Hyer-Tira (W) (USA) – 288.50
5 – Ginger Huber (USA) – 287.10
6 – Cesilie Carlton (USA) – 279.40
7 – Iris Schmidbauer (W) (GER) – 227.20
8 – Maria Paula Quintero Torres (W) (COL) – 226.50
Standings (after 4 of 6 stops)
MEN
1- Blake Aldridge (GBR) – 480pts
2- Gary Hunt (GBR) – 460
3- Jonathan Paredes (MEX) – 450
4- David Colturi (USA) – 410
4- Andy Jones (USA) – 410
WOMEN
1- Rhiannan Iffland (AUS) – 690pts
2- Adriana Jimenez (MEX) – 520
3- Helena Merten (AUS) – 450
4- Ginger Huber (USA) – 430
5- Tara Hyer-Tira (W) (USA) – 270
Since 2009, the Red Bull Cliff Diving World Series has provided a platform for exhilarating action and dives of ever-growing complexity. The series features elite athletes as well as young up-and-coming talent and a Women's World Series was introduced in 2014. In 2017 the sport's best athletes will once again leap, twist and somersault from up to 27m with no protection, except their concentration, skill and physical control during six competitions around the world.