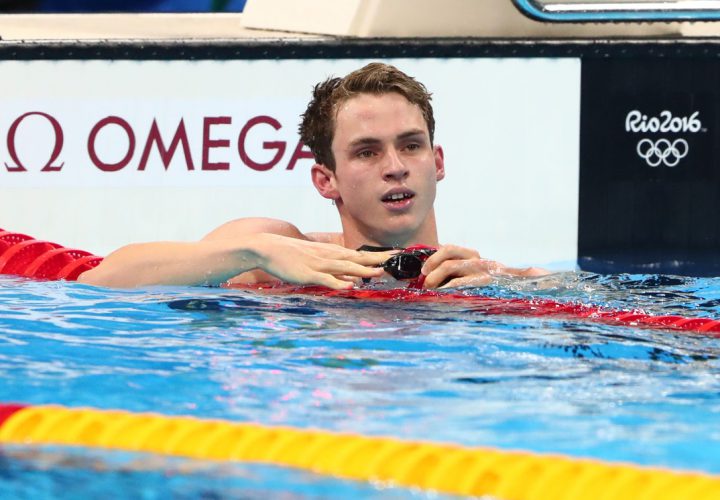 Photo Courtesy: Rob Schumacher-USA TODAY Sports
The fifth night of the 2017 British Swimming Championships in Sheffield featured four finals with World Championship qualification at stake. Ben Proud was the star of the night as he won the 50 free in the fastest time in the world this year. Proud's time (21.32) would have won gold at last summer's Olympics. The other big story of the night was Siobhan O'Connor's disqualification in the 200 IM final. O'Connor has a chance to qualify in the 100 fly tomorrow and will more than likely still be picked up to swim the 200 IM. Max Litchfield won his second event of the week with a win in the 200 IM after he won the 400 on Thursday in a new British Record. Holly Hibbott also upset the Olympic silver medalist in the 400 free Jazz Carlin as Hibbott was inside the consideration time for Budapest (4:06.37).
2017 British Swimming Championships Day Five Results – Results
Tonight's Events:
Women's 50 Backstroke
Men's 50 Freestyle
Women's 400 Freestyle
Men's 200 IM
Women's 200 IM
Women's 50 Backstroke
Georgia Davies has had a stellar week in Sheffield at the British Swimming Championships. Davies won her second title of the week with a 27.69 for the win in the 50 back. Davies already won the 100 this week with a 59.34, outside of the automatic qualifying time but inside the consideration time. Davies' time puts her at second in the world behind Australia's Holly Barratt (27.60) and Canada's Kylie Masse (27.71).
Kathleen Dawson (28.19), Lucy Hope, Lauren Quigley (28.49), Anna Maine (28.79), Cassie Wild (28.91), Harriet West (29.01) and Mollie Allen (29.24) also swam in the championship final.
Men's 50 Freestyle
Ben Proud swam the fastest 50 free so far in 2017 with a 21.32 to break the British Record by over two tenths of a second. Proud won the British Championships and swum inside the automatic qualification time for Budapest. Proud's time also would have won gold at the Olympics last summer. Anthony Ervin won in Rio with a 21.40. Proud was fourth in that race behind Ervin, Florent Manaudou and Nathan Adrian. Proud has officially put the sprinting world on notice as he is ahead of Russia's Vlad Morozov (21.44) and Australia's Cameron McEvoy (21.55).
Proud broke his own British Record that he set at the Olympics last summer at 21.54. Proud was also one of the seven swimmers that finished in fourth last summer and he will definitely put himself amongst the talks for a medal at the World Championships this summer.
Proud has officially qualified for his third World Championships with that swim in Sheffield on Saturday night. Proud ran away from the rest of the field as he won by almost a full second over second place Thomas Fannon (22.21) and Jack Thorpe (22.53). Lewis Burras (22.70), Miles Munro (22.75), Alexander Bowen (22.76), James Oxborrow (22.97) and Daniel Speers (22.98) also swam in the A-final.
Women's 400 Freestyle
17-year-old Holly Hibbott dethroned the three-time reigning British Champion Jazz Carlin in the 400 free in Sheffield. Hibbott won with a 4:06.37 ahead of Carlin's 4:07.24 thanks to a stellar last turn. Hibbott was inside the consideration time for Budapest that was a 4:06.86. Carlin won silver in Rio last summer and was outside the consideration time tonight so it is assumed she won't be swimming this summer at the World Championships. It has been indicated that Carlin took a lengthy break after the Olympics last summer so she is not quite in form this week.
But taking nothing away from Hibbott as she won her first British title and is up for consideration for her first World Championships. Hibbott is now ranked fourth in the world behind USA's Katie Ledecky (4:01.01), Australia's Ariarne Titmus (4:04.82) and Hungary's Boglarka Kapas (4:06.14).
Hibbott and Carlin also had a good race with Eleanor Faulkner who fell off the pace a little and was third at 4:07.62. Camilla Hattersley (4:12.93), Hannah Miley (4:13.02), Alice Dearing (4:14.09), Abbie Houston (4:15.98) and Kathryn Greenslade (4:17.05) also swam in the A-final.
Men's 200 IM
Max Litchfield picked up his second win of the week with a victory in the 200 IM. Litchfield won the 400 IM earlier in the week with a British Record. He continued that momentum into the 200 with a 1:58.10 to be inside the consideration time for the World Championships. Litchfield held off NCAA co-champ Mark Szaranek (1:58.39) and 100 free British record holder Duncan Scott (1:58.44). Litchfield was the only one inside the consideration time.
Litchfield's time puts him fourth in the world behind Japan's Kosuke Hagino (1:56.01), Daiya Seto (1:57.58) and USA's Chase Kalisz (1:57.71). Litchfield was fourth in Rio last summer in the 400 IM and did not swim the 200. The 22-year-old has put together a solid week and should be one of the stars moving forward for British Swimming. The Brits have a young men's team that is showing no signs of slowing down.
Xavier Mohammed (1:59.29), Jarvis Parkinson (2:00.16), Dan Wallace (2:00.62), Joe Litchfield (2:00.85) and Martyn Walton (2:02.67) also swam in the A-final.
Women's 200 IM
Siobhan O'Connor touched first in the 200 IM but was ultimately disqualified for a possible false start in the final in Sheffield. O'Connor was originally a 2:09.72 which would have been third in the world behind Hungary's Katinka Hosszu (2:09.38) and Canada's Sydney Pickrem (2:09.56). O'Connor was the only swimmer inside the consideration time in the final as Hannah Miley ended up picking up the win with a 2:11.75. Abbie Wood was second at 2:12.62.
This possibly squanders a rematch between Hosszu and O'Connor at the World Championships this summer as those two won gold and silver in Rio last summer and are the fastest swimmers in textile in the event. It will be up to the selectors if O'Connor is to swim in Budapest because she has showed she is fully capable of swimming fast.
Molly Renshaw (2:13.21), Katie Matts, Rosie Rudin (2:14.07), Constance Dean (2:15.34) and Georgia Coates (2:15.78) also swam in the championship final.