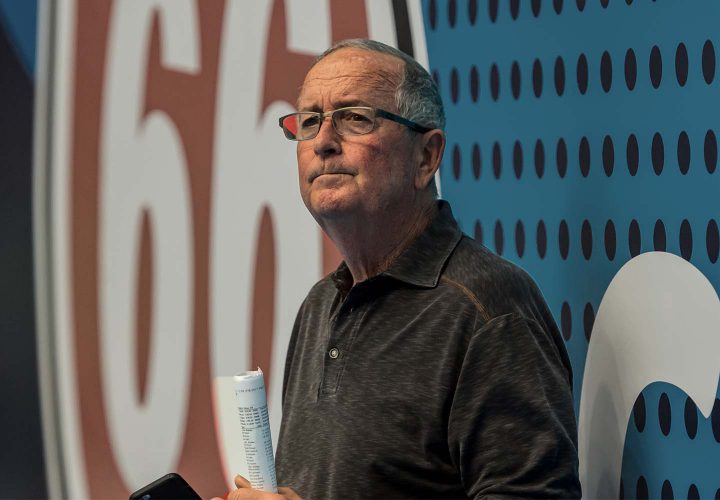 Photo Courtesy: Peter H. Bick
Morning Splash by David Rieder.
Eddie Reese was hungry. It was early afternoon on a Wednesday, and Reese had only just arrived in Washington, D.C., mere hours before he was to be part of the keynote address of the ASCA World Clinic. Hurricane Harvey had mostly missed Austin, Texas, but the storm had delayed Reese's flight by a day.
Naturally, it was fine by me if Reese wanted to have lunch or get settled in his room before sitting down for an interview. But no, he insisted, let's go ahead and get started. We sat down in a booth in the lobby of the Washington Hilton.
Reese ordered a turkey BLT sandwich and a Coke. I was good with an ice water. And we talked.. .for more than an hour.
Of course, while sitting in a very public space full of swimming's top coaches, plenty would recognize Reese. Many waved, and a couple walked over to our booth. NC State head coach Braden Holloway looked straight at the recorder and stated, "For the record…" But Holloway couldn't think of anything else to add to the conversation.
Over the previous three years, most of my conversations with Reese had been 10-minute group interviews in press rooms as he celebrated another men's NCAA team championship or in-passing conversations on deck at a national championship.
This time, it was just us: Reese, me and a recorder.
As one of the all-time legends in swim coaching, Reese had no need to hold back, and he didn't. He admitted which of his swimmers trained hard in the post-Olympic year and who might not have been so committed. He recalled the time his athletic director at Texas insisted on giving him a raise.
He even admitted what happened, not too long ago, that had him seriously considering retirement after nearly four decades as head coach at Texas.
He took his time and thought through every question—even ones when he had to reflect back over decades. And he explained one thing about this year's Texas team that will be different than any other he has ever coached. Yes, even in year No. 40 at Texas, Eddie Reese is still breaking new—and meaningful—ground.
The More Things Change
Reese was not in favor of the biggest rule change in backstroke—and no, that's not referring to the addition of a starting wedge that has helped backstrokers maintain their foot-grip on the touchpads before launching into the race.
If you're younger than 30, you probably don't remember the pre-1992 era when backstrokers had to touch the wall on their backs prior to turning, before the crossover turn was introduced prior to the Barcelona Olympics.
"I was not for turning backstroke into what I call back-free," Reese said. "We were part of a study that tried to determine how much improvement that would cause, just by removing the touch."
Well, as it turned out, backstroke has taken off in the two-and-a-half decades since, so Reese had no reason to complain when they added the starting wedges in 2014 or, prior to that, other aids such as non-turbulent lane lines or track-start blocks.
"Well, they could have made them an inch thick, the backstroke wedges, instead of a quarter of an inch," Reese said. "They were afraid you were going to be farther down the pool than the 50 meters, but your hands are on the block, and when you're on the top of the block, your toes are beyond the 50-meter line."
The backstroke wedges were just the latest change that Reese has seen in the sport during his long stretch of coaching. When Reese first became head coach at Texas in 1978, most swimmers didn't wear goggles, and most men didn't wear caps. Tech suits and dome caps—now staples at major meets—had not been conceived.
Over the past four decades, swimming has changed—the technology, the technique and the like. The swimmers have not.
"If you take 100 percent of the good swimmers in our country, 80 percent like to win…20 percent hate to lose," Reese said. "All but one person on every Olympic team comes from the hate-to-lose group. That doesn't mean they don't lose, but that's so different than wanting to win."
Many of the talented swimmers Reese has encountered over the years simply didn't have that burning desire not to get beat. Some people—when asked who, Reese wouldn't name names—didn't have the edge it took to progress to the level of Olympian or the level of Olympic medalist.
It's not Reese criticizing anybody's work ethic—it's just a truth, a constant, in a sport so apt for change.
How to Coach
"I've either been cursed or blessed with a gene that demands you find a way to get better," Reese said. "Some days, it's a blessing—at the end, when they get better, it's a blessing—but it gets to be a daunting task if you realize how much work somebody has to do to get better."
Those were his first comments about the nature of coaching. And it's not just a daunting task for the swimmers—it's on Reese to find new ways to make them better. He believes that a swimmer doing the exact same work year after year will only get slower. Each year, there must be new stimuli.
"If you use the same stimuli, there's a real good chance a 23-year-old will be slower because there's no need to change," Reese said. "You have to apply different stimuli—different intensity, different length of time, all that stuff."
And then there's the actual matter of dealing with and communicating to 18-to-22-year-old men and keeping the message fresh. Reese explained that he has no trouble with the second part of that equation, explaining with a straight face that he's left-handed, and "left-handers don't like to do anything the same."
When he needs to communicate a message, he will always opt for honesty—gentle but blunt.
"Let's say they've screwed up. Don't tell them in a way that you make them feel any worse than they are. I don't do that," Reese said. "There's a lot of people who can get away with yelling at them, and I don't yell at them."
In August 2016, Reese faced a situation where one of his star swimmers found himself in trouble—and not just your typical college-kid-did-something-stupid kind of trouble. Jack Conger was involved in an international incident.
Conger was one of the four American swimmers who found themselves at a gas station in Rio de Janeiro hours after the Olympic swimming had concluded when they had a run-in with security agents that ended up showing guns. Ryan Lochte told the world they had been robbed, and when the truth of what happened began to leak out, Conger found himself caught in the crosshairs.
Three days after the incident, Brazilian police pulled Conger off a U.S.-bound airplane and detained him for questioning. He returned to the U.S. unscathed after an unexpected extra day in Brazil, but USA Swimming suspended Conger for four months for his role in the incident and issued other penalties.
So when Conger returned to Texas for his senior year, what did he need from Reese?
"Just talking about it," Reese said. "I told him, very honestly, he was wrong."
But still, Reese stuck by Conger. He insisted, in effect, that "those guys went through a stop sign, and they charged them with murder," and he implored the athletic department at Texas to hold off on any additional punishments.
And then, he told Conger to swim—forget about what was happening outside the pool, put your head down and work hard.
"He came back, and he and Clark (Smith) worked the hardest of all our Olympians," Reese said. "The others were a little bit (on the) Olympic gravy train."
Seven months after the Olympics, Conger won his first NCAA title in the 200 yard fly, recording the fastest time in history at 1:47.35. At the World Championships, he qualified for the first individual final of his life on his way to a sixth-place finish in the 200 meter fly.
And no one's talking about his late-night taxi experiences in Rio anymore.
The National Superstar
Conger came back from Rio disheartened and supremely motivated. Another of Reese's butterflyers, Joseph Schooling, returned to Austin a national hero.
The Singapore-native had won Olympic gold in the men's 100 fly, beating out—among others—Michael Phelps. His time of 50.39 was faster than any man had ever swum in a textile suit.
"He accomplished his lifetime goals," Reese said. "It was hard to get him back. I think reality got him back this year. He doesn't like that."
In Schooling's case, "reality" meant losing—and losing big. Signs of trouble first emerged at the NCAA Championships in March, when he lost out to former training partner Caeleb Dressel in the 100 fly and failed to even score in the 200 fly. But what really hit home were Schooling's results from the World Championships in Budapest.
Schooling had insisted that he was gunning for the world record in the 100 fly. Instead, in the World Champs final, he finished tied for third, nearly a second behind Dressel—who swam a time only 4-hundredths off Phelps' world record of 49.82.
A humbling result, to say the least.
"Joe went from the fastest time in the world in a jammer, and he's now not the fastest. In fact, he was slower than he was," Reese said. "I don't know how this is going to affect him. He's never had anything like this. It's always been, 'Get better, better, better.'"
As the 22-year-old Schooling returns to serious training, Reese knows that any motivation that comes from Budapest will have to be internal. Schooling will have to decide how much the result from Budapest bothers him and how much he wants to be the top 100 butterflyer in the world.
"You can't motivate him," Reese said, "and I would never bring up the Caeleb thing to him."
Keeping On
Two weeks after the 2016 Olympic Trials, big news emerged from the Texas swimming program: associate head coach Kris Kubik was retiring.
Kubik had come to Texas with Reese in 1978 and had been the program's lead assistant coach for all but four of Reese's then-38 years with the Longhorns. He had been a part of all of Texas' national championships and had been a key mentor figure for all of the Texas Olympians.
To the outside world, Kubik's retirement seemed like a shocker. How about for Reese?
"We had talked about it for a couple years," he said, pausing. "I guess halfway."
After a moment, Reese added, "Just one of those things."
Reese admitted that when Kubik said goodbye to the pool deck, he seriously considered following suit. But when he decided to keep coaching, his wife insisted that now he had to stay at Texas through 2020.
Even though he's been coaching practically all his life since graduating from Florida in 1963, Reese insists that even now, there's nothing he'd rather be doing.
"A lot of people feel like they have to quit to smell the roses, or another way to say that is, there are some things you want to do," he said. "I've done that all my life."
And without Kubik, Reese and the Texas men's team have not missed a beat. With Wyatt Collins promoted from volunteer assistant to full-time assistant coach, the Longhorns won a third straight NCAA championship this year, winning by 193 points over runner-up Cal.
"The guys came to me after I hired Wyatt, and they said, 'If you'd have retired with Kris, and Wyatt would have to wait, no one would have left,' so that's a real compliment to Wyatt, and he's done a phenomenal job," Reese said.
After all those years on deck at Texas, Reese now has won more titles in men's NCAA swimming (13) than any other coach, and he has produced countless Olympians. But he had never taken the time to sit back and think it through.
"My greatest accomplishment?" He paused. "Not that I've got so many—I've just never thought about a great one."
After a moment, he said, "It would have to be something with family. I was thinking grandkids. They have their summer league meets, start at 7:15 a.m., and I'd go to that until 8:30 and then go to my 9 a.m. workout. Then, after 11, go back out. I like that."
Reese explained that he was typically much less nervous while watching his grandchildren race compared to when the swimmers he coached would get behind the blocks. But he added that "I see potential in everybody," and then he went on to break down the strokes of two of his grandkids "that are now not going to swim anymore, and both of them still should swim."
Reese explained that he has four grandchildren. "One of them is a freshman swimmer at Texas this year…"
Wait a minute.
"…the guys' team."
So, yes, in year No. 40 at Texas, Eddie Reese is coaching his grandson, Luke Bowman, listed on the Longhorns roster as a freestyle specialist.
"When he first decided to come to Texas, he told his mom he was going to call me 'Eddie.' A month later, he said he was going to have the team call me 'Papa.' He's a funny kid," Reese said. "He may never call me anything. He may go with, 'Hey, you!'"
You can bet having a grandson on board will make the 2017-18 season one of the more memorable ones in Reese's career.
Of course, with Schooling and U.S. Olympic freestyler Townley Haas leading the way, the season could also end like the last three: with Reese's Longhorns hoisting yet another NCAA championship trophy. That would make it 14 national titles for Reese—even when men's and women's team titles are combined, no coach has ever won that many.
Definitively, Reese is one of the all-time great coaches in swimming history. He knows the sport forward and backward, but his coaching goes so far beyond just knowledge. He's a master communicator—thoughtful instead of reactive, blunt rather than sugarcoating, and highly witty.
When he does decide that he's had enough and is ready to call it a career, his athletes will miss his lessons in the water, and everyone in the sport will miss the legendary personality that is Eddie Reese.
Originally printed in the Nov. 2017 issue of Swimming Technique Magazine. Download the full issue.