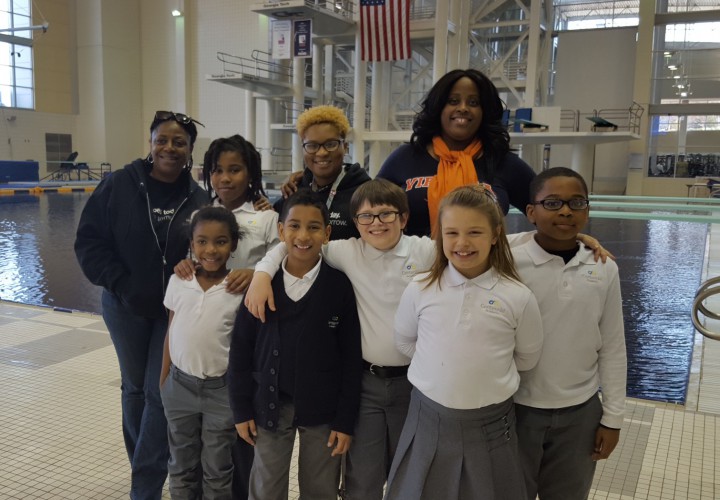 Photo Courtesy: Rae Colley
By Sarah Lloyd, Swimming World College Intern
With the NCAA Division I Championships coming up, there's more than just fast swimming to look forward to. Ten NCAA Division I teams (Alabama, Georgia, Georgia Tech, LSU, Penn State, Purdue, USC, Texas, Tulane, and West Virginia) have generously donated time and energy to form relationships with students in local Atlanta area classrooms and will finally get to meet the students from Centennial Academy. This connection was made possible by the CSCAA Adopt-A-Team Swim-Mersion Day.
Over the course of the year, these teams have exchanged letters and video-chatted with "adopted" classrooms, getting to know the kids. Not only will the teams be visiting the classroom, but the project aims at actually bringing these students to the Thursday morning prelims session of the NCAA Championship. If you own a Thursday morning ticket for the meet and would like to donate it, please email project coordinator Dr. Rae Colley at raecolley@gmail.com.
Here's what coaches have to say about the program:
1. What motivated you and your team to participate in this pilot program?
Dave Salo, USC: We are always eager to participate in programs that we think can positively impact young kids. The Swim-Mersion Project was presented as a way to get local Atlanta kids interested in swimming, and to have the experience for our student-athletes at NCAAs be more than just about competing. This is a chance to give back to the local Atlanta community for hosting such a great event.
Dennis Pursley, Alabama: As we all know, swimming offers a character building experience for the participants that is second to none. Still, swimming has a relatively low public profile outside of the Olympic year. We feel obligated to do everything we can to help spread the good news about what swimming offers young people, as well as celebrate the remarkable achievements of our athletes.
Katie Robinson, Tulane: Our team looks out for meaningful ways to serve and make a difference in the lives of others. The Swim-Mersion project seems like a good way for us to inspire young students through our sport, and be inspired ourselves through a genuine connection.
2. What goals do you hope to accomplish with the students of Atlanta through this project?
Katie Robinson, Tulane: Swimming and diving teams are not always given the attention they deserve given the amount of time and effort they give day in and day out. The Swim-Mersion Project helps recognize our team, university and our entire sport. In the process, we hope to accomplish a sense of excitement around our sport university as we explore and new connections with the youth in Atlanta.
Catherine Vogt, USC: We hope to educate elementary students about all the opportunities across the country – it is proven that kids need positive role models and by showing these students that our swimmers and divers go to school, live across the country, are from all over the world but come together to study and swim at the highest level..it can be fun too!
Coach Ryan Mohamed, Centennial Academy
: I would like to expose my students to a sport that they may not realize is an NCAA sport. Sure they know swimming is a sport, but they may not know they can get a scholarship for swimming. I also want to expose our kids to what a college student-athlete might endure in college.
3. Why is this project important to your team and the students of Atlanta?
Tim Murphy, Penn State: The project is important to our team because we are always looking for ways to give back and make connections. I think that this program not only gives us the opportunity to introduce Penn State Swimming to kids, but it also gives us the opportunity to create a positive experience for the kids of the Swim-Mersion Project that could impact them on a greater scale.
Dave Salo, USC: Our team is involved in several community projects that impact disadvantaged youth, most of whom are students of color. This is a program that I think our athletes will see as valuable to the local kids participating. We have seen first hand how our learn-to-swim program in a disadvantaged community in Los Angeles has such a huge impact on young kids and their families. We think this can have a positive impact on the kids in Atlanta as well as their extended family as they see their kids engaged and interested in their adopted college team.
Carol Capitani, Texas: We are very fortunate to be a part of a Division I collegiate program that puts excellence in academics and athletics at the forefront of everything we do.  With this in mind, it is always important to give back, whether to our local community, the communities in our home states, or to the communities in which we compete.
4. Why is college swimming important to the larger community, beyond college campuses?
Dennis Pursley, Alabama: Our athletes are exceptionally positive role models. Society could benefit from seeing the example set by our student-athletes, and how swimming fosters the development of traditional values and attributes that are essential to productivity and prosperity in our culture.
Carol Capitani, Texas: College swimming imparts many lessons that will last a lifetime, like hard work, dedication, resilience, etc., and the people who learn how to thrive while competing in a collegiate setting will prepare themselves to find success in their future endeavors.
Coach Ryan Mohamed, Centennial Academy: It is important to the community because it exposes our children to something new. Competitive swimming is not just going to the local pool and racing a friend from one end to the other. There is technique. It's an art. There's a strategy.