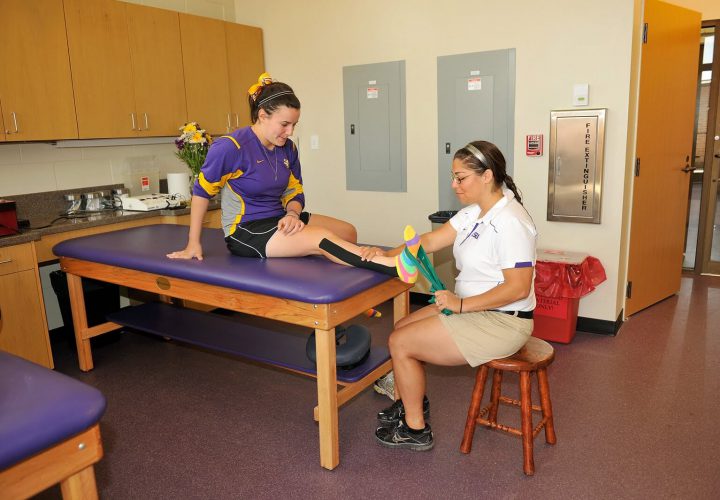 Photo Courtesy: Louisiana State University
By Maddie Strasen, Swimming World College Intern
In a sport where mechanics and proper technique are so crucial, injuries are bound to happen somewhere along the road. Although not all injuries are career threatening, it can often be difficult for swimmers to manage an injury on their own, especially when we hardly ever want to take time out of the water. Athletic trainers are fantastic resources for both injured and non-injured athletes to help maximize performance and prevent/reduce pain, and are often underestimated in their ability to help us reach the next level.
Here are five things we should thank our athletic trainers for:
1. Helping us take precautions.
Even if you aren't injured, swimmers can do a variety of different exercises to prevent injury from happening. Athletic trainers can show you how to perform each exercise correctly and make sure you get the best results out of each exercise. If you feel an illness coming along, athletic trainers can provide you with preemptive cold medicine, throat drops, supplements, and other healthy materials to help you stay healthy. Taking precautions and preventative actions by going to your athletic trainers early will keep you from having to go in too many times later in the season!
2. Taking us seriously.
Swimmers often have very high body awareness and typically can tell if something is wrong. Whenever I go to my athletic trainer with a new pain or problem, I always worry that I'm overreacting or being dramatic. However, my athletic trainer always takes each issue seriously, fully evaluating the issue and helping me resolve it. Athletic trainers always take you and their jobs seriously—never be hesitant to ask for help.
3. Relieving our anxieties.
No matter how big or small the problem might be, athletic trainers always seem to know what to say and do to help. From athletes who experience minor aches and pains to those who aren't cleared to swim or dive, athletic trainers give the best advice on what steps to take next and how to go about our training.
4. Doing multiple jobs under one job title.
Athletic trainers help treat injuries and illness, assist with strength training, make doctor's appointments for their athletes, and always lend an ear when we need it. Athletic trainers seem like they can do it all. Sick, injured, stressed—no matter the circumstances, athletic trainers never fail to help us times of need.
5. Sacrificing extra time to help us.
Athletic trainers stand alongside athletes for an extensive number of hours each day, almost every single day. If that wasn't enough, athletic trainers take time out of their schedules to help us in emergencies or times of need. They also take the time to explain exactly how our muscles or joints function so we know exactly what the goal of each exercise is.
Even though they're always busy, they always seem to find a spare second to lend a hand if needed. Many athletic trainers are very personable, making it easy to reach out to them whether it's in the gym or through a text message – be sure to thank them for truly caring and the extra time they sacrifice, even on days off, in order for you to reach your fullest potential.
Although we might hate going into the athletic training room for an injury, illness, or strength training, athletic trainers truly do make our lives a lot better.
All commentaries are the opinion of the author and do not necessarily reflect the views of Swimming World Magazine nor its staff.