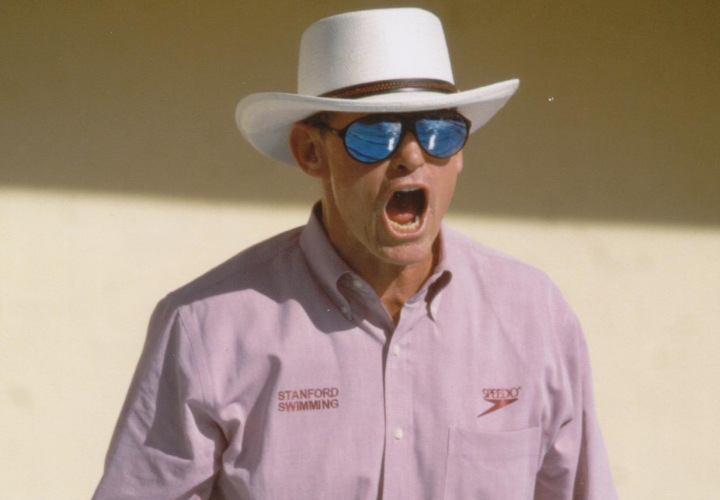 Photo Courtesy: Peter Bick
Who is Richard Quick?
Head coach of five NCAA Division I college programs, covering a span of 33 years (SMU women 1976-1977, Iowa State men 1977-1978, Auburn 1978-1982, Texas women 1982-1988, Stanford women 1988-2007, Auburn 2007-2009).
Lead three separate programs to 13 NCAA team titles (five consecutive at Texas 1984-1988, seven at Stanford 1989, 1992-1996, 1998, and one at Auburn 2007).
Coached 63 NCAA individual champions and 29 NCAA relay champions.
Five-time NCAA Coach of the Year.
Six-time Olympic coach (1984-2004).
Mentored several U.S. Olympians and all-time greats including Rowdy Gaines, Summer Sanders, Dara Torres, Misty Hyman, and Jenny Thompson who went on to win eight Olympic gold medals.
Named the first recipient of the CSCAA Lifetime Achievement Award.
Inducted to International Swimming Hall of Fame as an "Honor Coach" in 2000.
How did he influence the swimming community?
Richard Quick was known not only for having a golden touch with his teams, but also for having a golden touch with America's best athletes.  He was a fierce competitor noted by his 13 NCAA titles and devout teacher, not just a coach.  He knew how to get the best out of himself and his athletes every day, especially when they were down.
"I don't think there's a coach worth a damn, when the athletes they're in charge of don't perform well, who doesn't ask himself, 'What could I have done better to give the athletes every opportunity to perform better?'"
Richard Quick left a void in the swimming community and the world, when he passed on June 10, 2009 due to an inoperable brain tumor.
*USA Swimming and Speedo invited the swimming community to help celebrate their 30 years of partnership by voting for the "30 Most Influential People in Swimming Over the Past 30 Years." Votes were cast through social media with the hashtag #30MostSwimfluential and the final vote came from a panel of 10 judges selected by USA Swimming and Speedo. All 30 nominees have had a powerful impact on the swimming community. Many are recognizable names, but some have remained unsung heroes of the sport. Swimming World will profile each swimfluential person over the course of the week.