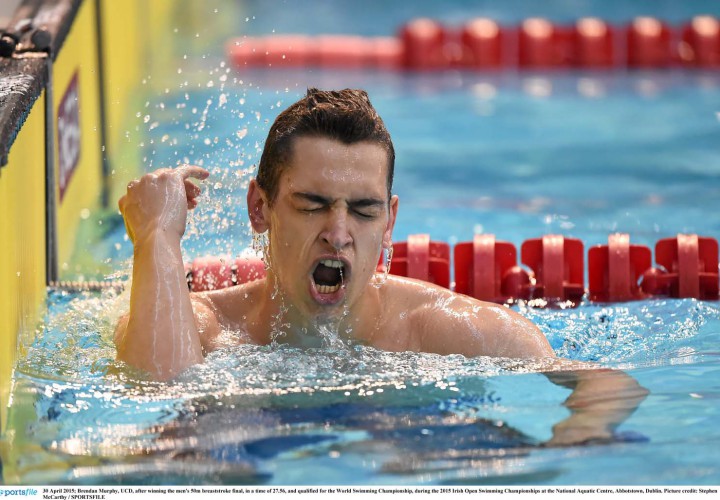 Photo Courtesy: Stephen McCarthy / SPORTSFILE
By Tori Caudill, Swimming World College Intern
During the holiday season, and heading into Thanksgiving, I have been thinking a lot about what I am thankful for. I have come to the conclusion that without swimming, I would not be the person I am today, and for that I am beyond thankful.
Not only am I thankful for my team and the sport itself, but I am thankful for what the sport has taught me over the years.
1. Time Management
In my 13 years of swimming, I have been so blessed to learn how to manage my time. With practices almost every day of the week I have always had to budget my time, though admittedly, at a young age my parents helped out with that quite a bit. As I became older and continue to do more things on my own, I have realized how much my athletic time management transferred over to things such as schoolwork, clubs, and volunteer work. I have never had a problem with doing multiple things, and being constantly on the go. At any given time, I would be a part of at least two other activities along with swimming.
If it so happened that for some reason I did not have swimming, such as when taking a break between seasons, I would often be at a loss for what to do with my free time. I am so thankful for the opportunity swimming has provided to develop my time management skills, which will only help me with my future career goals.
2. Structure and Routine
Swimming for me has also helped me to develop and easily adapt to changes in routines. With the discipline that I have been developing through time management, I have found that I am a lot less stressed about routine change than some of my non-athlete classmates.
I feel that I can be better prepared for my future because of my structured, swimmer lifestyle. In college, I have found that with the constant practice in my routine, I have a better work ethic in classes and am more prepared for my classes because I get my work done early in order to accommodate practice.
3. Relationship Building
I'm most thankful to swimming for enhancing my ability to make friends. I have made so many friends, met so many people, and have experienced so many things because of my swimming background.
I have had the opportunity to create friendships with swimmers from all over the United States and from other countries as well. I have been so blessed with an amazing swimming family that continues to grow with every new place I visit.
Being in the pool with the same people for days, weeks, months on end, helps you develop a better understanding of how to deal with people, which will help me to connect with people quickly.
Swimming is more than just a sport to me. I have gained so many valuable life skills from being in the water that will benefit my professional life innumerably. Without the time management, structure, and relationships that the sport as helped me discover, I would be nowhere near the person I am today. I am so thankful for swimming and everything the sport has taught me and will continue to teach me throughout my college career.