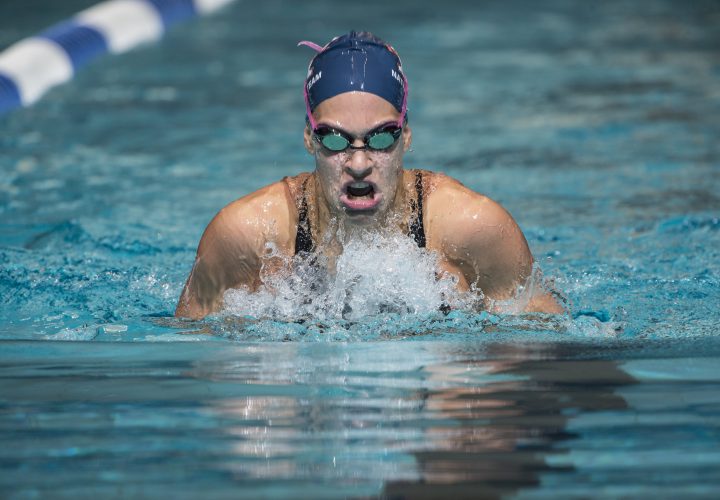 The final night of the 2017 Athens Speedo Long Course Sectionals wrapped up with a number of exciting performances. On the women's side, Shauna Lee won her second freestyle event of the weekend and Meaghan Raab picked up her third win. For the men, Glen Brown won his second event, and Basil Orr swept the breaststroke events.
The last night of competition began with the women's 100 freestyle. University of Georgia's Shauna Lee followed up her win in the 200 freestyle with another first place finish, touching in 56.94. She was closely followed by Dynamo's 15 year old standout Tristen Ulett, who was second in 56.97. Meredith Vay of the University of South Carolina placed third in 57.41.
The men's 100 freestyle was one of the more exciting races of the night, with Kentucky teammates Glen Brown and Jason Head tying for first. Both touched in a time of 51.03. Following close behind them for third was Zachary Hils of the Lexington Dolphins 51.15.
In the women's mile, Ashley Neas of SwimAtlanta was the lone swimmer to dip under the 17 minute mark, placing first in 16:59.28. New South Swimming's Emmaline Peterson, an incoming freshman at the University of Georgia, was second in 17:04.83. Rachel Klinker of the Lexington Dolphins took third in 17:05.41.
Dynamo's Basil Orr had a commanding win in the men's 200 breaststroke. Orr finished first in 2:17.15, two seconds ahead of the next closest competitor. Kentucky's Austin Haney picked up second in 2:19.14, while another Dynamo swimmer, Hunter Merkle, came in third in 2:21.01.
Meaghan Raab, a rising senior at Georgia representing the Nashville Aquatic Club, won the women's 200 breaststroke in 2:31.45. Triton Swimming's Claire Donan was second behind Raab in 2:32.10. Danielle Dellatorre of Athens Bulldog Swim Club rounded out the top three in 2:33.15.
Kentucky's Jackson Gunning crushed the last hundred of the men's mile (59.81) to win the race by nearly four seconds. He touched in a final time of 15:47.76. SwimMAC's Curtis Wiltsey, who was ahead for much of the race, finished second in 15:51.40. Kevin Miller of the Athens Bulldog Swim Club came in third in 15:59.12.
After finishing second in the 100 backstroke earlier this weekend, Stephanie Nelson, representing SwimMAC, came back to dominate the women's 200 backstroke. Nelson won the event in 2:14.73, over two seconds ahead of second place finisher Ulett. Ulett touched in a time of 2:16.88. Nelson's teammate, Sophie Lindner, was third in 2:17.15.
The men's 200 backstroke went to Dynamo's Ian Grum in 2:02.85. Grum, like Nelson in the women's race, won by nearly two seconds and dropped over three seconds from the morning. Keegan Walsh of SwimAtlanta placed second in 2:04.75, just ahead of Erek Nelson of the Fins Swim Team, who was third in 2:04.98.
Results can be found on Meet Mobile.