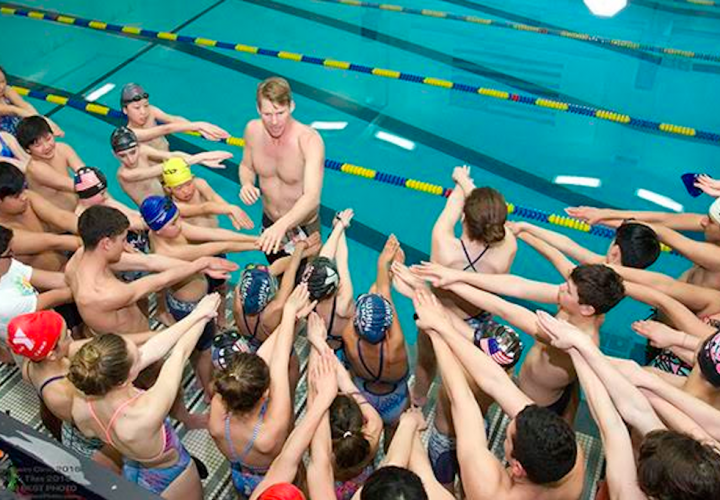 Photo Courtesy: Jennifer Hoffer, YMCA of greater New York
By Maddie Strasen, Swimming World College Intern
With 2017 quickly approaching, it's an ideal time for swimmers to reflect on the past 12 months. Chances are, all have had their share of ups and downs throughout the year. Making New Year's resolutions for the upcoming year of swimming – and sticking to them, of course – can help you stay on track toward reaching your goals.
Here are 12 New Year's resolutions every swimmer should consider.
1. Eat healthy.
Put good in, get good out. Although we need a higher number of calories than the average person, that doesn't mean we should fulfill that need with junk food. Healthy fats, vegetables, fruit, carbohydrates and protein should be properly balanced. Consider talking to a nutritionist or your coaches about improving your eating habits.
2. Stay engaged at meets.
Many of us get caught up in the outside world, pre-race jitters or other distractions during a swim meet. Whether we're on our phones or too nervous to think straight, staying focused on the atmosphere and taking in the experience of each meet will help not only performance but emphasize a strong team dynamic.
3. Reinforce quality over quantity.
Don't forget about the little things! Don't sacrifice good technique while trying to hit a goal time in a meet or in practice. Chances are, bad technique will not improve your performance and could hurt you in the long run. Focus on the details! Although sometimes quantity is necessary, quality should always be the priority.
4. Spend time with your teammates outside the pool.
Your teammates understand your daily struggles. They can probably relate to you more than anyone else. You and your teammates should use each other as resources for advice, encouragement and friendship.
5. Get more sleep.
Recovery is a crucial portion of the training process that is often forgotten. Your brain and body both need to rest in order to perform at a high level.
6. Try new events.
I'm not saying to change your prime stroke or best event, but don't be afraid to swim your worst stroke in practice or swim a distance you aren't used to swimming. You might not be good at it, but sometimes it can be fun to try new things. If nothing else, it will serve as a good break from training the same stroke or event all the time. Who knows, maybe you'll end up liking what you try!
7. Train your brain.
You might be ready to race physically, but what about mentally? Swimming often seems like a mental game when it comes to confidence and preparation. Invest some time in getting your brain ready to race.
8. Keep a practice log.
Many swimmers benefit from keeping track of best practice times, sets they liked or disliked, or changes in their stroke. A practice log can also help you to reflect on your progress at the end of each season or the end of each year. A little extra time to keep a practice log could help take a little extra time off your races!
9. Communicate with the team's staff.
Coaches, nutritionists, sports psychologists, athletic trainers and strength coaches are all there to help you. Utilize the resources available to you, even if you're not in a situation where you have all of the above. Talk to your coach. It can give you an extra edge on your competition.
10. Reflect, don't react.
It's OK to be upset about a bad race. Although these emotions are normal, use bad performances as a time of reflection rather than reaction this year.
11. Spread your knowledge.
There are plenty of young swimmers who would benefit from your knowledge and experience. Consider working or volunteering with younger swimmers to help them improve or simply enjoy swimming a little bit more. You might change their perspective on swimming or spark their motivation.
12. Have fun.
Remember to have fun with the sport this year. You've spent years working hard—make sure you keep up the hard work, but try to make this year the most fun.
All commentaries are the opinion of the author and do not necessarily reflect the views of Swimming World Magazine nor its staff.