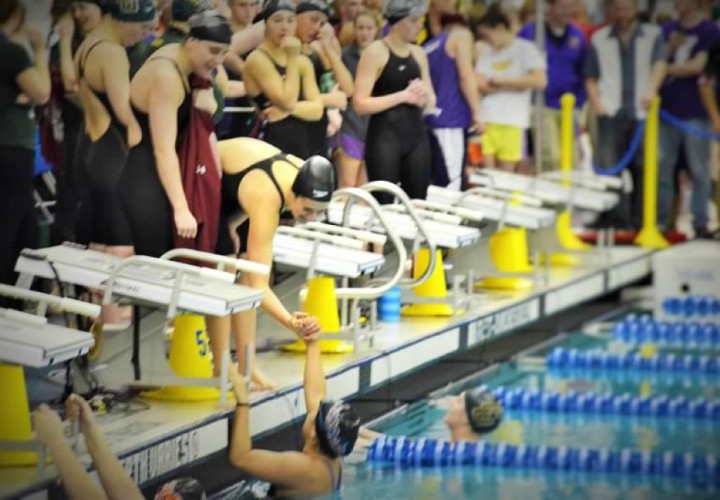 By Julia Cunningham, Swimming World College Intern
Does taking yourself out of the pool take you out of the running?
Study abroad always seems to be at odds with the swimming world. Do you stay and train to make the most of your college swimming career? Or do you make the most of your academic experience and get out of the country? Olivia Harries chose the latter and went abroad to London the fall of her junior year at Vassar College.
"Being away helped me rediscover the fun in the sport," Harries said. "I also had no expectation for myself. I just kind of thought, 'You just took eight months off. You were hurt. You didn't really work out or anything, so you have absolutely nothing to lose, only things to prove.'"
Harries' time away from the pool helped her reconnect with a sport which with she had started to fall out of touch. While her experience was one widely shared with other swimmers, it always seems as though we can't quite get our coaches to share in the excitement.
Maybe it's unfair to the team. When Harries came back, after two months of training, she placed in the top 8 in the mile at Vassar's championship meet. The previous four months had left Vassar College swimming and diving lacking its top distance swimmer at meets. In contrast, maybe the most disadvantaged was the swimmer who had been training for the last four months, but missed making finals.   
A Daunting Decision
It's part of the cost of being a student-athlete. Some decisions can't fall into both categories.
Harries recalled, "I'd always wanted to go abroad, and then, for my media studies major I really needed the credits." The program gave her four, so in her words, it was a best-case scenario. "I also wasn't able to finish the season sophomore year, because I was hurt; so I just really needed a break mentally and physically after 12 years of swimming," Harries added.
Being a student or an athlete shouldn't have to be a sacrifice that is made in college.
The long, never-ending swimming season tends to make the decision even harder, however. Fellow Vassar swimmer Kyle Gray has his sights set on going abroad in the future.
"I understand that it is in my coaches' best interests to have me stay and train with them," Gray said. "That being said, I have no problem defying that wish. It is likely I will never again be in a position to travel and study abroad, and while swimming is an integral part of my college experience, it is not the sole defining factor."
Weighing the Options
Swimming is something, as Harries pointed out, that many of us have been at for 12 plus years. We will have another 12 plus year after college.
Study abroad, however, is quite possibly the chance of a lifetime. Often, students get their first chance to leave the country when they go abroad at some point during their junior year. It is their first chance to experience, first-hand, another culture, or to immerse themselves in another language.    
But going abroad tends to take you out of the pool.
"The foundation of my desire to study abroad lies in academic curiosity, but is not entirely removed from my swimming interests," Gray explained. "Staying on campus and swimming next fall would not be a major disappointment. If I do go abroad, I would ensure access to athletic facilities, in order to maintain some level of fitness. So, either way I will spend some time in the pool, just maybe not as much when abroad."
Inconvenient Fitness
As much planning as you may put into that time abroad, it's never as easy or as accessible as you may believe. Harries only got in the pool two times during the months she spent in England.
"I tried to find a pool, and thought maybe it would work out, but then I would have ended up spending way more time trying to find a pool than actually enjoying London," she said.     
Having gone abroad in the fall, Harries still had the second half of the season to race. She had other obstacles besides being out of shape, however. Coming back into the team was challenging.
"I was definitely concerned about how I would fit in again, especially since so much happens in three months," Harries said.
The coaches were a different story. Going abroad lowered expectations dramatically. "Not having the pressure from coaches' expectations, and not having expectations for myself helped me swim faster," Harries said. She had a NCAA DIII B cut a year later.
Academic credit is a huge part of the decision to go abroad. Does it count towards a certain major? How many credits from this program go towards my major? Can I afford to go abroad? Will I be able to swim? Do I care that I will be missing out on three months of training and bonding with my teammates? These are all questions Gray will have to ask himself and that Harries struggled with before she left for London.  
"I honestly think my last season could not have gone any better," Harries commented.