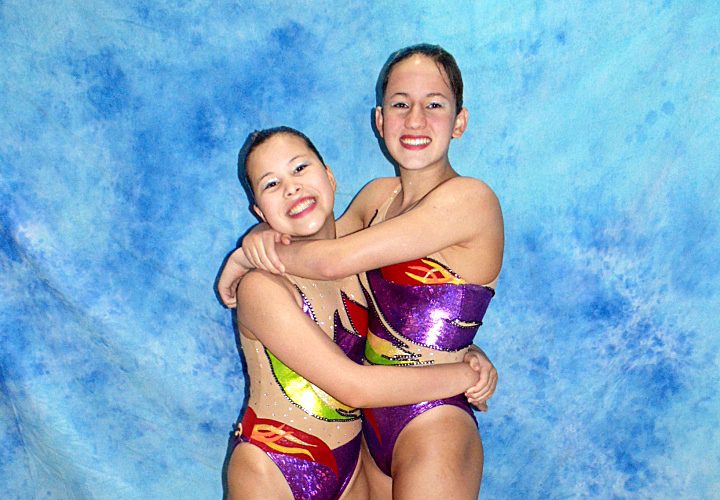 US 13-15 National Synchronized Swimming Team 2 member Katie Reveno, right, has written a children's book on synchro. Photo Courtesy: John Migliore/Migz Media Group
By Dax Lowery, Swimming World contributor. 
Since discovering synchronized swimming at the age of 7, Katie Reveno has found her share of success in the water. The Portland, Ore., native grew up winning numerous medals at her local meets and has qualified and competed at the U.S. National Championships (with Top 25 finishes in figures) the past two years.
"Synchro has helped me to develop so much as a person," she said. "It has made me a better teammate, more perseverant, hard-working and dedicated, which has also made me a better student in school."
Reveno, 15, and a member of the Coral Springs Aquacades, would need that perseverance when trying out for the U.S. 13-15 National Team earlier this year.
"During one of the first rounds, I did extremely poorly in the skills competition, which led me to an overall place of 26th," she said. "The spread was so wide compared to the other components that it hurt me a lot. I was very upset."
Reveno had to make up ground if she wanted to make the team, so she got to work. With the final phase of trials just a few months away, she trained up to four more hours a day. She knew she had to perfect her routine down to every last hand position and head movement.
The extra effort paid off as she finished 12th in the final phase, moving her ranking up to 16th and a spot on the National Team 2.
"When I realized I made it, I actually wasn't so much ecstatic as relieved," she said. "It validated that all the dozens of extra hours I had spent had been worth it."
Now she wants to spread the word on synchro to a younger generation.
"I have always wished that more young girls could benefit from synchro's incredible impact. Because it is primarily female, I believe that synchro uniquely empowers girls in a way that many other sports do not," she said. "When I was younger, I read all of the time, and I remember loving an easy-to-read chapter book series about fairies. Thinking back to this, I began to wonder why there weren't any books about synchronized swimming geared towards the same age range (ages 5 to 8). After all, if children this age don't even know what synchro is, how can they possibly get involved?"
So, despite her many hours or training – not to mention schoolwork and other extracurricular activities – Reveno carved out time to write an 80-page chapter book  titled, "Synchro Sisters Forever: Mermaid Dreams." Proceeds from the book's sales will go to USA Synchro, the sport's national governing body.
"The book is about three best friends who love the water and dream about being mermaids. Together, they discover the amazing sport of synchronized swimming, which fits their interests in gymnastic, dance, and swimming perfectly," Reveno said. "The book follows their journey from playing in their community pool, to learning about synchro and attending tryouts, to eventually making the team."
Myriam Glez, USA Synchro's Executive Director, is impressed with Reveno's book.
"It is incredible that a 15-year-old is able to conduct such a project. I am amazed," she said. "It is nice to finally see something that highlights the benefits of this great sport in a more friendly way. It is also very good that this is directed to young readers. My daughter is already hooked and hoping this will be a series."
Just like in her synchro training, Reveno put in the extra work to make sure the book was as realistic as possible. She designed a survey and collected data from synchro swimmers across the country, asking them about their introduction to the sport and why the loved it. From more than 50 responses, she used the information to figure out which aspects of synchro to focus on in her story.
To cover the cost of printing and illustrations, Katie started a Kickstarter campaign with a goal of $2,500. So far she has raised $3,515 from 73 backers.
"I was terrified that we would fall short, but, with the help of USA Synchro and the entire synchro community, we were able to raise $1,000 past our goal," she said. "With this extra $1,000, we will be able to pay for color printing of the 'Real Synchro Swimmers' section at the back of the book, which is beyond amazing."
To preorder the book on etsy, go to https://goo.gl/rqNHjU.