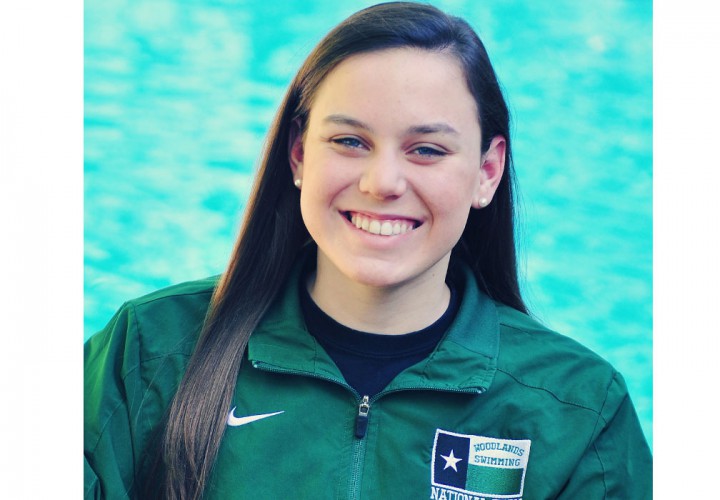 Up & Comers: Lucie Nordmann
PHOENIX-Featured in the Up & Comers article in the May 2015 Issue of Swimming World Magazine is Lucie Nordmann, 14, of The Woodlands Swim Team. Nordmann made her Olympic Trials cuts in the 100 and 200 meter backstroke (1:03.05, 2:14.73) at the Arena Pro Swim Series in January at Austin, Texas. Two months later, she won those two events at the National Club Swimming Association Junior Nationals (streamed live on SwimmingWorld.TV) to earn a spot on the NCSA All-Star tour in Ireland that began in late April. Nordmann, a CoSIDA Academic All-American Hall of Famer, is the oldest of our girls who all swim competitively for The Woodlands. Her father, Michael, is a swim coach who swam for the University of Utah, and her mother , Amy, is a physician who was an All-American volleyball player at Washington University in St. Louis. The Woodlands head coach Tim Bauer says, "Lucie just does not like to lose. She also puts a lot of time into working her underwaters. Lucie makes sure to have fun with her teammates, and they all love going to Whole Foods in Austin." (More to this article on page 43, by- Jason Marsteller)
Get you copy of the May 2015 Issue of Swimming World Magazine now!
Curious what else you will find in the In the May 2015 issue of Swimming World Magazine?
Check out the inside Swimming World video:

Not a subscriber? Swimming World Magazine Subscription gives you unlimited access to all online content on SwimmingWorldMagazine.com and access to all of the back issues of Swimming World Magazine dating back to 1960! Purchase your Total Access Subscription TODAY!
MAY TABLE OF CONTENTS:
FEATURES


012 Saving Scholarship Swimming
by George Block
Shortly before Christmas 2014, a small group of representatives from the American Swimming Coaches Association (ASCA), the College Swimming Coaches Association of America (CSCAA), USA Swimming (USA-S) and the U.S. Olympic Committee (USOC) met to brainstorm and develop an initial strategy to save scholarship swimming.

015 The Case For Snorkels
by Michael J Stott
Swim Coaches of all levels embrace the snorkel as a necessary training tool that has numerous benefits including breathing assistance, balance and improved head and body position.

020 Cal's Bears Are Golden
by Jeff Commings and Annie Grevers
Cal captured its fourth women's title in the last seven years, winning decisively over two-time defending champion Georgia, 513 to 452.

028 Too Easy!
by David Rieder, Jeff Commings, Jason Marsteller and Michael J. Stott
As Texas swimmers dominated the competition at NCAAs by winning seven events and setting records en route to a 129-point margin of victory, Coach Eddie Reese tied Ohio States's Mike Peppe (1931-63) as the winningest NCAA Division I coaches (11 titles) in men's swimming and diving.

034 First-Timers At Women's NCAAS
by Annie Grevers

039 Behind The Scenes At Men's NCAAS
by Michael J Stott

044 The Usual Suspects
by Jason Marsteller
Emory, Kenyon, Oklahoma Baptists and Indian River extended their winning streaks at this year's NCAA Division III, NAIA and NJCAA Championships-ranging from three straight team titles up to 41. Only Queens University of Charlotte at the NCAA Div. II meet was able to end Drury's run at the top and start a new "streak" of its own.
COACHING
010 Lessons With the Legends: Bill Rose
018 Swimming Technique Misconceptions: Butterfly Breathing
by Rod Havriluk
A common swimming technique misconception is that a butterflyer should not change the angle at the neck to breathe. Typical advice is to maintain the non-breathing neck angle when breathing to avoid submerging the hips and increasing resistance. However, swimmers can actually minimize resistance by using the full range of motion of the neck to breathe.
052 Q & A With Coach Brad Isham
by Michael J. Stott
053 How They Train Kevin George
by Michael J. Stott
TRAINING
013 Dryside Training: Kick Set On Land
by J.R. Rosania and Darian Townsend
JUNIOR SWIMMER
048 Goldminds: Swimming's Most Importatnt Lessons (Part 2:#'s 16-30)
by Wayne Goldsmith
Here is a summary of the most important lessons the author has learned in the business of helping swimmers and coaches realize their potential-a personal journey 25 years in the making!
055 Up & Comers
COLUMNS
008 A Voice For The Sport
056 Gutter Talk
058 Parting Shot