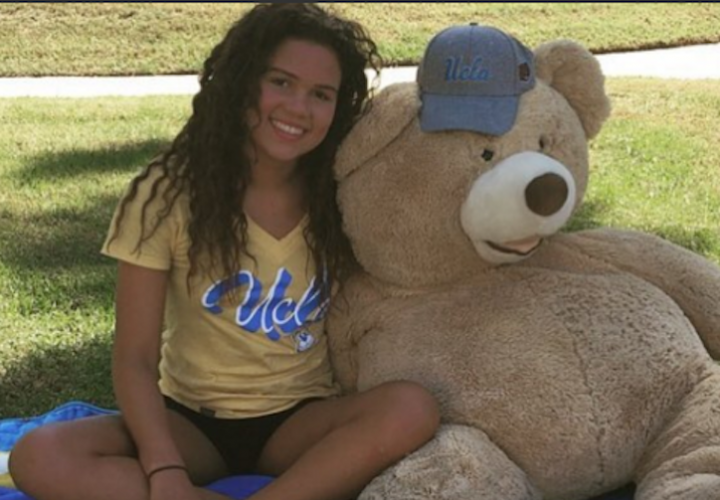 Photo Courtesy: NOVA Swimming Twitter (@Novaquatics)
Agon is the proud sponsor of all high school coverage (recruiting, results, state championships, etc.) on SwimmingWorld.com. For more information about Agon, visit their website AgonSwim.com.
To report a college commitment, email HS@swimmingworld.com. Join Swimming World's Watch List
NEW COMMIT: The University of California Los Angeles has secured a verbal commitment from Julia Wright, a versatile athlete from Irvine, California. She is a senior at Irvine High School and trains with Irvine Novaquatics.
Jessica Epps, Mara Newman, Emma Smethurst, and Abriana Howard are also verbally committed to join the Bruins next fall.
A USA Swimming Scholastic All-American and a NISCA All-American, Wright's top times include:
200 Free 1:50.00
500 Free 4:52.82
400 IM 4:23.55
200 IM 2:04.62
200 Fly 2:03.76
Swimming at the CIF Southern Section Division 1 Championships last spring, Wright was fifth in the 200 free (1:50.87) and sixth in the 500 free (4:57.88). She also split a 24.63 to anchor Irvine's 200 freestyle relay and led off the 400 freestyle relay with a 53.43.
Wright wrote,
"UCLA is the perfect fit for me. Strong academics and amazing athletics make UCLA the best place for me to grow. Coaches Cyndi and Naya are so welcoming and I love the girls on the team. The Bruin team spirit is incredible. It's a dream come true for me to soon be swimming, studying and living on this gorgeous campus. I can't wait to be a Bruin. GO BRUINS!!!"
Wright's Novaquatics teammates Henry Wu and Lauren Vitort have also recently made verbal commitments.