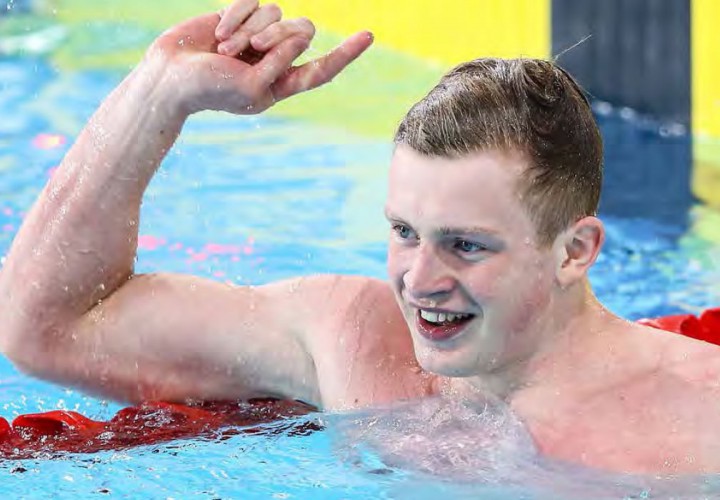 PHOENIX, Arizona, December 2014.


Top 10 Best Swimming Performances of 2014
Sponsored by Previse Skincare
The Top 10 Swimming Performances of 2014 by Swimming World Magazine showcases some of the most talented Swimmers in the world and their amazing swims of 2014.
Curious about what else you will find in the In the December 2014 issue of Swimming World Magazine? Check out the inside Swimming World video:

Not a Swimming World subscriber? A Swimming World Magazine subscription gives you unlimited access to all online content on SwimmingWorld.com and access to all of the back issues of Swimming World Magazine dating back to 1960! Purchase your Total Access Subscription TODAY!
DECEMBER TABLE OF CONTENTS:
FEATURES
012 Short Cut To Success?
by Michael J. Stott
Whether out of necessity or by choice, there are those who train short course for long course competition. Despite the obvious differences, swimmers can still be successful at either pool length.
020 2014 Swimmers of the Year
by Jason Marsteller
World/American Female: Katie Ledecky. World/Pacific Rim Male: Kosuke Hagino. Pacific Rim Female: Cate Campbell. American Male: Ryan Cochrane & Tyler Clary. European: Katinka Hosszu & Adam Peaty. African: Karin Prinsloo & Chad le Clos.
028 10 Best Performances of 2014
by Jeff Commings
COACHING
010 Technique: Judging Walls Going Into Turns
by Jeff Commings
In short course competition, turns are one of the biggest factors in determining the outcome of a race.
014 Swimming Technique Misconceptions: Freestyle Straight-Arm Recovery
by Rod Havriluk
A common swimming technique misconception is that maintaining a straight arm throughout the recovery improves performance in freestyle. While some swimmers are able to improve performance with a straight-arm recovery, science clearly shows that the improvement is not, in fact, related to the recovery itself. Equally important, there are significant limitations to recovering with a straight arm.
041 Q & A With Coach John Bitter
by Michael J. Stott
042 How They Train Aidan Burns
by Michael J. Stott
TRAINING
040 Nutrition: Time Your Nutrition
Republished with permission of VeloPress from "Racing Weight Cookbook: Lean, Light Recipes for Athletes"
JUNIOR SWIMMER
016 Goldminds: Find Out Just How Good You Really Are!
by Wayne Goldsmith
045 Up & Comers
COLUMNS & SPECIAL SECTIONS
008 A Voice For The Sport
031 Holiday Gift Guide
046 Gutter Talk
048 Parting Shot