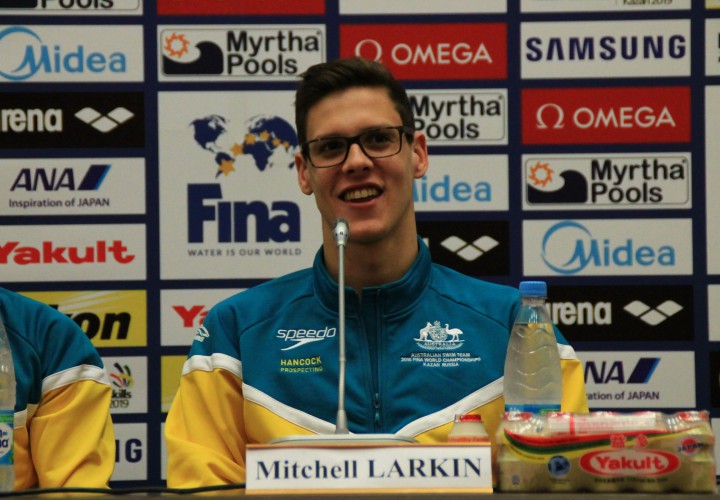 Photo Courtesy: Maria Dobysheva
Australian Mitch Larkin is inching closer and closer to entering the pantheon of legend in the backstroke events. Over the course of six days at three of the FINA World Cup meets, Larkin continued to confirm his status as the world's best backstroker with swims that were among the fastest in history.
His final 100 back race at the World Cup meet was his best. Larkin blazed up and down the pool in Dubai and posted a 52.11, which ranks as the third-fastest performance in history in a tie with Camille Lacourt. That time is just 17 hundredths of a second away from Aaron Peirsol's world record of 51.94, which was swum in 2009 during the polyurethane suit era. Though people such as Lacourt and Matt Grevers (who is second all-time with a 52.08) got close, this looks like Larkin is clearly on the path to becoming the best sprint backstroker in history.
Larkin's performances in the 100 backstroke this year have been amazing simply because he first turned heads as a 200 backstroke talent. He won gold at the 2014 Commonwealth Games in the 200 back and bronze in the same event at the Pan Pacific championships. After winning gold in the 100 back at the 2014 short course world championships, his sprint abilities slowly began to shine, and he followed it up with double gold last August at the world championships.
Larkin is likely to make a run at the 100 back world record again at the Australian Olympic Trials in April. He won't need to swim that fast to make the Olympic team, but doing so would send a clear message to his global competition that he will undeniably be the man to beat in Rio.
Congratulations, Mitch Larkin, on earning the Swimming World Performance of the Week!