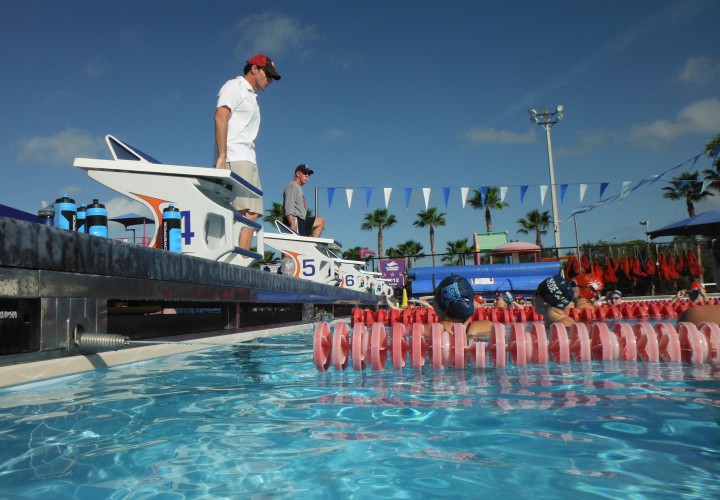 In response to public opinion, some really wonderful, intelligent, passionate (and at times heated) commentary and in the interest of fair play, here's 10 Things Swimming Coaches Do That Drive Swimming Parents Nuts
(Have to admit I cheated a bit here – I contacted several swimming parents I know and asked them for their views on the topic. Thanks to everyone who contributed to this article).
By Wayne Goldsmith
10 Things Swimming Coaches Do That Drive Swimming Parents Nuts
1. Don't communicate.
Of all the things swimming parents hate about swimming coaches this is number one. Swimming coaches should try to live by the four Cs of coaching: Constant, clear, consistent communication.
2. Apply a "one size fits all" coaching philosophy to all swimmers.
There is no one way to develop swimmers. There is no set of "golden-rules" that applies to all swimmers of all ages at all times. Coaches who promote that their way is the only way and that all other swimming coaches, clubs and programs have got it wrong are incorrect. What works for the swimmer is what works for the swimmer – not for all swimmers.
3. Favor the more talented swimmers.
It's normal and natural to want to be successful when you're a swimming coach. Winning swimmers give your coaching program credibility, which in turn attracts more swimmers etc. and as a professional coach, swimming is a business first and foremost. However, the parents of a 45 second 50 freestyler pay the same fees as a 27 second 50 freestyler and it is fair and reasonable for all paying customers to expect equal service. Do not "worship" talent – i.e. do not give outstanding coaching to the best performed swimmers and less than your best to the others.
4. Don't take other sports, family commitments and school commitments into consideration.
There is life other than swimming – particularly for young swimmers. Whilst swimming is central to a professional swimming coach's life, for most other people and families it is just one thing that happens in increasingly chaotic lives.
5. Fail to take the goals and aspirations of the child into consideration – and update them regularly.
One of the biggest mistakes swimming coaches make is to assume that their motivation is everyone's motivation. Swimmers come to a coach for many reasons: fitness, health, win a gold medal, weight loss, triathlon training, perform better at their school swim meet, make friends…… If the coach tries to impose their motivation (i.e. win national titles) on swimmers who just want to get fit and enjoy making new friends, then things are going to fall apart at some stage.
6. Have different rules and standards for the better swimmers.
Inconsistency in this area really annoys swimming parents. Allowing older and better performed swimmers to be late, cut laps, fool around during kick sets, get out early etc. while enforcing strict discipline and tough rules on the other members of the swim team only causes division and resentment. T.E.A.M. means "together everyone achieves more". There is no "S" in team – i.e. "some swimmers" achieve more.
7. Become distracted – i.e. using mobile phones on deck, and therefore not being 100% focused on coaching during training sessions.
As a general rule, there's four Ps swimming coaches shouldn't entertain on pool deck:
Phones;
Parents;
People (i.e. friends, other coaches etc. who drop in);
Play – i.e. things not directly related to coaching the swim team.
8. Not disciplining all children fairly and appropriately.
It takes as much time, effort and energy to say "Stop talking and get in the water" and it does to say "Keep your elbows high during your pull". Discipline is an important issue – and at times – discipline is a critical safety consideration. Swimming coaches need to have clear, consistent ways of dealing with difficult, destructive and distracting swimmers so that as little time as possible is wasted on words and actions that don't directly contribute to improving swimmers.
9. Not making it fun for younger swimmers.
Young swimmers are children first, students second and swimmers third (or even fourth, fifth or sixth). If swimming coaches remember this simple statement, everything falls into place. Don't think "what's going to work for this swimmer" – think instead "what's best for this child" – and then shape your physical, technical, tactical and mental skills training program around that.
10. Not giving the kids who need it more time.
The three most important things to all swimming parents are – in order – their children, their time and their money. Swimming parents pay swimming coaches to coach their children usually at inconvenient times like early mornings or late afternoons when they have a lot of things on their minds. Swimming coaches must be mindful that all children need their complete focus in and attention regardless of whether they are 8 or 18 years of age and no matter if they're training for fun or preparing for the Olympic final.
Of course, the bottom line for this discussion – as so many contributors to the debate have commented – is that swimming coaches, swimming parents and swimmers should work together as "partners" in the realisation of the potential and the performance of the swimmer.
Now it's up to you!
Thanks to everyone who's added something to this discussion. It's been great and I've enjoyed reading your views – thank you sincerely for your contributions.
For the record, I have four children of my own and I've spent 25 years traveling the world and delivering swimming parent / sporting parent education sessions everywhere you can think of: USA, Canada, Great Britain, Spain, South Africa, Zimbabwe, South Korea, Thailand, Fiji, Papua New Guinea, New Zealand and every major location in Australia.
I've spoken with football parent groups, tennis parent groups, large groups of high school level sporting parents, parents of elite level athletes in high performance sports programs, triathlon parents, athletics parents and of course to countless swimming parent groups – you name the place and the sport and I've probably spent time there talking with parents, coaches and athletes about the issues that are important to them. I've visited more than 400 different swimming Clubs over this time and delivered swimming parent education sessions at most of them.
The issues are – as many of you have pointed out – not unique to swimming. There are similar problems being faced by groups of coaches, sporting parents and athletes in all sports all over the world.
As the environmentalists say – think global but act local.
The critical issue is how you – as a parent, coach or athlete are committed to developing, building and sustaining a strong, effective, open and honest working relationship – one that is 100% focused on the best interests of the swimmer – on helping them to realise their potential and on supporting them to see their swimming dreams turn into reality.
WG