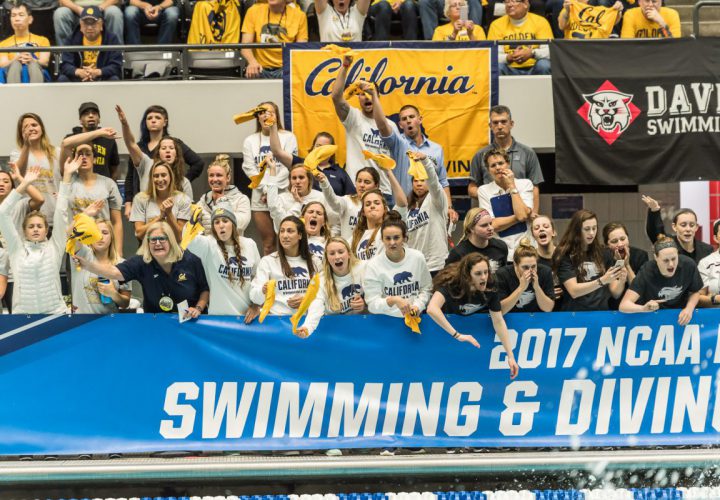 Photo Courtesy: Peter H. Bick
By: Ashley Illenye, Swimming World Magazine Intern.
When asking the question "is swimming an individual or team sport?" the answer can vary wildly. Though progress is made individually, and you can swim in your own lane, there comes a point in every swimmer's career when they swim for something more than themselves.
There are several different types of leagues that one swimmer may encounter during their career. Some will do all of these, some will only do one. The most common categories of swimming are summer league, club/YMCA, high school, and college swimming.
Club/YMCA Swimming: Individual Sport
Breaking it down, it seems that club swimming is really the only option of the four categories of swimming that truly places the emphasis on the individuality of the sport. Sure, there are relays and representing your team but at the end of the day, the goal is to improve on your personal bests and be the best possible swimmer you can be. Swimmers are trying to best themselves and are racing the clock, not each other.
My club coach always told me that there is only one meet where place matters: Olympic Trials, because third place doesn't make the team. Swimmers on club teams are chasing individual goals: AAA times, sectionals, futures, junior nationals, U.S. Open, etc. At the end of the day, they would rather obtain their cut than get first place or beat out the swimmer next to them for that one extra point for their team.
High School, Summer League and College Swimming: Team Sport
The other types of swimming have several key elements that club swimming does not: dual meets, a point-heavy system, rivalries that are deeper than just this sport. These are all about touching out the person next to you, scoring as many points as possible, killing your relay so that your team can be the one that comes out with the win. At a championship meet in high school, summer or college swimming every point matters. On top of focusing on your own swim, you have to motivate yourself to do everything possible so you can win for your team.
Anyone that sees swimming as a team sport will agree that you aren't swimming only for yourself. Swimmers compete for their teammates that push them to be better athletes in practice every day, for the coaches that have been their biggest supporters through the good swims and the bad, and parents who have given up so much to take their child to meet after meet, practice after practice.
There are so many moments that can define a team that an individual may carry out, but it affects the whole team. A team leader may hold a meeting for their members to start taking responsibility for their spot on the team and remind everyone that swimming is one cohesive group. Two competitors on the same team might duke it out at an end of the season meet, but still hug each other at the end of the race out of mutual respect for the other's dedication to being a better swimmer.
If you've ever tried to swim a practice on your own, you know that it is much easier when you're going through the motions of  the toughest set of the week with your teammates giving in just as much effort as you are. Hearing, "Come on guys, you got this!" is significantly more motivating than staring at the interval clock, dreading having to stare at the black line at the bottom of the pool for company.
As the "Ricky Bobby: Talladega Nights" quote says: "God needs the Devil. The Beatles needed The Rolling Stones. Even Diane Sawyer needed Katie Couric. Will you be my Katie Couric?" Though the quote is talking about enemies in an entirely individual sport, it can go for teammates as well. Without having a training partner there to push you every day, you will never reach your own potential.
Swimmers rely on each other at meets. I always swim faster when I have a line of people on the side of the pool cheering for me, or someone at the end of the blocks screaming in my ear, pointing vigorously to touch the girl next to me out. There's a special bond between a distance swimmer and their counter or timer, or an IM'er that comes face-to-face with their cheerleaders at every turn. Like a typical team sport, such as basketball, each teammate supporting the other makes for a more cohesive, positive and successful environment.
This may work in the reverse aspect as well. If one swimmers is constantly being negative about the sport, putting effort into their swimming and racing it will inevitably have an effect on their teammates. One bad attitude can plant a seed and sprout for similar bad behavior. If swimming were an entirely individual sport, it wouldn't matter how each member of the team acted on their own. In an environment which is so dependent on feedback and positivity, it is clear that teammates need to push and be there for each other so they may become the best version of themselves.
At the end of the day, each swimmer wants to be the best they can be. They want their name to be as high on the results as possible, their swim to be on the record board, to get a medal and be an athlete that they and their teammates can be proud of. On its most basic level, swimming is an individual sport. But to be a successful swimmer, you cannot only be swimming for and by yourself. You need that extra push in practice, a cheer in the meet, for someone to say that your swim inspired them. Swimming is as much of a team sport as any other—and it's time we, as a community, start treating it like one.
All commentaries are the opinion of the author and do not necessarily reflect the views of Swimming World Magazine nor its staff.