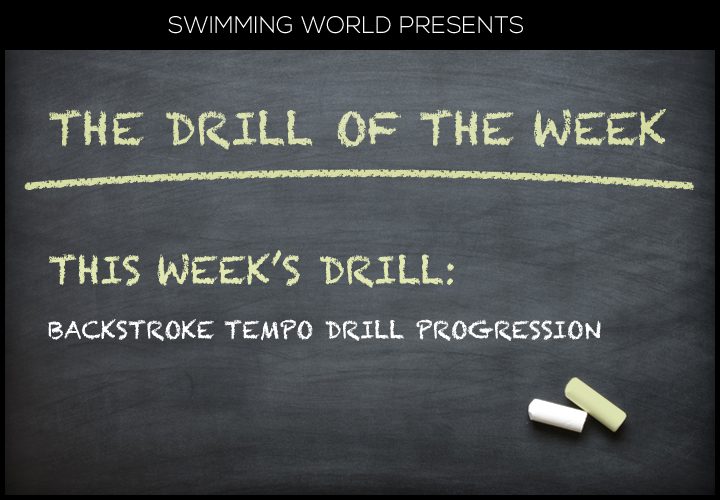 Welcome to the "Swim Drill of the Week". Swimming World will be bringing you a drill, concept, or tip that you can implement with your team on a regular basis. While certain weeks may be more appropriate for specific levels of swimming (club, high school, college, or masters), Drill Of The Week excerpts are meant to be flexible for your needs and inclusive for all levels of swimming.
This week's drill progression is to work on developing a strong catch with a fast, consistent tempo for backstroke. Take a look at the progression below and the description that follows:
2 x 25 single arm backstroke (R arm, then L arm)
2 x 25 as 4-4 drill
2 x 25 as 2-2-2 backstroke
1 x 50 pace backstroke
The progression starts with single arm drill to set up a strong catch, even rotation, and connection through the core. Encourage them to start slow, working on setting up a strong catch as soon as their hand enters the water and finishing with a strong pull through the end of their stroke.
The next drill of the progression will be 4-4 drill, which has them alternating between arms ever four strokes. While their tempo will naturally speed up when switching to this drill, again encourage your swimmers to be mindful that they are holding on to the water and finishing their strokes.
The final drill, 2-2-2, is meant to speed up their tempo while they switch from single arm to single arm to consecutive strokes, maintaining that strong hold on the water and connection through the middle through a more complex movement. Make sure they don't start to slip through their catch during this drill as they try to speed and have to manage more frequent transitions.
This drill progression is meant to start slow and build with each successive drill, increasing stroke tempo with each drill until athletes are able to maintain a strong underwater pull with a high, steady tempo. Happy swimming!
All swimming and dryland training and instruction should be performed under the supervision of a qualified coach or instructor, and in circumstances that ensure the safety of participants.