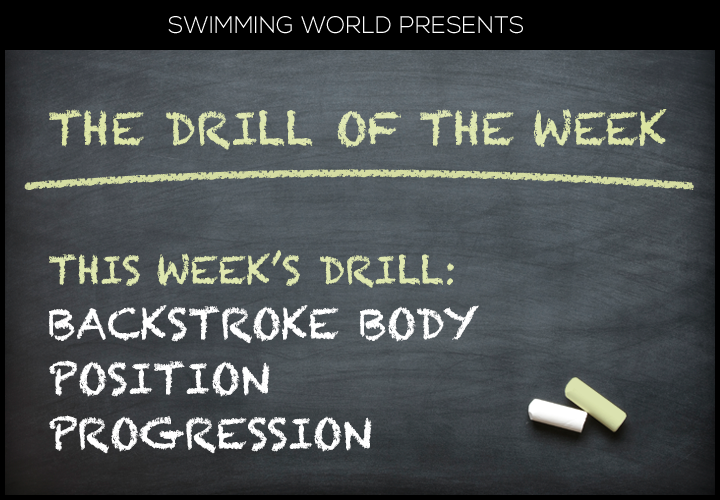 Welcome to the "Swim Drill of the Week". Swimming World will be bringing you a drill, concept, or tip that you can implement with your team on a regular basis. While certain weeks may be more appropriate for specific levels of swimming (club, high school, college, or masters), Drill Of The Week excerpts are meant to be flexible for your needs and inclusive for all levels of swimming.
This week's drill progression works on backstroke body position. Take a look at the progression below and the description that follows:
1 x 50 Roller coaster
1 x 50 Shoulder to Chin
1 x 50 L Drill
The progression starts with a simple body position drill, roller coaster drill, where swimmers will kick down the length of the pool with their arms overhead and their hands just above the surface of the water. Watch to make sire their hips are not sinking and they're staying as flat on the surface of the water as possible.
Next, progress to shoulder to chin drill, with your athletes working on full rotation from their hips and core while kicking down the length of the pool. While the previous drill should have cued them into engaging their core to keep their body position, this drill works on using those same muscles to maintain an even rotation.
Finally, swimmers will move on to L drill, which adds their arms while still working on keeping a high body position. From a body position perspective, this drill combines the two elements of the first two drills to challenge your swimmers to stay high in the water while rotating evenly from their core and hips. Happy swimming!
All swimming and dryland training and instruction should be performed under the supervision of a qualified coach or instructor, and in circumstances that ensure the safety of participants.