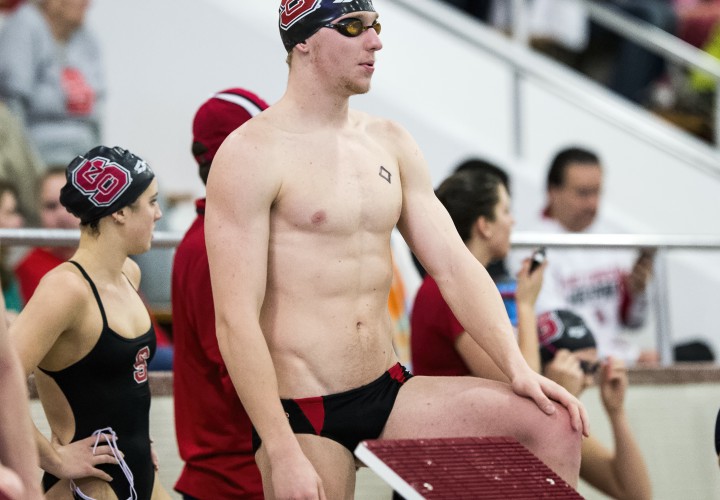 Photo Courtesy: Greg Mintel
PHOENIX, Arizona, October 21. COLLEGE dual meets are exhausting for a lot of athletes. Some of them have to swim multiple times in less than two hours, often not able to relax in one event to prepare for the next. That was the case for N.C. State's Simonas Bilis last Saturday in the dual meet against Georgia, as the junior swam three events in a very close timeframe, and was very fast in all of them.

YouTube Measures Views Only For Episodes Watched On YouTube
Subscribe to our YouTube channel, SwimmingWorldSPI
His first event was the 200 freestyle, and it was a great start to the day. Bilis put up a 1:37.02, the fastest time swum in the event so far this season nationwide. He needed that swim to hold off Matias Koski, who was just five tenths back. About 15 minutes later, Bilis was back for the 50 free. Most would think that's not enough time to recover from a fast 200 free, but not Bilis. He won the event with a 19.96 to join an exclusive club of sub-20 second swimmers so far this season and put him in a tie for fourth nationwide.
Another 15-minute break for Bilis, and he was back for the 100 free, where he won again with a 43.74. That time is good enough for second in the nation. But Bilis was not done. He anchored NC State's 400 free relay, and the Wolfpack needed to win the race in order to win the meet. Bilis went into his leg even with Georgia and won by 1.4 seconds with a 43.23 split.
If Bilis had exceled in just one of his four events, it would have been enough to consider him for the Performance of the Week. But it's rare to have such a great day in the pool in the middle of the season, and for that, Simonas Bilis, you've earned the Speedo Performance of the Week.