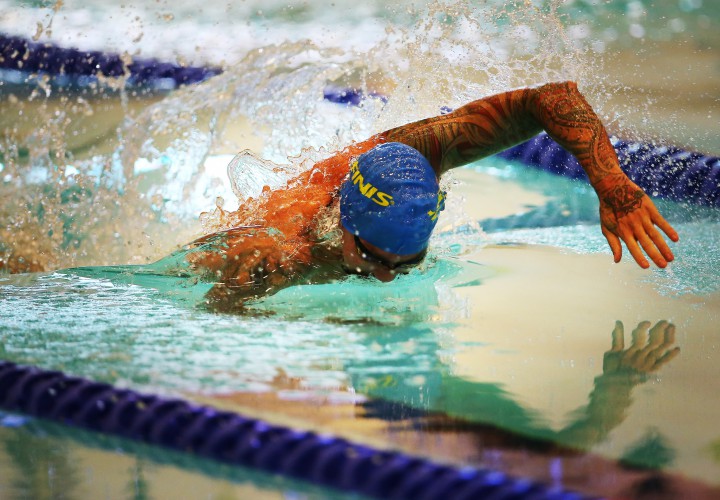 Photo Courtesy: Ian MacNicol
Welcome to Swimming World's Set of the Week! This week's set is a short sprint set to develop power and tempo while keeping a long and efficient stroke. Take a look at the set and the description below:
2 Rounds:
4 x 50's as 25 straight arm free/25 build on :50
8 x 25's w/ paddles all out push tempo on :40
100 easy
This set begins with 4 x 50's that are 25 straight arm free and 25 build. The straight arm free is meant to have your swimmers focused on a long reach on their recovery while getting right into their catch. Remind them to use their legs and core to maintain a stable body position while they work on using a long stroke. On the 25 build make sure they keep that distance per stroke as they add in tempo and power, building up to their sprint stroke.
The 8 x 25's are the main focus of each round. Using paddles, swimmers will go all out on all 8 of the 25's, trying to maintain as close to their sprint tempo as possible. With each 25 on :40, your athletes should get a good amount of rest between each repeat to make each effort an all out one. Between that rest and the 4 x 50's to build into their sprint stroke, this set will help your swimmers learn to improve their power and ability to get up to tempo without sacrificing the length of their stroke. Happy swimming!