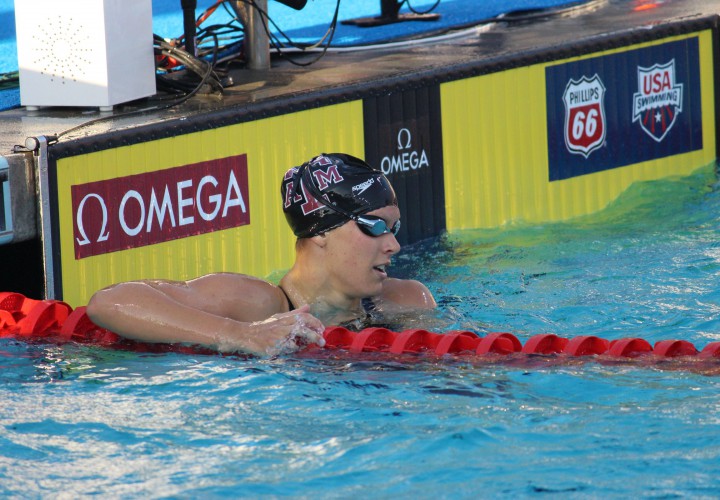 Photo Credit: Griffin Scott
COLLEGE STATION – Stanford freshman Simone Manuel lowered her own American record in the women's 100 free as the Art Adamson Invitational came to a close this evening at Texas A&M's Student Recreation Center Natatorium. Sarah Henry of Texas A&M also collected her fourth win of the meet, while Stanford's Dave Nolan won his third.
Manuel closed out the final session of the meet with a bang, throwing down a 46.62 in the 100 free to lower her own standard of 46.75 from the NASA Junior Nationals in March. Manuel went out in 22.50 and came back in 24.12 in the record-breaking swim, her third win of the meet. That also lowered her 17-18 national age group record in the event, and topped teammate Lia Neal (48.12) and Texas A&M's Sammie Bosma (48.27) for the win.
Sarah Henry of Texas A&M kicked off tonight's finals session with her fourth individual title of the meet as she cruised to a 16:02.93 in the 1650 free, nearly 28 seconds under the NCAA B cut in the event. Arizona State's Anna Olasz also posted a B cut, finishing a distant second in 16:21.21. Colleen Konetzke gave the Aggies a 1-3 punch with her 16:25.26 for third.
Stanford's Danny Thomson added a win in the men's 1650 free to his victory in the 500 free earlier in the meet as he stopped the clock in 15:06.40. Teammate Justin Buck finished just over 18 seconds later in 15:25.02, while Liam Egan gave the Cardinal a sweep of the top three with his 15:41.32.
Texas A&M took the top two spots in the women's 200 back, led by freshman Lisa Bratton in 1:53.19. Claire Brandt touched right behind in 1:53.22. as both just missed the automatic NCAA qualifying time of 1:52.52 in the event. Stanford's Ally Howe also cracked 1:54 with a 1:53.56 for third.
Stanford senior Dave Nolan picked up his third win of the meet in the men's 200 back with a near-A cut time of 1:41.03. The automatic qualifying time in the event stands at 1:40.88. TCU had a strong showing in the event as seniors Cooper Robinson (1:43.87) and Josh Mangus (1:44.42) claimed second and third.
Stanford earned another 1-2-3 sweep in the men's 100 free, with Thomas Stephens topping the field in 43.66, slightly ahead of teammate Connor Black (43.81). Sam Perry maintained his third place seed by touching in 44.22.
The Texas A&M women continued their strong night with another 1-2 finish, this time in the 200 breast. After turning in the middle of the pack on the first and second 50s, freshman Bethany Galat and junior Ashley McGregor pulled away on the third 50 and touched first and second. Galat swam a 2:09.02, while McGregor put up a 2:09.17. SMU got on the podium for the first time of the night as Rachel Nicol swam a 2:10.74 to take third.
Max Williamson kept the Stanford men's win streak alive in the 200 breast, earning his second win of the meet in 1:56.98. Arizona State's Thibaut Capitaine came in second with a 1:58.06, while Mauro Castillo of Texas A&M hit the wall third in 1:58.35.
Stanford's Janet Hu swept the butterfly events in College Station, adding a win in the 200 tonight with a 1:55.31. She's less than a second off the A cut time of 1:54.45 in the event. Teammate Mackenzie Stein moved up from seventh to second with a 1:57.09, just ahead of LSU's Kara Kopcso (1:57.17).
Gray Umbach of Stanford equalled Hu's feat by sweeping the men's butterfly races with a 1:43.20 in the men's 200 fly. Umbach had a comfortable lead over LSU's Frank Greeff (1:45.09) and his Cardinal teammate, Tom Kremer (1:45.37).
LSU's Madison Sthaman topped the women's 3-meter diving event with 306.00 points, with Stanford's Lillian Hinrich (287.50) and LSU's Alex Bettridge (248.15) in second and third. Texas A&M's Tyler Henschel was king of the men's platform with a score of 398.35. Daniel Helm of LSU (386.85) and Devin Burnett of SMU (375.75) rounded out the top three.
The Stanford women wrapped up the meet by putting an exclamation point on the women's 400 free relay. Lia Neal, Maddy Schaefer, Janet Hu and Simone Manuel put together a 3:10.77 to crush the A standard of 3:16.41, and finish nearly five seconds in front of Texas A&M's Sammie Bosma, Sarah Gibson, Meredith Oliver and Beryl Gastaldello (3:15.44). Brittany Aoyama, Katelyn Martin, Emma Chard and Sam Wicks gave Boise State a third place showing with their 3:18.17.
Meanwhile, the Cardinal men closed out a dominating performance in College Station with another relay sweep. The A relay of Dave Nolan, Thomas Stephens, Connor Black and Tom Kremer clocked an A cut time of 2:53.01, while the B team of Drew Cosgarea, Sam Perry, Ethan Hallowell and Spencer DeShon claimed second in 2:55.84. Grand Canyon had a solid showing from Mazen El Kamash, Jacob Lambros, Tanner Brotherton and Illya Glazunov to take third in 2:56.82.
The Texas A&M women held off Stanford for the women's team title, 1,204.5 points to 1,137.5 points. LSU came in third with 634 points. The Stanford men nearly tripled their nearest competitor, scoring 1,523 points to crush LSU (573 points) and Grand Canyon (468 points).