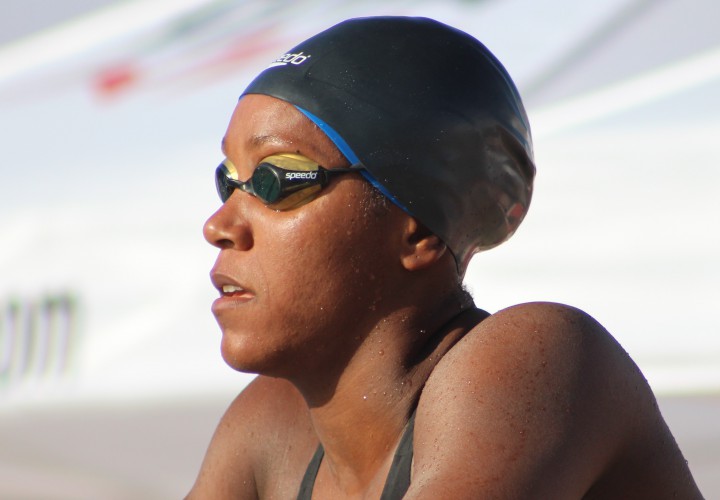 Above Photo Courtesy: Azaria Basile
ORLANDO – Next week's Orlando leg of the Arena Pro Swim Series will have a very international flavor, as athletes from many of the top swimming countries in North and South America will race for cash on the road to this summer's world championships. A few Europeans are also slated to race in central Florida.
CLICK HERE TO VIEW PSYCH SHEET
Many of the usual suspects from the United States will be on hand for multiple races. Conor Dwyer and Elizabeth Beisel, the current points leaders in the Pro Swim Series, will each swim multiple races in an attempt to earn a one-year lease on a BMW at the conclusion of the circuit in Santa Clara in June. Dwyer continues to race well since making the official move to Trojan Swim Club recently and will have his hands full in the 200 freestyle, where Ryan Lochte, Matt McLean and last year's NCAA champion Joao De Lucca will be among the challengers.
For Beisel, her top race could be the 400 IM, where she'll meet Great Britain's Hannah Miley, who is coming off a very successful summer that saw her win the Commonwealth Games title in the event for the third-fastest time of 2014, just two tenths of what Beisel swam to win the Pan Pacific championships gold medal. Look for these two to rehearse their racing strategies against each other, as they are bound to meet again in the 400 IM final at worlds in August.
Fresh off her historic win in the 100 breast at the short course world championships, Jamaica's Alia Atkinson will race fellow Texas A&M alum Breeja Larson in both breaststroke events. Another star from the Caribbean islands, Arianna Vanderpool-Wallace of the Bahamas, could be the star of the sprint freestyles. American Megan Romano looks to be her toughest challenger, though at this stage of training, it's a coin toss in determining who's in the best racing shape next week.
As he continues to work to find a country to represent at this summer's world championships and/or next year's Olympics, Arkaday Vyatchanin will line up in the backstroke events against a very strong American tradition that is continuing with Matt Grevers in the 100 back and Tyler Clary in the 200 back. Keep an eye on Lochte in the 200 back as well.
A few Canadian women are attending the meet after some training in the States, and they could return home with some big paydays. Audrey Lacroix is a heavy favorite in the butterfly events, particularly the 200 fly after her somewhat surprising win at last year's Commonwealth Games. Hilary Caldwell is on track for a return trip to the medal podium in the 200 backstroke at worlds, and she'll face Beisel in that event in Orlando. Another top swimmer representing Canada next week will be Dominique Bouchard. The 2013 NCAA runner-up in the 200 back while representing the University of Missouri, Bouchard will look to give Canada a 1-2 finish in the 200 back as she prepares for a possible spot on Canada's world championship team.
In the women's 100 backstroke, keep an eye on 18-year-old sensation Mie Nielsen of Denmark. She's been steadily progressing as she ages, and could be a world championship finalist this summer.