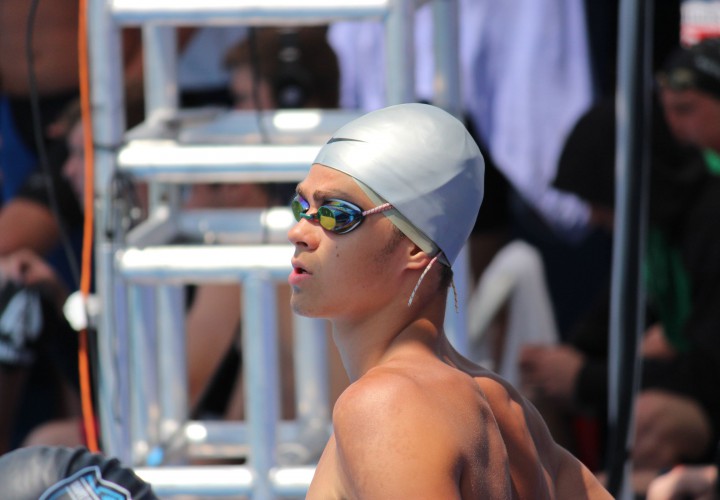 By Erin Quinn
FEDERAL WAY – The prestigious USA Speedo Winter Junior Nationals are slated to begin today at the Weyerhaeuser King County Aquatic Center (WKCAC) in Federal Way, Wash.
USA SWIMMING JUNIOR NATIONALS PSYCH SHEET
Coming off the star-studded USA Winter National Championships in Greensboro, N.C., and the FINA World Short Course Championships in Doha, this is a chance for the up-and-coming age groupers, and even possible future Olympians to shine.
Headlining several races is the 15-year-old swimming phenom Michael Andrew, who set a slew of 13-14 National Age Group (NAG) records, many of them having been held by the most decorated Olympian of all-time Michael Phelps.
Andrew is the top seed in several events including the 200 IM, 50 free, 100 fly, 100 breast and 200 back. Home schooled and trained by his father, Peter, at their home in Lawrence, Kan., Andrew is close to the 2013 Winter Nationals record in the 200 IM with a 1:45.29, chasing Curtis Ogren's 2013 meet record of 1:45.08.
Andrew is also in the running for gold, and a possible meet record in the 50 free, seeded second with a 19.76 to 16-year-old Ryan Hoffer of Scottsdale Aquatics (19.53). They are the only two swimmers seeded under 20 seconds looking at Caeleb Dressel's jaw-dropping meet record last year of 18.94.
Aidan Burns, 17, of the Santa Clara Swim Club is a major contender in the 500 free with a top-seeded time of 4:17.19, under the current meet record set by Francis Haas in 4:17.45 in 2013. Burns is also on the heels of Andrew in the 200 IM with the second-seeded time of 1:45.36 to Andrew's 1:45.29.
As the meet continues on the men's side, it should be a battle of the backstroke titans with Andrew, along with 16-year-old Thomas Anderson of King Aquatics and 17-year-old Michael Thomas of Upper Dublin Aquatics all in tight competition for the 100 back title.
Thomas comes into this meet with a 46.65, already under the record set by California's NCAA Champion Ryan Murphy who posted a 46.72 in 2011 at Winter Junior Nationals. While Thomas is the only swimmer who has posted a sub-47 second 100 back time, Anderson and Andrew are not far behind, both with a 47.61.
On the women's side, Daniela Georges, 17, of Aquazot Swim Club is within striking distance of the Winter Junior National record in the 500 free with a 4:39.82 seed. That is less than a second off the 2008 record clocked by Amber McDermott in 4:38.89, and three seconds faster than times posted by her closest competition.
Georges is also encroaching on the 200 free meet record set by Lindsey McKnight in 2011 with a 1:45.83 to McKnight's 1:45.37.
Ella Eastin, 17, of SOCAL Aquatics is chasing down her own records set in 2013 at this meet with a 1:56.02 in the 200 IM and a 4:05.25 in the 400 IM.
Another groundbreaking swim could be in the women's 100 breaststroke with Lindsey Horejsi, 17, of the Mantas Swim Club, seeded first with a 59.56. That is faster than the meet record set last year by Lillia King in 59.67. Horejsi is the only female at Junior Nationals to be seeded under the one-minute mark.
But, of course, this is Junior Nationals where nothing is given and anything expected could be lost. It's anyone's game.
Take away the name, the time, the title, the club, if you have a lane, you have a chance and these swimmers are so young and hungry that nothing is beyond them.
It's going to be an exciting three days of swimming, uncovering USA's depth in age group swimming.
Tune in for live stream at www.usaswimming.org and follow live coverage and updates www.swimmingworld.com or on Twitter @swimmingworld
Erin Quinn is the head coach of the Hawks Swimming Association in New York.  She's also a contributing writer at Swimming World.