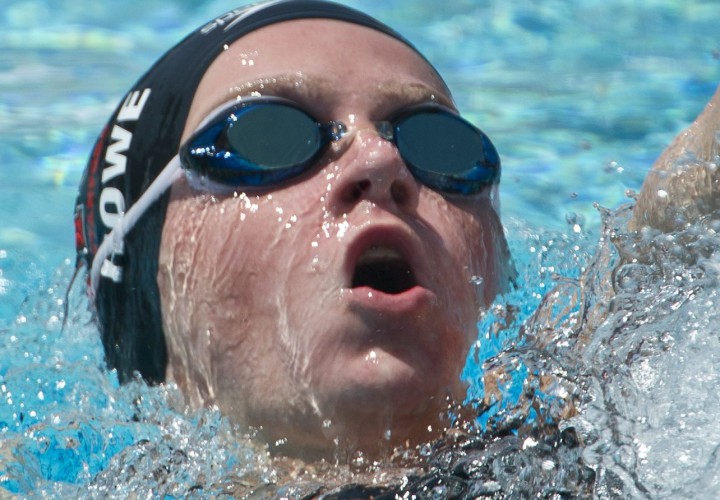 PHOENIX, Arizona, July 16. THE National Interscholastic Swim Coaches Association All-American lists in the 100-yard back featured to strong swimmers at the top of the mountain. Hatboro Horsham's Michael Thomas led the boys, while Ally Howe of Sacred Heart paced the girls.
Thomas turned in a 15-16 National Age Group record in the 100-yard back at the Pennsylvania High School Championships. His swim of 46.65 beat the National Age Group mark of 46.72 set by Murphy en route to a victory for Hatboro Horsham in Pennsylvania. The junior now has his sites set on David Nolan's state record of 45.49 as well as Murphy's national high school record of 45.34.
Here's a look at Thomas' swim at PA States:

Thomas appeared on the Morning Swim Show today with host Jeff Commings to talk about his swim.
Meanwhile, Howe raced her way to a national independent school mark with a 51.54. That performance came during finals of the CIF Central Coast Section Championships as the Stanford commit undercut Missy Franklin's previous record of 52.30 with a 51.84 during prelims. Howe nearly broke reigning Swimming World High School Swimmer of the Year Olivia Smoliga's national high school record of 51.43 in the finale.
Here's video of Howe's sizzling swim in the backstroke:

While Thomas has a chance to put up an even faster time as a senior, rising sophomore Ethan Young is the youngster to look out for after placing seventh this past year. The girls side of the 100-yard back is pretty wide open with the top three finishers graduating. Taylor Garcia out of Holland High could be the one to look at next year as the top returning junior.
Boys 100 back Top 8
1, :46.65, Michael Thomas (11), Hatboro Horsham High School
2, :46.80, Hennessey Stuart (12), Regis Jesuit High School
3, :46.88, Ryan Dudzinski (11), Upper St. Clair High School
4, :47.06, Aaron Whitaker (12), Chesterton High School
5, :47.15, Kyle Gornay (12), Redlands High School
6, :47.36, Luke Kaiszak (12), The Baylor School
7, :47.54, Ethan Young (10), Dalton High School
8, :47.79, Tristan Sanders (12), Palm Harbor University High School
Girls 100 back Top 8
1, :51.54, Ally Howe (12), Sacred Heart Preparatory
2, :52.35, Janet Hu (12), Oakton High School
3, :52.46, Clara Smiddy (12), South Florida Heat
4, :52.95, Taylor Garcia (11), Holland High School
5, :52.96, Zoe Avestruz (11), Chanhassen High School
6, :52.97, Claire Adams (10), Carmel High School
7, :53.08, Meaghan Raab (12), Hershey High School
8, :53.19, Beata Nelson (10), Verona / Mount Horeb Co-op
2013-14 NISCA Girls High School All-Americans

2013-14 NISCA Boys High School All-Americans

NOTE: All America times have to be submitted to NISCA by a certain deadline in order to make the 2014 All-American list. Coaches can submit times here: http://www.niscaonline.org/aaswimming/. Corrections can also be submitted to NISCA via three emails: Boys Swimming contact: boysswaa@niscaonline.org; Girls Swimming contact: girlsswaa@niscaonline.org; Boys and Girls Diving contact: aadiving@niscaonline.org
This is the ninth day of what will be an 11-day showcase of the NISCA All-American program. Swimming World is proud to partner with NISCA to provided a global spotlight on high school swimming in the U.S., and will be talking to some of the top movers and shakers in high school swimming this week as part of the Morning Swim Show. Additionally, we'll be taking a look back at some of the best of the best high school swimmers historically.
To access high school All-Americans all the way back through 1974, purchase back issues of Swimming World Magazine!
For more incredible high school content, make sure to subscribe to Swimming World TODAY to make sure you get our High School Swimmers of the Year (August) and High School National Champions of the Year (September) issues.