The Pros and Cons of Lifeguarding as a Competitive Swimmer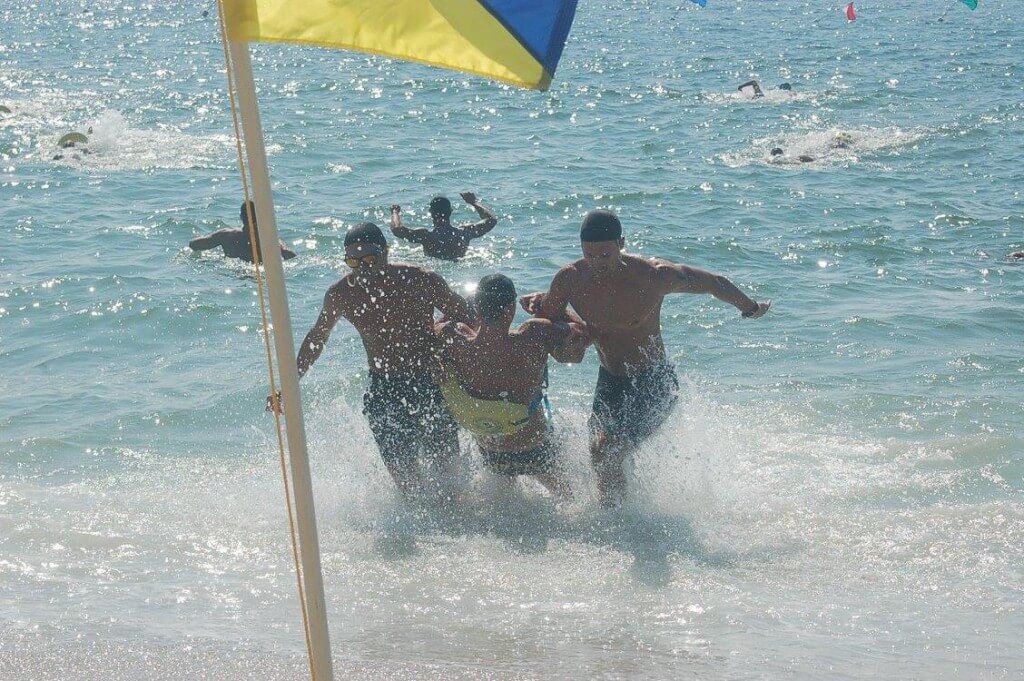 Photo Courtesy: Friends of Wrightsville Beach Ocean Rescue
Left Sidebar
By Maggie Lasto, Swimming World College Intern.
With championship season coming to a close, you may find that you have more free time than you're used to. If you have been pushing off applying for that summer job or writing that resume, now is a great time to get it done. It might not feel like it right now, but summer will be here before we know it.
As a competitive swimmer, becoming a lifeguard might seem like the perfect job for you. You have mastered one of the fundamental lifeguarding skills (swimming), after all. However, being a competitive swimmer might make lifeguarding a difficult job for you in certain ways. While it is a necessary and rewarding job, working as a lifeguard while you're a swimmer comes with both pros and cons. Here are some things to consider before deciding if it's the right one for you.
Pros
1. There's water
Most likely, the reason you swim is because you love the water. As a lifeguard, you'll learn to love it even more when the temperature is scorching and you can take a refreshing dip during your break.
2. You can put your talent to good use
Being able to put your swimming abilities to good use is both practical and rewarding. You will have the opportunity to aid young kids and adults in the process of becoming stronger swimmers. Learning to use your strengths to your benefit will help make your life, as well as those around you, a lot easier.
3. You'll be sun-kissed
This only applies if you work at an outdoor pool or on the beach, of course. If you're lucky, you will be able to get a nice tan while you work. Multitasking really does have its perks.
4. People will automatically think "Baywatch" when they hear you're a lifeguard
Finally, you can be the Zac Efron you've always dreamed of being.
5. You make money
Due to the qualifications and certifications required to become a lifeguard, the job typically pays well above minimum wage. Lifeguards are also paid hourly, so if you have a flexible boss, you will be able to work at times that fit your schedule and pick up as many hours as you want or need.
6. You can work with your friends
Most likely all of your swim team friends are lifeguards too. As a lifeguard, you'll be able to hang out and talk with your heads out of the water for once.
7. It's not too taxing on the body
For the most part, lifeguarding is easy on the body. While it takes a lot of focus and possibly an occasional rescue, you can avoid exhausting yourself by chasing after kids or doing manual labor all day. You will appreciate this when your shift is over and coach decides to work you hard at practice.
Cons
1. Increased exposure to chlorine
Being exposed to the chlorine can have some serious side effects. It's important to understand the harms and learn to recognize the symptoms. Learn about the ways in which chlorine may be helping and hurting you here.
2. You'll get sick of your pool
Most likely, the pool where you practice is going to be the pool where you work. Looking at the same eight lanes all day long will leave you yearning for a change of scenery. While you should be loving the pool that you swim at, you might end up hating it.
3. Intensive training is required
In order to become a lifeguard, you need to dedicate time and money to taking classes, practicing skills, and studying to pass tests. Enrolling in a lifeguard class is necessary and may be costly to sign up for.
4. Indoor pools are stuffy
Working indoors over the summer seems like a good way to avoid the heat; however, indoor pools restrict air flow, leaving them stuffy and humid. Sweating indoors will just leave you wishing you were soaking up the sun outside.
5. There's a higher risk of dehydration
As a swimmer, this is especially important. Working in the heat all day leaves lifeguards at a risk for dehydration. While they may take a sip or two on break, it is important that they remember to carry a water bottle with them even during their on-duty rotations.
6. Practice will seem longer
Spending hours at the pool during the day may cause you to dread coming back for practice at night. When a two-hour practice is added on top of an already long day at the pool, it suddenly seems like a whole lot more.
7. Same place. Same people.
Working with your friends from around the swimming world is nice, but at the same time, it can restrict you from making new friends and gaining new experiences.
Is lifeguarding the job for you?
Now that you have read some pros and cons, have you made up your mind? You can learn more about the process of becoming a lifeguard and the possible job opportunities near you by clicking here!
If you're a lifeguard already, what are the main pros and cons you experience?
-All commentaries are the opinion of the author and do not necessarily reflect the views of Swimming World Magazine nor its staff.