Australia's Swimming Community Mourns The Passing of National Treasure And Coaching Pioneer Ursula Carlile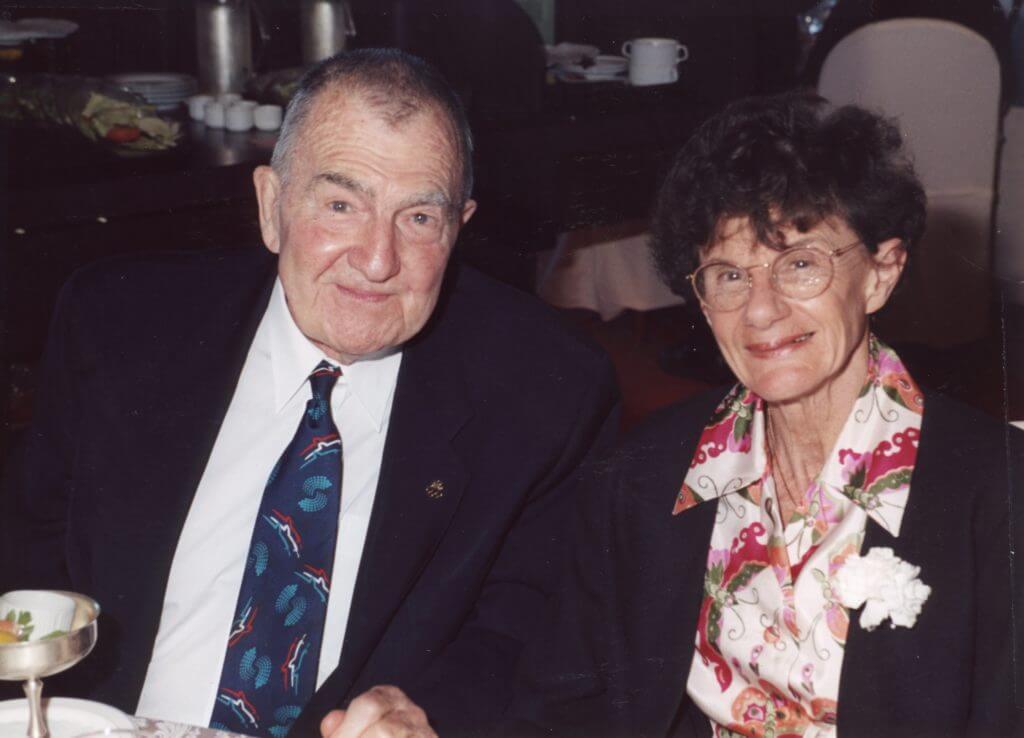 DYNAMIC DUO: Ursula Carlile and husband Forbes will leave an indelible mark on the sport of swimming in Australia and around the world. Photo Courtesy: Carlile Foundation.
Left Sidebar

Australia's Swimming Community Mourns The Passing of National Treasure And Coaching Pioneer Ursula Carlile
The Australian swimming community is today mourning the loss of a legend and a National swimming treasure with the peaceful passing of coaching pioneer Ursula Carlile in Ryde today. She was 86.
Ursula's passing comes nine years after her famous husband and swimming coaching and teaching icon, Forbes Carlile, passed away during the 2016 Rio Olympics – marking the end of an era – celebrating one of the most famous names in Australian swimming – a name that will forever remain a major part of the country's sporting landscape.
The Carlile name is synonymous with teaching and coaching excellence – from their humble beginnings from Carlile's Cross Street backyard teaching pool to the world stages and the golden celebrations of Olympic, World Championship and Commonwealth Games glory.
Tributes to Ursula have poured in through the Carlile organisation who prepared an extraordinary insight into the life and times of Ursula Carlile –  a tribute to the one and only Lady Mayoress of the pool deck, who guided the great Shane Gould to Olympic glory in Munich in 1972 – later telling the story of where she was on the day of the Israeli massacre and the time she was banned for three years for coaching in China.
 A pioneer of sports science who forged a career that broke down barriers for women across the globe, remaining the only woman to be the head coach of the Australian Swimming team, after leading them at both the 1974 Commonwealth Games in Christchurch and the 1975 World Championships in Cali, Columbia.
Carlile Foundation director, Australian champion and Commonwealth Games swimmer, Richard Cahalan said of Ursula.
"What a remarkable woman. With her late husband Forbes, she pioneered some of the most important innovations in world swimming," said Cahalan.
Carlile Foundation director and Commonwealth Games silver medallist, Tim Ford saying: "Ursula was a pioneer and a leader in her own right. At a time when our sport was dominated by highly conservative thinking and practices, overt officialdom, and very limited opportunities for female coaches.
"Ursula blazed a trail to be the first female coach of an Australian Olympic swimming team. An amazing achievement, despite the obstacles."
IN a lifetime dedicated to swimming, Ursula Carlile:
Worked with husband Forbes in the first specialist sports science laboratory.
Establishing a backyard business that now provides more 1.3 million swimming lessons a year.
The first woman to coach Australia's swimmers at the Olympics.
The first woman to be head coach of the Australian Swimming Team.
A Member of the International Swimming Hall of Fame, Life Member of Swimming Australia, Life Member of the Australian Swimming Teachers and Coaches Association, Member of the Australian Swim Schools Association Hall of Fame, Member of the United States Swim Schools Hall of Fame.
Steering Shane Gould to Three Olympic Gold
While Ursula helped shape the careers of numerous world record holders, the highlight was the bond forged with the incomparable Shane Gould.
In preparation for the 1972 Olympics, the pair spent countless hours at Ryde pool and travelling together to country swimming meets.
"We really did get to know each other quite well, she was just so gifted," Ursula said in an interview last year.
Shane was just 15 at the Munich Games, and what an Olympics they were. One where terrorists broke into the Olympic Village, killing two Israeli team members and holding nine others hostage. Ursula would help get Shane out of Munich and away from the mayhem that followed.
But Ursula was lucky to be there to help.
On the day of the attack, at 4.30am Ursula, always an early riser, had left her room for a run.  Her routine was to leave the village and run around the fence. The Israeli rooms were just opposite the Australians and Ursula missed the terrorists by seconds, saying: "I was really very lucky.''
Before the Games were marred by the massacre, Ursula guided Shane to perhaps the greatest Olympic performance of any Australian athlete. Shane won five individual medals, three of them gold and all in World Record time.
An individual medal tally that Ian Thorpe, Mark Spitz or Emma McKeon have not matched at a single Olympic Games. In 1972, Ursula also coached Gail Neall to a gold medal and World Record in the 400IM.
"That really was an incredible time. Shane was just so good, but I did feel Forbes deserved more of the credit," Ursula said.
"I was working with her, but as much as anything, I was giving her the programs that Forbes had developed."
Banned For Three Years
Ursula's career also included stints with the Dutch Olympic team in 1964 and coaching in China, a step that put her on a collision course with swimming's officials.
This was an era when most of the western world hadn't recognised the Chinese government.
"We'd been invited to coach the Chinese. This is way back when China was excommunicated," Ursula said. Australian officials were livid, threatening to ban Forbes.
"I said that I was the coach and Forbes was only there as my assistant, so if they disqualified anybody, they'd have to disqualify me. And they did."
Ursula was banned from Australian swimming for three years.
"It was a genuine act of selflessness. Ursula took the blame and the suspension, so Forbes could continue to coach," said Cahalan.
It was just another battle for a woman of principle, "I wasn't even able to go on the pool deck at local meets, because I was a bad person who'd been to China."
Ursula lived by the motto "no one cares about how much you know, until they know how much you care" and she cared deeply about her two great loves, Forbes and swimming.
Making it all the harder to believe, she was once an adult who couldn't swim.
Forbes and Ursula Love At First Sight
Needing to complete a swim as the final part of her university degree in Physical Education, Ursula's parents contacted the man who was regarded as the best coach in the country. Of course, that was Forbes Carlile.
Was it love at first sight? "I guess it was from Forbes' point of view. I thought about it a little bit more. I think my parents thought about it a lot more. They were thinking, you can't, he can't afford to support you. I said, "Oh, it doesn't matter. We're going to be off overseas, we won't need to support ourselves," Ursula recalled in an interview last year.
Off overseas, indeed. Their passion for swimming even hijacked their wedding. A Saturday morning ceremony at the registry office in Sydney was followed by a quick cup of tea and then a dash to the airport.
The honeymoon started in Townsville, as the two scientists helped prepare the Australian team for the 1958 Commonwealth Games in Cardiff.
"What a honeymoon. The Australian team did very well there and then we went on a swimming trip through Europe. The boys team went one way and the women another. We visited with swimming people all over. They were some of our happiest times," Ursula recalled years later.
The two turned Carlile into a dominant force in world swimming and the most successful club team in Australian swimming history. They also built the first indoor learn to swim centre in NSW in their backyard at Cross Street.
Although it wasn't their backyard at the time. They were renting the house but went ahead and knocked down the garage and built the pool where they would begin baby teaching.
"We were always planning to buy the house, so we just went ahead and put the pool in," Ursula said. The two would stay in that home and operate that "backyard business" for the rest of their lives.
It was the start of a business that now has ten pools and provides more than one million swimming lessons a year. In what was a unique and remarkable coaching partnership, it's fair to say Ursula had the business brains.
"Forbes never really cared about money. We had an amazing life travelling the world coaching. He always felt that somehow, the money would be there and inevitably it was," Ursula said.
"Yes, it was really Ursula who understood how important learn to swim teaching could be in terms of a business. A business which would support elite swimming as it still does to this day," Mr Cahalan said.
A Swimming Foundation That Lives On
The success of the business enabled Forbes and Ursula to establish a foundation to support competitive swimming and that legacy lives on.
Tim Ford was also coached by Ursula. Years later, he worked with her as the CEO of Carlile Swimming and today, he is on the board of the Carlile Foundation.
 "Ursula had a wonderful and unique set of characteristics – unwavering loyalty to Forbes, passion for her beloved Ryde Swimming Club, diligence, and commitment to coaching and deep care for her swimmers. This made it truly special to be coached by Ursula and a tremendous privilege to work with her."
"Ursula was the epitome of the quiet achiever. Given Forbes' larger than life personality, and with her natural reserve and humility, Ursula's profile was often secondary to Forbes'. However, it was a big mistake to underestimate the impact that Ursula had on the Carlile organisation.  She was fiercely determined, highly intelligent and technically excellent.  Her swimmers were always very well trained with precise technique and pacing."
Tim was there to accept Ursula's induction into the International Swimming Hall of Fame and Ursula was justifiably delighted. "It makes me extremely proud, because along with Forbes, we have been in swimming all our lives. I feel very honoured."
The induction came almost 50 years after husband Forbes was inducted, making them the only husband and wife coaching team in the Hall of Fame.
"It's exciting. It's the first time and I feel really honoured and I know Forbes would too, if he was here," Ursula said at the time.
When asked what she would like people to remember when her name is mentioned, Ursula was typically modest. "Well, it will never be mentioned on its own. It always will be Forbes and Ursula, which suits me very well. He was the scientist; he was the innovator the one who bought scientific concepts not just to swimming, but to sports. Between us, we did have something special going on."
Special is an understatement. RIP Ursula Carlile.
With thanks to Carlile CEO Jon Harker