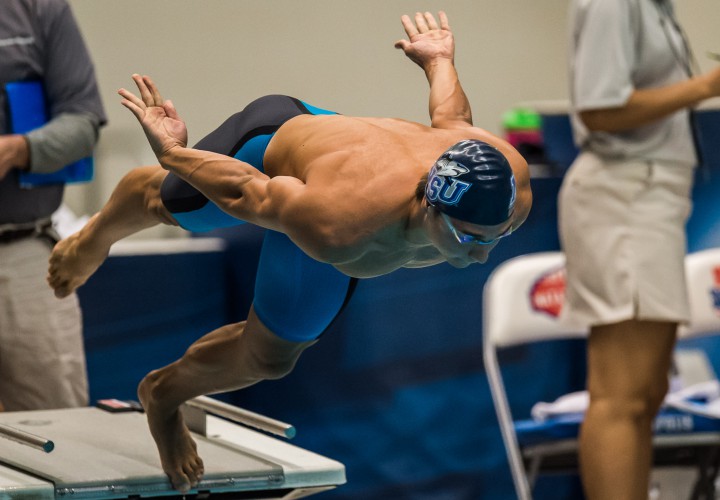 Photo Courtesy: Peter H. Bick
Nova Southeastern freshman Anton Lobanov might not have won as many titles as Queens' Matt Josa, but he certainly has had better top-end swims with his breaststroke sweep at the NCAA Division II Championships.
After jumping to sixth all time in the 100 breast, Lobanov followed that up by vaulting to eighth all time in the men's 200-yard breast with a ridiculously fast 1:51.71.
That swim dropped five seconds from his prelim swim of 1:56.91, and smashed the NCAA D2 record of 1:54.45 clocked by Nicholas Korth of UCSD a year ago.
Notably, Queens' Nic Eriksson (1:55.65) and Cal Baptist's Nikolay Klepikov (1:56.32) took second and third, while Queens still held the team lead 409.5-377.5 against Drury.
FULL COVERAGE OF FINAL NIGHT AT NCAA DIVISION II CHAMPIONSHIPS
All Time 200 Breast
| Rank | Name | Time |
| --- | --- | --- |
| 1 | Kevin Cordes | 1:48.66 |
| 2 | Cody Miller | 1:51.03 |
| 3 | Clark Burckle | 1:51.20 |
| 4 | Neil Versfeld | 1:51.40 |
| 5 | Andrew Seliskar | 1:51.57 |
| 6 | Nic Fink | 1:51.58 |
| 7 | Anton McKee | 1:51.59 |
| 8 | Anton Lobanov | 1:51.71 |
| 9 | Mike Alexandrov | 1:51.73 |
| 10 | Brendan Hansen | 1:51.74 |
1 Lobanov, Anton         FR Nova S'eastern    1:56.91    1:51.71R  20  
    r:+0.72  25.23        53.43 (28.20)
        1:22.66 (29.23)     1:51.71 (29.05)
  2 Eriksson, Nic          SR Queens (NC)       1:57.73    1:55.65   17  
    r:+0.72  25.48        54.26 (28.78)
        1:24.23 (29.97)     1:55.65 (31.42)
  3 Klepikov, Nikolay      SO Cal Baptist       1:58.45    1:56.32   16  
    r:+0.76  25.96        55.34 (29.38)
        1:25.50 (30.16)     1:56.32 (30.82)