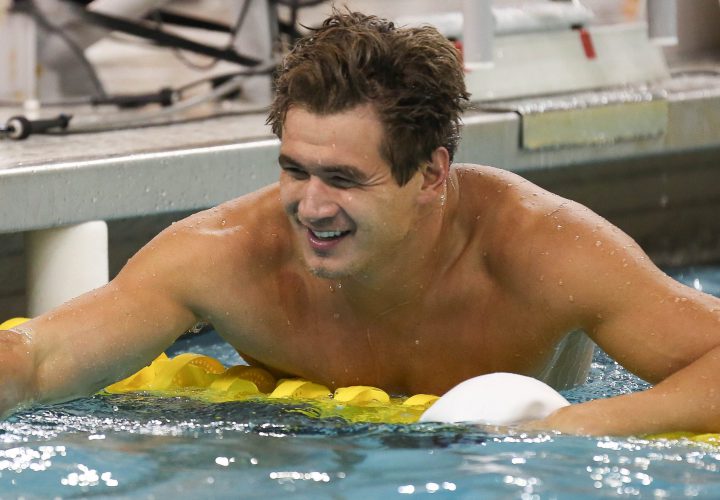 Photo Courtesy: Brenton Tse
Arena Pro Swim Series editorial coverage is proudly sponsored by Arena USA. Visit ArenaUSA.com for more information on our sponsor. For all the latest coverage, check out our event coverage page.
Cal's Nathan Adrian and Santo Condorelli battled throughout the men's 100 free for first, but it was Adrian who won out, stopping the clock at 48.49. Adrian's time was good for a new pool record, lowering the former record of 48.60 set in 2013 by Brett Fraser.
Condorelli settled for second and a time of 48.65, shaving a total of .29 seconds off his prelims time of 48.94.
Joao De Lucca delivered a 49.35 to round out the top three finishers.
Marcelo Chierighini, swimming unattached, turned in a time of 49.63 for fourth, while Trojan Swim Club's Conor Dwyer took fifth overall with a time of 49.85.
Sixth went to Yuri Kisil and his time of 49.97, while Renzo Tjon A Joe finished seventh in the event with a 50.32.
Geoff Cheah rounded out the top eight with a final time of 50.42.