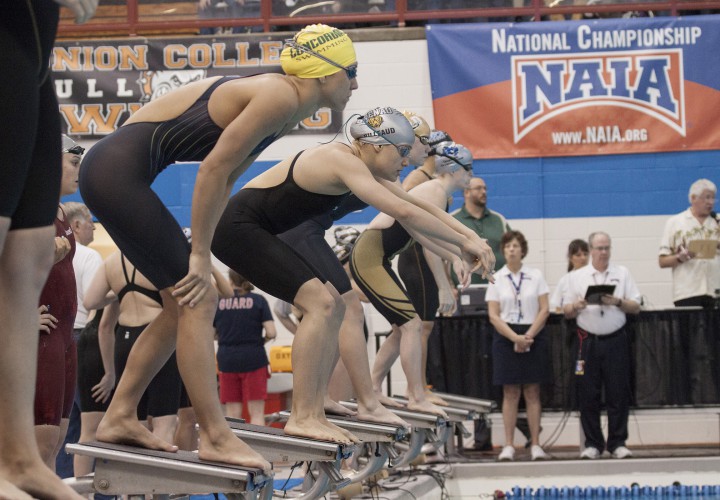 By Lileana Pearson, Swimming World College Intern
This past weekend NAIA released its second annual Coaches' Poll. It announces the new top ten schools in the division, and serves as motivation to excel as NAIA championships draw closer.
For men and women alike, it is no surprise that Oklahoma Baptist holds both number one positions in the poll. The young team is currently ranked first for its third time on the men's side and second time on the women's side. Though the team is young (formed in the 2011-2012 season), it has appeared in the top three for every Coaches' Poll released since.
Tied at number two on the women's side Biola (CA) and Cumberlands (KY) lead the way. Biola has completely amazed the division as it has jumped up five slots from its No. 7 ranking. For men, Olivet Nazarene continues to hold the second place position in NAIA as their coach Scott Teeters (2014 NAIA Men's and Women's Swimming Coach of the Year) leads them to victory after victory this season.
Making leaps and bounds for the men, Cumberlands is now No. 5, climbing a total of four spots. This fast team out of Kentucky is barely outdone by Concordia in the men's rankings, but their positions are swapped on the women's side.
Unfortunately, SCAD saw a large drop for the women from second place with the first Coaches' Poll to sixth place but continues to stay strong on the men's side with a third place ranking. Lindsey Wilson too has drop in the men's ranking from their 10th place ranking, where we now see Biola resting.
The NAIA Coaches' Poll is determined by a committee of head coaches from the conference's swimming and diving coaches' association. The third Coaches Poll will be released February 25 where you will see the new top 10 schools.
2014-15 NAIA Men's Swimming & Diving Coaches' Poll – No. 2 (Jan. 22)
| | | | |
| --- | --- | --- | --- |
| RANK | LAST TIME^ | SCHOOL (1st Place Votes) | Total Points |
| 1 | 1 | Oklahoma Baptist (4) | 63 |
| 2 | 2 | Olivet Nazarene (Ill.) (1) | 57 |
| 3 | 4 | SCAD Savannah (Ga.) | 46 |
| 4 | 8 | Concordia (Calif.) | 44 |
| 5 | 3 | Cumberlands (Ky.) | 41 |
| 6 | 5 | St. Andrews (N.C.) | 38 |
| 7 | 6 | West Virginia Tech | 24 |
| 8 | 7 | Union (Ky.) | 21 |
| 9 | 9 | Wayland Baptist (Texas) | 11 |
| 10 | NR | Biola (Calif.) | 10 |
2014-15 NAIA Women's Swimming & Diving Coaches' Poll – No. 2 (Jan. 22)
| | | | |
| --- | --- | --- | --- |
| RANK | LAST TIME^ | SCHOOL (1st Place Votes) | Total Points |
| 1 | T1 | Oklahoma Baptist (2) | 58 |
| T2 | 7 | Biola (Calif.) (2) | 48 |
| T2 | 3 | Cumberlands (Ky.) (1) | 48 |
| 4 | 8 | Concordia (Calif.) | 45 |
| 5 | 4 | Brenau (Ga.) | 41 |
| 6 | T1 | SCAD Savannah (Ga.) | 38 |
| 7 | 5 | Olivet Nazarene (Ill.) | 37 |
| 8 | 6 | Union (Ky.) | 16 |
| 9 | 9 | Lindsey Wilson (Ky.) | 13 |
| 10 | NR | College of Idaho | 9 |