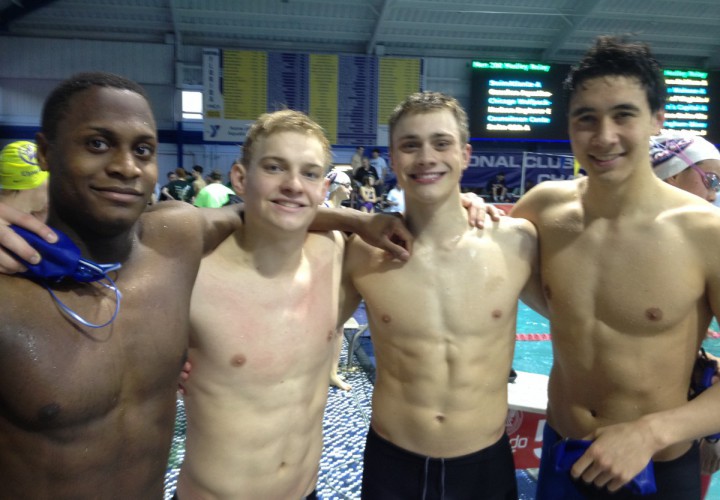 Photo Courtesy: Swimming World
SwimmingWorld.TV is streaming the NCSA junior nationals in Orlando. Click here to watch streaming video and on-demand races when available.
ORLANDO – After just barely breaking the 200 free relay national age group record on the first night of the NCSA junior nationals, Nation's Capital Swim Club left no doubt about the 200 medley relay, smashing the 15-18 mark by almost two seconds.
Three of the four swimmers from the record-setting free relay were back for medley relay action about 30 minutes later with a stunning 1:26.47. The previous national age group record was 1:28.29 by SwimMAC Carolina at the 2012 winter junior nationals.
Race video: Nation's Capital breaks NAG record

NCAP was well ahead of the record pace after backstroke, thanks to a 21.87 by John Shebat. Carsten Vissering's 24.18 in breaststroke sealed the deal, while Andrew Seliskar's 20.38 butterfly split was the cherry on top of the sundae. James Jones brought it home with a 20.04 on freestyle.
Comparative Splits
[table "" not found /]

The Aquajets got close to Carmel Swim Club's national age group record in the women's medley relay, posting a 1:40.70. Zoe Avestruz (backstroke: 25.19), Olivia Anderson (breaststroke: 28.16), Kaia Grobe (butterfly: 24.52) and Rachel Wittmer (22.83) couldn't quite reach the 1:39.25 swum by Carmel last month to set the national age group record and national high school record.
Race video of the record-setting swim will be posted shortly.