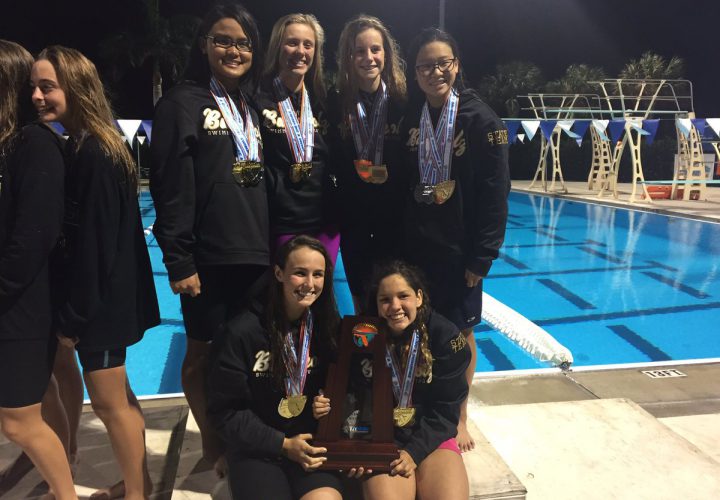 Agon is the proud sponsor of all high school coverage (recruiting, results, state championships, etc.) on SwimmingWorld.com. For more information about Agon, visit their website?AgonSwim.com.?National Records for High School Are Pending Application Verification.? Click Here to Learn More
By Emily Messina, Swimming World College Intern
Agon is the proud sponsor of all high school coverage (recruiting, results, state championships, etc.) on SwimmingWorld.com. For more information about Agon, visit their website AgonSwim.com.
Florida Class 4A swimmers and divers competed in their state championship meet today. The FW Buchholz women held their title from 2015 and repeated their state championship victory topping Plant High School (Tampa) by a score of 276 to 204. In for third was Oviedo High School with 193 points. For the men, Riverview (Sarasota) also was a repeat champion scoring 276 points over Fleming Island's 189. Countryside (Clearwater) finished in third with 160 points.
Girls
The meet began with the 200 medley relay with a victory by FW Buchholz consisting of Caitlin Brooks (25.08), Kirschtine Balbuena (29.76), Julia Rodriguez (25.03), and Kaitlyn Cronin (22.66) coming in at 1:42.53. Finishing shortly after was Plant (Tampa) with a 1:43.66 and in third was Oviedo (1:46.59).
Morgan Tankersley of Plant won two individual events. She broke the state record both in the 200 and 500 freestyles. Tankersley swam a 1:44.31 in the 200 breaking the previous record of 1:45.37 set in 2010 by Lauren Driscoll. Finishing in second was Mandarin's Kensey McMahon in a 1:49.42 while Olympia's Sofia Bernard finished third with a 1:49.76. In the 500 Tankersley finished in a 4:37.60 topping Janelle Atkinson's record from 1999 (4:37.91). Tankersley was followed by St. Petersburg's Peyton Palsha (4:48.53) and McMahon (4:49.78).
In the 200 IM, Kathleen Golding of Cooper City touched first in a 2:00.34. She was followed by Palsha (2:02.18), and Ashley Boddiford of Hagerty (2:02.64).
Talia Bates, FW Buchholz, was a double event winner tonight. She was the only female to break the 23-second barrier in the 50 freestyle finishing first with a time of 22.69. Her teammate Cronin finished in second place with a 23.32. She was followed by Durant's Katherine Vasiloff (23.38). Bates also won the 100 butterfly with a time of 53.83 Following her into the wall for second was Oviedo's Abigail Gibbons (54.16) and in for third was Vasiloff (54.48).
FW Buchholz accomplished their second 1-2 finish of the night when Cronin (50.70) and Balbuena (50.92) stopped the clock in the 100 freestyle. Bernard followed them with a 50.98.
Buchholz struck gold again in the 200 freestyle relay with a time of 1:34.94. The team was composed of Rodriguez (24.25), Brooks (24.32), Leah Reisker (23.95), and Bates (22.42). Oviedo finished in second with a time of 1:36.28. Olympia was third in a 1:37.62.
Brooks achieved her first individual win of the night when she touched first in the 100 backstroke with a 53.38. She was followed by Strawberry Crest's Celisma Guzman (55.02) and Lakewood Ranch's Courtney Chapin (55.46)
Bella English of Winter Park was the winner in the 100 breaststroke swimming a 1:02.73 over Countryside's Lauryn Harvard (1:02.79). Delaney Carey, Olympia, was third in a 1:04.67.
Senior Karlee Price, St. Thomas, topped the field in the 1-meter diving event scoring 475.70 points. Kara Holt of Olympia finished in second with 432.25 points and Jenna Pinheiro of Lake Nona came in third with 405.30 points.
In the last event, the 400 freestyle relay, Plant (Tampa) was victorious with their team of Catarina Sterlacci (52.11), Sidney Whitfield (51.83), Gabby Donahue (52.06), and Tankersley (47.80). FW Buchholz swam in for second with a 3:24.28 while Riverview came in third, 3:31.41.
Boys
Riverview was victorious in the 200 medley relay finishing with a time of 1:33.52. The relay consisted of Austin Katz (22.54), Brett Riley (26.82), Keanan Dols (22.29), and Tyler Carmichael (21.87). In second was Countryside with a 1:35.02 and Plant (Tampa), 1:36.70, finished in third.
Two men broke 1:40 mark in the 200 freestyle. Fleming Island's Nick Hackett touched first with a 1:39.04 while Riverview's Brendan Firlie came in second with 1:39.32. In third was Bruno Carvalho of Timber Creek with a 1:40.60. Hackett was a double event winner as he finished first in the 100 butterfly with a 48.88. FW Buchholz's Mason Wilby (49.60) came in for second while Seminole's Connor Dacus (50.83) swam in for third.
Wilby got the win in the 100 backstroke swimming a 50.22. Riverview teammates Dols and Riley finished in second and third in a 50.28 and 50.80, respectively.
In the 200 IM, Countryside's Robert Finke got his hand to the wall first touching with a time of 1:49.34. He was followed by Hagerty's John Fulginiti (1:49.53) and Fleming Island's John Hutton (1:49.55) Finke also got the win in the 500 freestyle finishing in a 4:22.92. Firlie came in second with a 4:30.75 while Arik Katz of Riverview finished in third (4:31.54).
Gavin Jones, Fletcher, topped the field in the 50 freestyle with a 20.82. Coming in for second was Jack Neeley, Fleming Island, (21.20) and in for third was Countryside's Matt Monaghan (21.30). Jones was victorious for the second time of the night when he stopped the clock in a 45.47 good for first in the 100 freestyle. He was followed by Park Vista's Kyle DiMatteo (46.08) and West Port's Lliam Dolan (46.59).
Fleming Island hit the wall first in the 200 freestyle relay with a 1:24.53. Their team was composed of Hutton (21.00), Neeley (21.20), Drew Heinton (21.55), and Hackett (20.78). Riverview swam in for second (1:25.12), while Plant was third (1:27.70).
Paxton Rhoads, Plant (Tampa), touched first in the 100 breaststroke (56.12). He was followed by Fulginiti (56.53) and Dacus (57.14).
Logan Downey of South Plantation finished at the top in the 1-meter diving event with 493.60 points. Freshman Tyler Coffey, Jupiter, followed him for second with 473.70 points. Olympia's Jack Dowd finished with 452.75 points, which was good for third place.
In the final event of the night, the 400 freestyle relay, Riverview took the gold with a time of 3:05.49. Their team was Firlie (46.79), Katz (44.60), Nicholas Hernandez-Tome (47.18), and Riley (46.92). They were followed by Fleming Island (3:06.19) and Countryside (3:09.24).
The results can be found here.